Back
Path to Caritas Project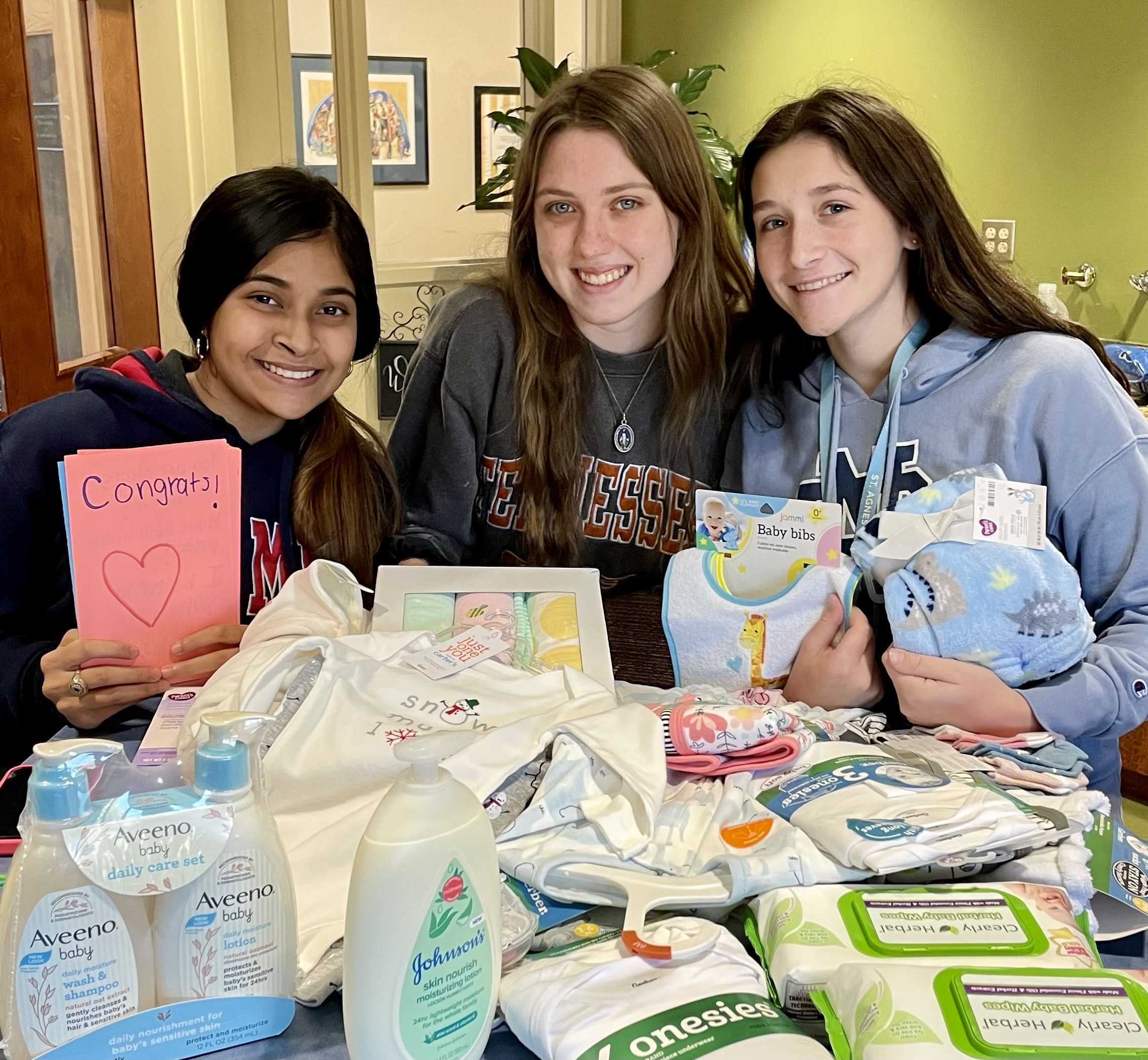 By Christine Giles, Upper School Theology Department Chair
The Path to Caritas Project, is the culmination of our Upper School Theology IV course, "Catholic Social Teaching." This project gives our seniors a chance to explore injustices in our society, connect with local non-profit organizations, and utilize their learning of the Circle of Social Action - to see, judge, and act. As their Theology teacher, it has been an honor to witness my students living out their faith through their Caritas Projects. Watching them move from interest in a topic to passion for a cause is inspiring.
Students work together in small groups to identify and investigate an issue in which they are interested. Partnering with local organizations in this service-learning process provides them with a mentor and gives them an opportunity to develop their research and interviewing skills. Spending time with the people who face these injustices provides encounters that can be life-changing, for all involved.
The Caritas Project encompasses all four of our Dominican Pillars. Study is our first step in this process. Seniors examine the injustices from the perspective of the Catholic Church's social teaching. Statistics and stories reveal how these issues impact our society.
By reaching out to our non-profit partners, the seniors embrace our pillar of Community. Our students not only look to these experts for information and guidance on how to help, but they also take this message back to our SAA-SDS community so others may learn and serve. Moved by their knowledge, the seniors then focus on the pillar of Service, working to support their non-profit partners and making a difference.
The pillar of Prayer is truly present throughout the process. As their teacher, I always remind our seniors that we should pray to be open to where God wants to place us in His plan. We continually prayed for their projects and especially for those they supported and served. Prayer is the force that fuels the Caritas Projects.
After completing the projects and presenting them to their classes and guests, I surveyed the seniors to get their feedback on the process and their experiences. I was touched by all the insights and reflections that highlight the impact that the seniors made.
Vina Vedala described her group's interview and research experience at Thistle and Bee. "Being able to talk to two survivors of human trafficking, drug addiction, and prostitution opened my eyes to what's truly happening with this issue. They told us personal stories and new information that we had never even heard before that helped us with our project. I enjoyed talking to these ladies and hearing true stories from powerful women who experienced this social injustice."
Grace Kamler reflected on what her group learned from their service to Missionaries of Charity. "I would say the best part of the project was expanding my knowledge and educating myself not only about the growing poverty rates in men and women, but the growing poverty in my own city and home. I enjoyed opening my eyes to these people, who share the same needs as me, and the struggles they face every day as they are trapped in poverty."
After hosting a baby shower for Birthright with SAA Upper School students, Anna Heck was moved by the outpouring of support. "The best part of the project was seeing so many of the girls in the Upper School come together in community and service to support this cause. I could not believe how many people wanted to help."
And it's evident that this spirit won't end with the Caritas Project from what Emma Pratt said about her group's time spent babysitting for the families of the Dorothy Day House. "We brought in chips, crackers, cookies, and other items that we take for granted but they don't have access to everyday. I was thrilled to see their faces when we told them everything was for them, and it was impactful because now we are ready to go back and help even more."
I am so proud of each senior for her compassion and dedication to those she helped. I'm especially thankful for the times I have been able to witness firsthand the students in action. Through their projects, I have been able to connect with many wonderful organizations and people in our Memphis community. One of my goals for the seniors was to give them a chance to serve their community and make a mark before they graduate. There is no doubt in mind that each St. Agnes senior has done so. And just as important, I believe that this community has left its mark on them, as well.