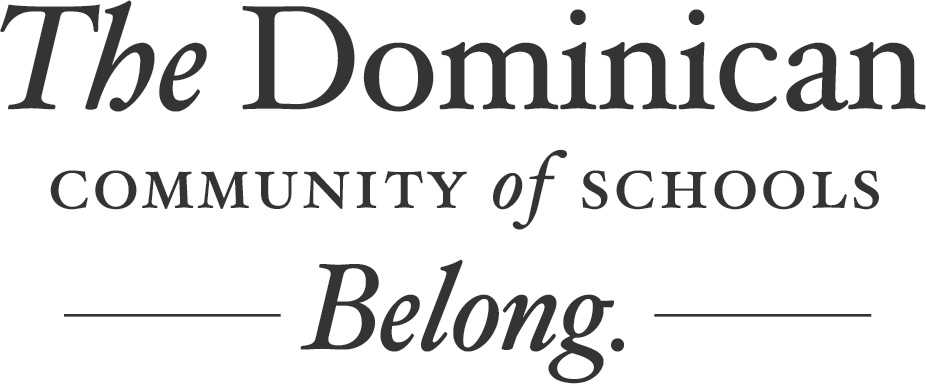 St. Agnes Academy, designed just for girls, and St. Dominic School,
created just for boys, are part of a nurturing learning and
faith community where every student belongs.
We know that finding just the right school for your child is one of the most important decisions you will make. We would love the opportunity to show you around our beautiful campus, in person or virtually.
We invite you to spend some time on our website. Discover how we are meeting the needs of our students. Listen to parents share what they love about SAA-SDS. Explore our strong single-gender academic programs and our vast arts, athletics, and extra-curricular opportunities. And be sure to take a look at how our Catholic faith and the Four Pillars of Dominican tradition (Study, Prayer, Community, and Service) are at the core of everything we do.
A world of opportunity is awaiting your child, and we look forward to sharing each step along the way with you! We want to support you in this process by listening to what matters to you.
Learn More About Our Admissions Process Here!
Honors Scholars Program Scholarships
Contact us at communications@saa-sds.org with questions or concerns.
The Dominican Community of Schools is more than a campus where you'll find two challenging schools. It is a single community of faith and respect; of principle and purpose.
"There is no place like SAA. Every girl that attends can find some place that feels like home. Whether it is the theatre, the softball field, the math lab, or the science lab, there is a comfort in this place. I believe that it is more than acceptance. There is always an invitation to belong, to be involved. You will find it all over this campus."
"My favorite thing about SAA is the environment of support that is constantly present. No matter how my day is going, there is always someone that is next to me—a teacher, a friend, or a coach—who supports my endeavors, encourages me through the difficult times, and challenges me to work hard even if I fail."
"St. Dominic was, in my opinion, the best possible preparation for high school and college that I could have received in Memphis. Not only did my teachers lay an excellent foundation for understanding higher-level math, science, and humanities, but they also taught me discipline in applying myself for totally new subjects that I came across later in high school and college."
"We have come a long way as a class and have created a brotherhood like no other. We've shared many memories that have helped sculpt our class into who we are today: unique brothers who aspire to live by the four pillars in our daily life, while having a little fun."
"St. Agnes – St. Dominic is a place where the sense of community is strong. When we walked through the doors of the Early Childhood Center to tour, it immediately felt like home for our family."
"The four pillars – Study, Prayer, Community and Service - are at the core of everything we do, both in and out of the classroom. They remind us that our focus is not just on academics, but also on the development and well being of the girls we teach."
"My experience attending Junior High at St. Agnes Academy gave me confidence, socially and academically, as I moved onto high school. I value my time spent there, interacting with students from St. Dominic School and forming lifelong friendships, as we established a strong foundation for our future."
"St. Agnes Academy prepared me for college due to the high quality of work expected, coupled with the high quality instruction given on how to produce such work. Teachers across departments expect and believe that all students should and are capable of achieving, and therefore, they are constantly ready to provide the help necessary to gain a holistic understanding of the material."
Service Reimagined
The Dominican Pillar of Service is a thread that ties our entire school together. Though it looks different in each division, every student is a small part of our larger goal- to make the world a better place. Instilling social responsibility in our students ensures that they will continue to make an impact when they leave our campus.
Though the 2020-2021 school year has been like no other, our Upper School students' desire and commitment to serve has not been stifled, and their creativity to make it happen under pandemic circumstances is inspiring. Each of us are called by our Faith to serve, to give our talents and time to others who are in need. During this current pandemic it is even more important to reach out to others who are in need of our help. Our girls are committed to finding creative ways to serve.

Two of these students, seniors Anna McLaughlin and Ella Coffey have strived to maintain our history of dedicated service to the students of Madonna Learning Center. As co-presidents of the Forever Friends Club, their goal is to share our love with the community at Madonna. They were determined not to let the challenges presented by COVID to slow down the activities of the club, which was started in 2016.
"Keeping our connections with the students at Madonna is so important to us, especially during this time of social distancing." Ella remarked.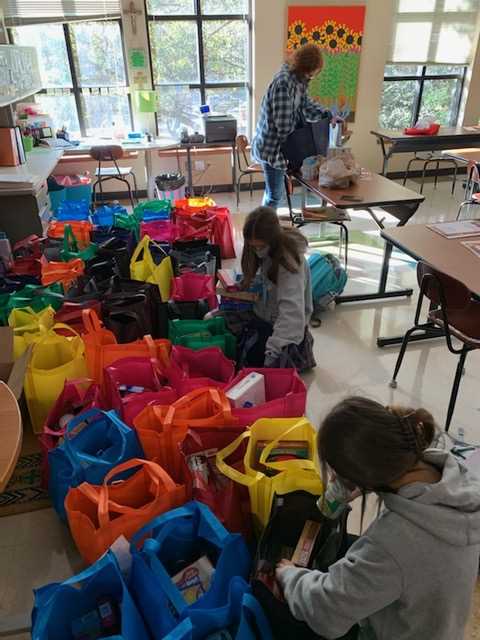 The biggest challenge they faced was not being able to visit with the Madonna students in person, but they found a way to still connect. They set up "zoom hangouts" that included crafts, snacks and games. Anna and Ella gathered materials for goodie bags, which were delivered to the school so students would have everything they needed to participate in the hangouts. In the December hangout, they made penguin ornaments and played bingo. Later this month, the club will host a Valentine zoom hangout for their Forever Friends. Anna said, "This year has definitely been difficult, but our passion and love for these children was never a question. Despite the many challenges this club has faced, we stayed motivated, encouraged, and hopeful for this club."
The call to serve during the pandemic was certainly not lost on Meri Alan Petro, Upper School SGA Commissioner of Service. Though her efforts often felt pointless–organizations were not open, events were cancelled, and she was often told: "There are no volunteers at this time due to Covid-19," she persevered. Determined to not have a year of only can drives, she began to think outside of the box. She adjusted her mindset and moved forward.
"My goal this year was to focus on in-person, hands-on activities that girls could do with their friends. I wanted to make an "event" out of service. I wanted our service opportunities to be a place where we could form new friendships, strengthen old friendships--all while serving others."
Her first idea was card making for the Page Robbins Adult Day Center and for homeless women and children in Memphis. "The idea was to "grab a friend and sign up" to make cards while chatting, listening to music, and eating homemade cookies!" she says.
After the success of that project, Meri Alan coordinated many other projects to include:
• Monthly Theme Days on campus, with participation donations benefitting various organizations such as West Cancer Center Foundation and The Child Advocacy Center
• A Halloween Event at Ave Maria Home that included decorating pumpkins for residents' rooms and chalk drawings that could be seen from their rooms
• A Clean Up Day at Pinecrest Camp in Moscow, Tennessee, where trails were cleared and cleaned
• The 31 Days of Cookies challenge that treated local firefighters to homemade cookies during the holiday season
This semester the students are planning to redesign teen space for the downtown library, cook a meal to serve with Catholic Charities, host a drive to collect feminine hygiene products, and revisit Pinecrest.