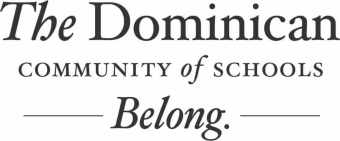 St. Agnes Academy, designed just for girls, and St. Dominic School,
created just for boys, are part of a nurturing learning and
faith community where every student belongs.
The Dominican Community of Schools is more than a campus where you'll find two challenging schools. It is a single community of faith and respect; of principle and purpose.
9th Grade Preview
Wednesday, October 31
SAA students Volunteer to Help Refugees at US Border
Over the summer St. Agnes students Gracie Fogerty and Maddie Fay traveled to the Texas border with a group of volunteers led by Catholic Charities of West Tennessee (CCWTN) for a week-long mission trip to the Humanitarian Respite Center of Catholic Charities of the Rio Grande Valley (CCRGV).
The Respite Center, which has seen a tremendous increase in traffic in recent months, is a first stop for people who have crossed the Texas border into the United States and have been processed and released by U.S. officials. The center serves up to 300 people a day, providing a place for countless men, women, children and infants to rest, have a warm meal, a shower, and change into clean clothing, as well as receive medicine and other supplies, before continuing on their journey.
During the week-long mission trip, Gracie and Maddie had the opportunity to interact and build relationships with many of the refugees at the center.
They also worked with others in the group to reorganize and expand the play area, sort donations, and reorganize the food storage system. The mission trip was a diocesan project in cooperation with Catholic Charities of West Tennessee.
Read an excerpt from Gracie's Journal to learn more about her mission experience.
Wow. Today was quite incredible! It was definitely an unforgettable moment when I met my new friend and his son. We played tic-tac-toe with him on a magnetic board, and I think he even let me win a few times!
He and his son are from a small city in Honduras. I was fascinated listening as he told us his life story. Their faith is incredible, and they keep their head up as they work to restore their dignity. He drew a heart on a piece of paper and began to write something in it. He had written "Amigos" on the paper inside the heart. He told us that we have created a beautiful and lasting friendship.
This man is a life giving person. He is the good in our world, and he is who I strive to be. I strive to be a woman who uses her talents and gifts to make this world a more loving and beautiful place. My new friend is an example of a person who loves God above all others, and he uses his love for God to light this world on fire. As we said our good byes he told us that he would never forget us, and that he was grateful for the time he spent with us. I am grateful God brought him into my life even if it was from a short period of time. Who knew tic-tac-toe could bond people in such a beautiful and meaningful way?