Back
Health Services
Your child's health and safety is our number one priority at St. Agnes Academy-St. Dominic School. To provide the best possible care for students the school has a health clinic staffed by a full-time nurse practitioner. Through a partnership with OrthoMemphis, SAA-SD also has a full-time certified athletic trainer on staff who is on-site for practices and games. They work collaboratively to make sure you have the best/healthiest school year!
In response to COVID-19, the clinic has been expanded to include two additional rooms designated as health areas for students who need to be isolated.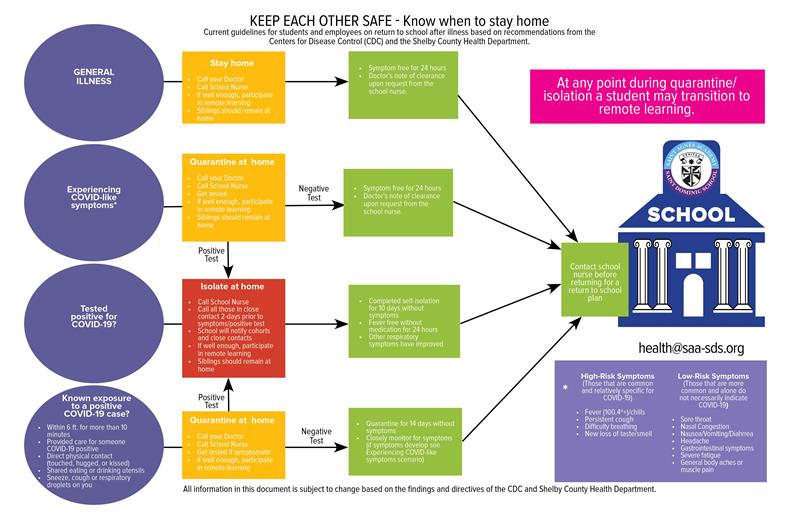 COVID-19 INFORMATION AND PROTOCOLS
COVID-19 Response and Guide to Reopening
Health and Wellness FAQs
CDC Scenarios - When to Quarantine or Isolate
SCHOOL FORMS
Please complete all documentation required by law for your child and other information as needed by the school nurse. Please email all forms to the school nurse at
immunizations@saa-sds.org.
We also ask that all families complete a new Student Emergency Information form for each child at the start of the new school year so that all information is current. In the case of any illness, accident, or emergency at school, this form will be used to access your directives for your student. Please fill out this form and email to your child's school secretary: ECC (PK2-JK) - Caitie Maurizi (
cmaurizi@saa-sds.org
); SDS (K-8) - Diane Pirozzi (
dmpirozzi@saa-sds.org
); SAA (K-8) - Tammy Brooks (
tbrooks@saa-sds.org
); and SAA Upper School (9-12) Kerrie Chaliff (
kchaliff@saa-sds.org
).