Back
About
What We Offer
Founded in 1851, St. Agnes Academy-St. Dominic School has been providing academic excellence in the Catholic tradition for 166 years.
With a strong academic program at the forefront, character development is also an integral part of student life at SAA-SDS. Rooted in the Four Pillars of Dominican tradition – Study, Prayer, Community and Service – we challenge learners, encourage innovators, nurture artists, inspire leaders and empower generations.
In a close-knit, nurturing environment, teachers customize curricula to match students' developmental and gender-specific needs. Classes are co-educational for our Littlest Stars & Suns in 2K, PK, and JK. Our boys and girls learn separately in Kindergarten-6th grade. In junior high, boys and girls learn together with a challenging curriculum that thoroughly prepares them for high school. In our Upper School girls in grades 9-12 experience a rigorous and balanced academic program enriched by Advance Placement courses.
A 1:1 laptop school since 2002, SAA-SDS is a leader in the integration of technology into the curriculum. Students have access to an advanced technology research center with a Cybrary and Distance Learning Center where students of all ages engage in virtual classroom experiences, touring art museums and zoos, participating in debates, and studying with students, professors, and experts from all around the world.
Our vibrant fine arts program is enhanced by three art studios, two music rooms, and a 300-seat performing arts center. Students participate in a variety of vocal music groups and theatrical productions throughout the year. Our Upper School annually produces a national award-winning literary magazine, Calliope. Our Stars and Suns athletics program offers students the chance to participate in sports from JK through 12th grade.
Every year our students compete for state titles. Community service is a guiding principle for all students, who lead and participate in a wide variety of service projects.
What truly distinguishes St. Agnes Academy - St. Dominic School is found in the character of our community, in the interaction between students and teachers, in the values that daily define how we live, and the way we celebrate girls and boys.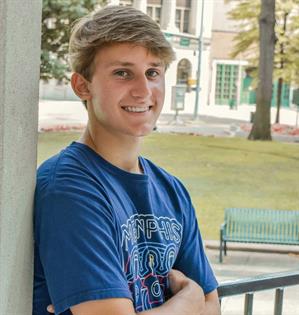 There is no better place than St. Dominic to learn and grow as a young man. When I completed my years there, I felt confident and ready to jump into high school.
Read More