Back
Servant Leaders-Leading Ladies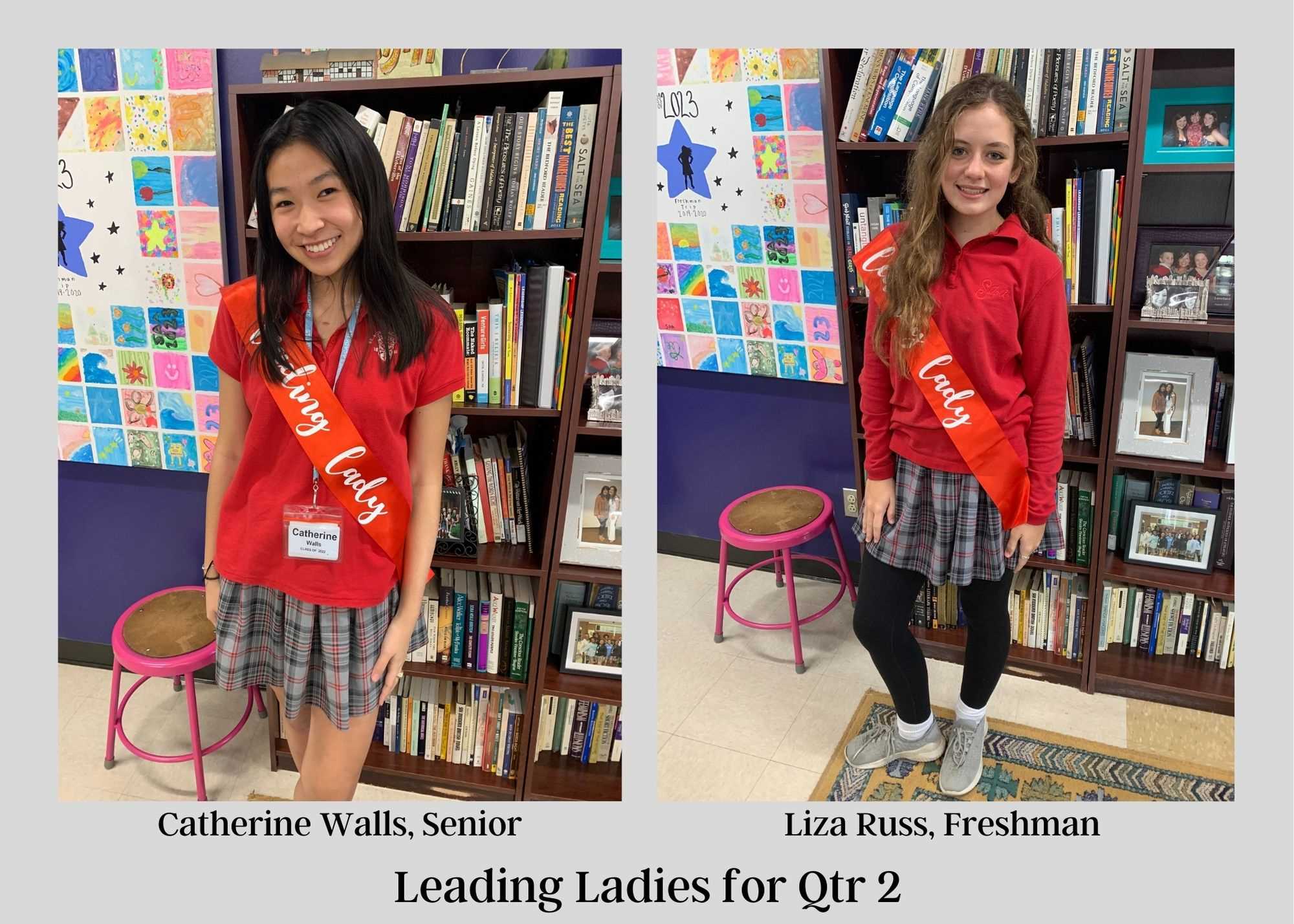 "Do nothing from selfish ambition or conceit, but in humility count others more significant than yourselves. Let each of you look not only to his own interests, but also to the interests of others." (Philippians 2:3-4)
Leaders don't need a title. We can all be leaders. This is the premise upon which our Leadership Lab members (Upper School SGA Officers and Class Presidents) established the Leading Ladies recognition 3 years ago. Each quarter two students are named Leading Ladies for the contributions they make to the positive culture at SAA through their actions and support of fellow students.
Students are nominated and selected by the Leadership Lab team. When choosing their Leading Ladies, the team asks questions such as "Who is helping St. Agnes be a better place but is never in the spotlight?" and "Who exemplifies leadership in many ways around the school and leads without a title-behind the scenes, when no one else is really watching?" "The girls are challenged to expand their notion of what a leader is and to look for nominees that go above and beyond, motivating others through their leadership," explained Dr. Jennifer Lovelace, Director of Student Life and Leadership.
When asked what this recognition meant to her, recipient Lilly Sobalvarro explained, "To me, leadership is supporting those around you in any way you can and putting others before yourself. Being a Leading Lady is just about showing up for your classmates, being reliable, and helping out."
As servant leaders, the Leading Ladies are girls who lead because they want to, not because they HAVE to. In this way, the girls reflect the leadership approach of Christ, connecting with other students through empathy and an attitude of stewardship.
Leading Ladies are announced at the Upper School assemblies where each recipient is presented a sash and a wishlet bracelet. Each girl can also attend Leadership Lab for a month to share their ideas and learn more about leadership. Congratulations to the students who have received this recognition so far this year! These excerpts from their nominations explain the impact these girls have had on fellow students:
Lilly Sobalvarro, Sophomore (2021-2022 Qtr. 1 recipient): "This a star who always shows up for her class and radiates school spirit. She shows up for service projects and shows up to the volleyball and soccer games and gets others around her to join in these school activities, too. Other than being spirited, she is helpful to her classmates in and outside of school."
Maye Edwards, Junior (2021-2022 Qtr. 1 recipient): "Maye always puts a smile on your face and never fails to make you laugh. She always has high spirit in everything she does. When she shows up for something or someone, whether it's Hops and Haloes or field day or a friend, she gives more than her 100%."
Liza Russ (2021-2022 Qtr. 2 recipient): "This star is sweet and a great leader. She always stands up for herself and others and is very responsible. She isn't afraid to step out of her comfort zone and try new things. She is very welcoming to everyone and always has a smile on her face."
Catherine Walls (2021-2022 Qtr. 2 recipient): "Catherine is the most compassionate and positive person with everything she does. Whether she is helping others with math, helping on the banner committee, or cheering on her teammates, she is always there for you."