Back
SAA-SDS Junior High Students Excel at Model UN Conference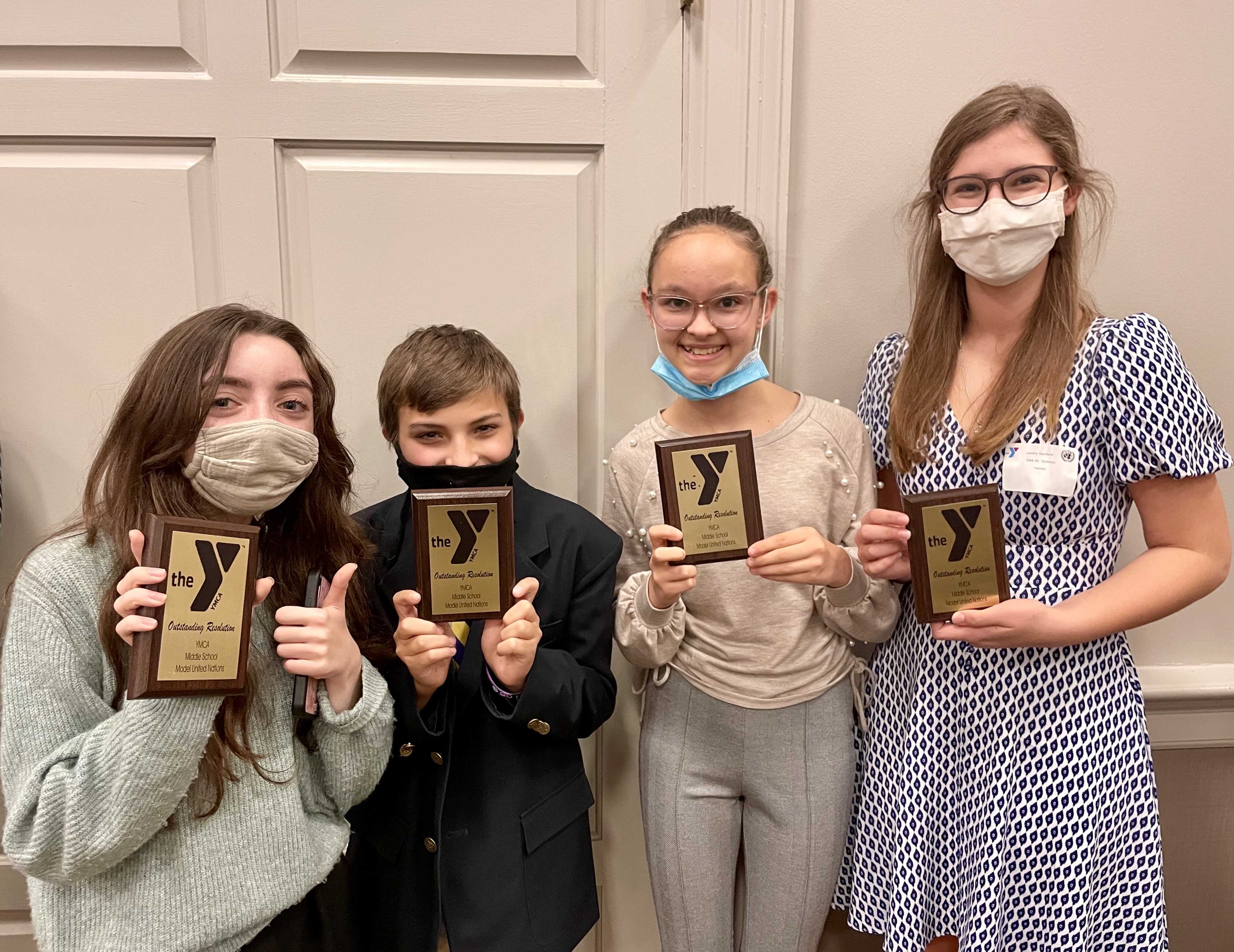 On Friday, December 3, eight of our Junior High students participated in a Model United Nations (Model UN) conference where they earned high honors for their hard work and leadership. Led by our Junior High Model UN sponsor Amy Cluck, our students learned about the real-world operations of the United Nations as they researched, drafted, and debated resolutions. Model UN is organized by the local chapter of the Youth in Government Association and sponsored by the YMCA of Memphis & the Mid-South.
SAA 8th grade student Emma Game-Mejia was awarded the Outstanding Delegate Award for the second year. Emma served on the team representing China with Ally McNamara, John Getz and Morgan Paige-Musaerenge. The Outstanding Delegate Award is given to a delegate who performs well, has prepared well, and is highly knowledgeable.
"I like to get very involved and asked a lot of questions of each team. My favorite part of the conference is the debate part-asking the teams questions about their resolutions and seeing if their facts matchup," said Emma.
Our team representing Yemen-Molly Flynn, Reagan Oberling, Landry Sanford, and Duncan Soldan-all received an Outstanding Resolution Award for their resolution concerning Internally Displaced Persons (IDP) assistance and humanitarian crisis in the country. This honor rewards written research, communication, and teamwork within a group. For their resolution the students focused on the issues of health, food security, nutrition, water sanitation, hygiene, shelter, and education.
When asked about the process, 7th grade student Duncan explained, "We spent a lot of time outside of school doing our own research and then having zoom calls together to write an introduction and resolution for our country." In addition to the team award, Duncan also won a prize for identifying the most United Nations flags by country.
Model UN is an extra-curricular activity in which students typically roleplay delegates to the United Nations and simulate UN committees. Thousands of middle school, high school, and college students across the country and around the world participate in Model United Nations. Our Upper School also has a Government Club that participates in Model UN Conferences, and according to Emma, "I can't wait for Upper School Model UN!"
Model UN teaches participants skills like researching, public speaking, debating, and writing, in addition to critical thinking, teamwork and leadership. Regarding the Model UN program, Upper School Model UN sponsor Garry Shriver, commented, "Getting students involved in Youth in Government and Model UN activities is absolutely essential for developing future leaders in our culture."