Back
Shining a Light On . . .Ginny Crittendon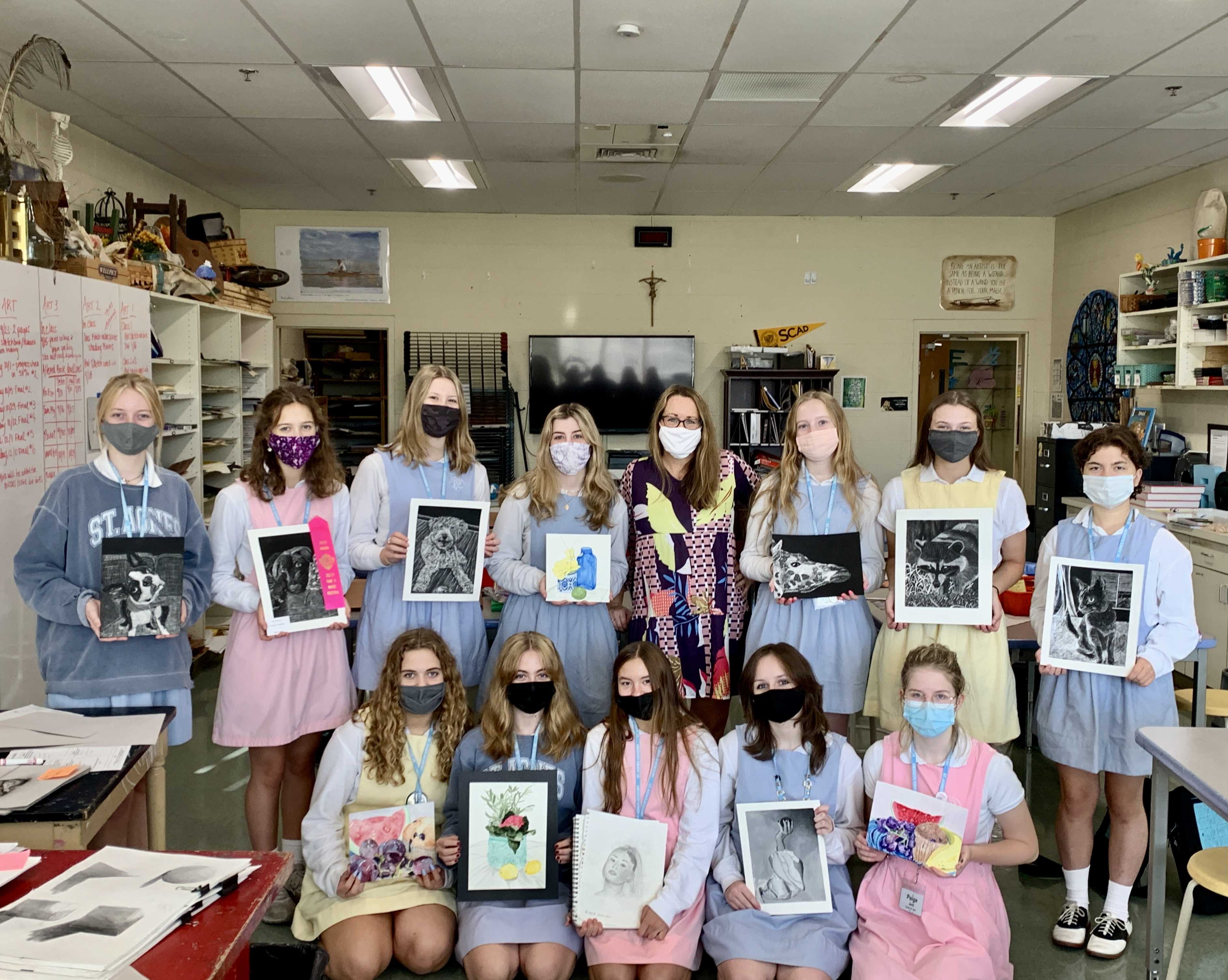 Shining a Light on. . . Ginny Crittendon
St. Agnes Academy is well known for its stellar fine arts program. Ginny Crittendon, Upper School Art Teacher, has been a member of our fine arts faculty for six years. She encourages and challenges all our Upper School girls, from her Freshman Art 1 students to her Senior AP Art class. Take a moment to get to know her a little better and understand her passion for our students and for teaching!
Why did you want to become an educator?
I received a degree in Studio Art from the University of Tennessee at Knoxville. After graduation, I was offered a position at The Dixon Gallery and Gardens as an art educator and immediately fell in love with teaching. At that time, I traveled to schools in low-income neighborhoods where the art programs had been cut. Throughout those eight years with The Dixon, I truly felt the rewards of teaching and making a difference in the lives of children.
How would you describe your role here at SAA-SDS?
My role at St. Agnes is to help shape my students into young adults and prepare them for life after high school. Beyond just teaching academics, I feel my role is to foster students' development in their relationships, self-identity, emotional skills, and overall well-being.
What do you hope to accomplish in your job?
I hope that in their time in my class, my students accomplish not only their own goals for Art, but also feel better prepared for their future because of the things they learned from me. I want to foster and promote creative growth, problem solving skills, critical thinking, and build confidence.
What do you enjoy most about teaching?
Art can be very personal, so I love building relationships with the students and seeing their growth throughout the year. I particularly love the beginning of the year, the excitement they bring, and then at the end of each year seeing how much they have grown.
What is the most important life lesson you want students to learn?
"Comparison is the thief of joy." A great quote by Theodore Roosevelt as it is so pertinent in everyday life, but very much so in art class as well. I want my students to know that they are unique and will never be happy comparing themselves, or their art, to others. I want them to know they should be life-long learners and that it is okay to make mistakes That is where you grow and figure things out on your own.
Which of the Dominican Pillars-Study, Prayer, Community, Service-is supported most by your role here?
All four of the Pillars play an important role in my life and my classroom, but building a tight community in the art studio is pivotal to success. Art is a personal act of courage. To create something and display it for others to see or to have peers critique your art is very hard. I strive to create a safe environment with mutual respect and a sense of community. I want to help students open up, to get to know each other, and gain respect for each other and their art.
What are you most grateful for?
I am grateful for my family! I am most inspired by my own children. Every day that I come to work, I think "What kind of teacher would I want my children to have?" This has pushed me to provide the best possible learning environment and engaging curriculum for my students.
What are your interests outside of the classroom? What are you particularly passionate about?
At this time in my life with three young boys and lots of extracurricular activities there is very little free time for me! When I have more free time I hope to paint more. In general, I love to be outdoors. Even on those really hot southern days I will always choose the patio over inside dining. With my family of all boys, we like to stay active-I love to hike, camp, go boating, biking and travel. On my own or with friends I love to visit local art galleries, antique shops/boutiques and do hot yoga. My husband and I both love, love, love live music so we go to as many music festivals and concerts as we can.