Back
Emily Easley, St. Agnes Academy Class of 2021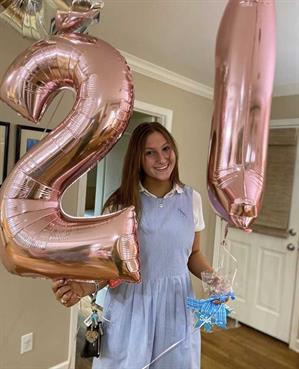 Emily Easley, St. Agnes Academy Class of 2021
Senior Class Chaplain and founder and President of Angels Among the Stars
What is your favorite thing about St. Agnes Academy?
My favorite thing about St. Agnes Academy is the connection everyone has with each other. Since it's a pretty small school, you get to know your class super well, and you also get to know most girls in the other classes. Whether it's homework or Spirit Week, my class is always finding new ways to bond and connect with each other.
How do the teachers at St. Agnes make learning meaningful?
The teachers make learning meaningful because they really try to get to know each of their students. I look up to most of my teachers as someone I can learn from, but also as someone I can laugh with and talk to about my day.
What activities are you involved in at St. Agnes and how have these activities made an impact on you?
The main activity I'm involved with at SAA is Angels Among the Stars. It has taught me so much about friendship, leadership, and community.
Jill Dyson, the president of AngelStreet Ministries spoke to us about the organization when I was a sophomore. We were all really moved to get involved in any way possible. Thus began Angels Among the Stars, a club in which we work directly with the participants at AngelStreet. We've all learned the importance of leadership and building relationships within our Memphis community.
Working with Angels Among the Stars has really shaped me as a person. I think it's easy to view school as a place to only grow academically, but the activities and extracurriculars that St. Agnes allows me to be apart of have helped me grow more than I could have ever imagined.
How do the Dominican Pillars of Study, Prayer, Community and Service impact life at SAA?
The Dominican Pillars are visible every day at St. Agnes. I am constantly being challenged academically, feeling closer to my classmates, strengthening my relationship with God, and discovering new meanings of service.
What activities do you participate in outside of school?
When I'm not at school, I'm usually playing the guitar, reading, or playing with my dog.
What is the main thing St. Agnes has taught you about being a leader?
At St. Agnes I have learned that being a leader is much more than simply taking control of a situation. To be a leader you must empower others, communicate, show up, and have empathy. A leader does not have to be the loudest person in the room. At SAA I've been able to serve as President of Angels Among the Stars since sophomore year, class Chaplain junior and senior year, a peer mentor, a staff member of Calliope, and a representative for JRP (Justice, Respect and Peace).
What is your favorite SAA tradition?
My favorite St. Agnes tradition is probably the most classic and well-known tradition: Spirit Week! The classes and entire school bond more than ever as we dress up in weird outfits and put together insane skits about the school. It's definitely the tradition I will miss the most and never forget.