Back
Taylor Brown, St. Agnes Class of 2019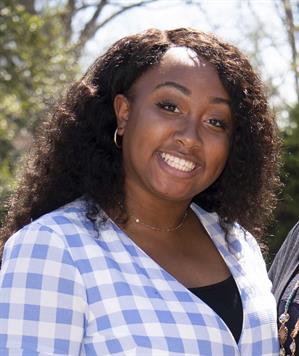 What is your favorite thing about SAA?
My favorite thing about SAA is the warm spirit that everyone brings to St. Agnes. The community and friendship of SAA is undeniable: it is a true sisterhood, and I am honored to be even a small part of it.
Which class has been your favorite?
I believe my favorite class so far has been U.S. History with Mrs. Patterson. I am such an interactive and talkative person, and she encourages interaction and lively discussions. Mrs. Patterson and I formed a very strong bond from that class, and I can say she is an amazing teacher, a fierce role model, and one of my personal favorite teachers.
How do the teachers make learning exciting?
The teachers at St. Agnes are intentional about keeping the students focused and engaged every single day. The teachers at SAA do an amazing job of catering to each student's learning style. I for one am an auditory and tactile learner, which means I like hands-on activity. There are also visual learners who the teachers persistently try to help, which makes each day exciting here at SAA.
How would you describe the classroom environment at SAA?
Students are encouraged to engage, ask questions, and challenge themselves and also their classmates. The classrooms are just small enough to get that one-on-one, student to teacher connection, and that is a valuable thing to have at SAA.
Why did you get involved in the theatre?
I got involved in the theater because I had a passion for singing and acting, but I was shy. I was a freshman when I joined the SAA theater department, so the fears of fitting in and performing well were inevitable. Growing up I had always been told I was a drama queen, so I wanted to put that drama queen in me to work.
What is your favorite St. Agnes tradition?
My favorite tradition at St. Agnes is Senior Day. Senior day is a bittersweet moment for all; it is the celebration but also the letting go of the Senior class. This tradition is my favorite because it really brings us all together as a school to celebrate all the wisdom and encouragement that the seniors have provided us with.
How do the Dominican Pillars of Study, Prayer, Community, and Service impact life at SAA?
The Dominican Pillars are very important to the St. Agnes community, and I could personally say they are important to me too. The study is important because each day everyone gets out of bed and goes into a school with the intent to teach and learn and that goal for me is accomplished every day. Prayer is the center of it all; we greet each day with a communion service in the chapel, and we also have Mass every Wednesday. St. Agnes is sure to instill that without God nothing is possible, making it the strong foundation of our school. Community: not only is St. Agnes a thriving community, but we spend many hours and days bringing the love of Christ out into the city of Memphis. Service ties in with community at St. Agnes, because we participate in various activities such as Day of Caring, Fleece of Faith, Soup Kitchen workdays, and volunteering at Madonna Learning Center.
What activities are you involved in at SAA?
I am involved in theater. I played softball for three years and am a part of National Beta Club, Ladies First, Starlettes, Spanish Club. I've been a retreat leader, participated in the Leadership Lab, and served as a Justice, Respect, and Peace Representative.
What activities do you participate in outside of school?
Outside of school, I am a counselor for VBS at my church; I am a participant of Manna Memphis outreach program; and I work part-time at Five Guys restaurant. I also babysit for many children in my neighborhood, and I enjoy seeing shows at different schools and community theaters.
What do you enjoy most about doing service?
I enjoy learning from the people I serve. The different people that I meet, no matter where I go, always impart some wisdom or say something that resonates with me to this day. Service for me is not just about receiving credit hours; it's about helping others and allowing them to help me whether it be in actions or a simple smile and God bless you.