Back
Profile: Denise Geronimo, Class of 2020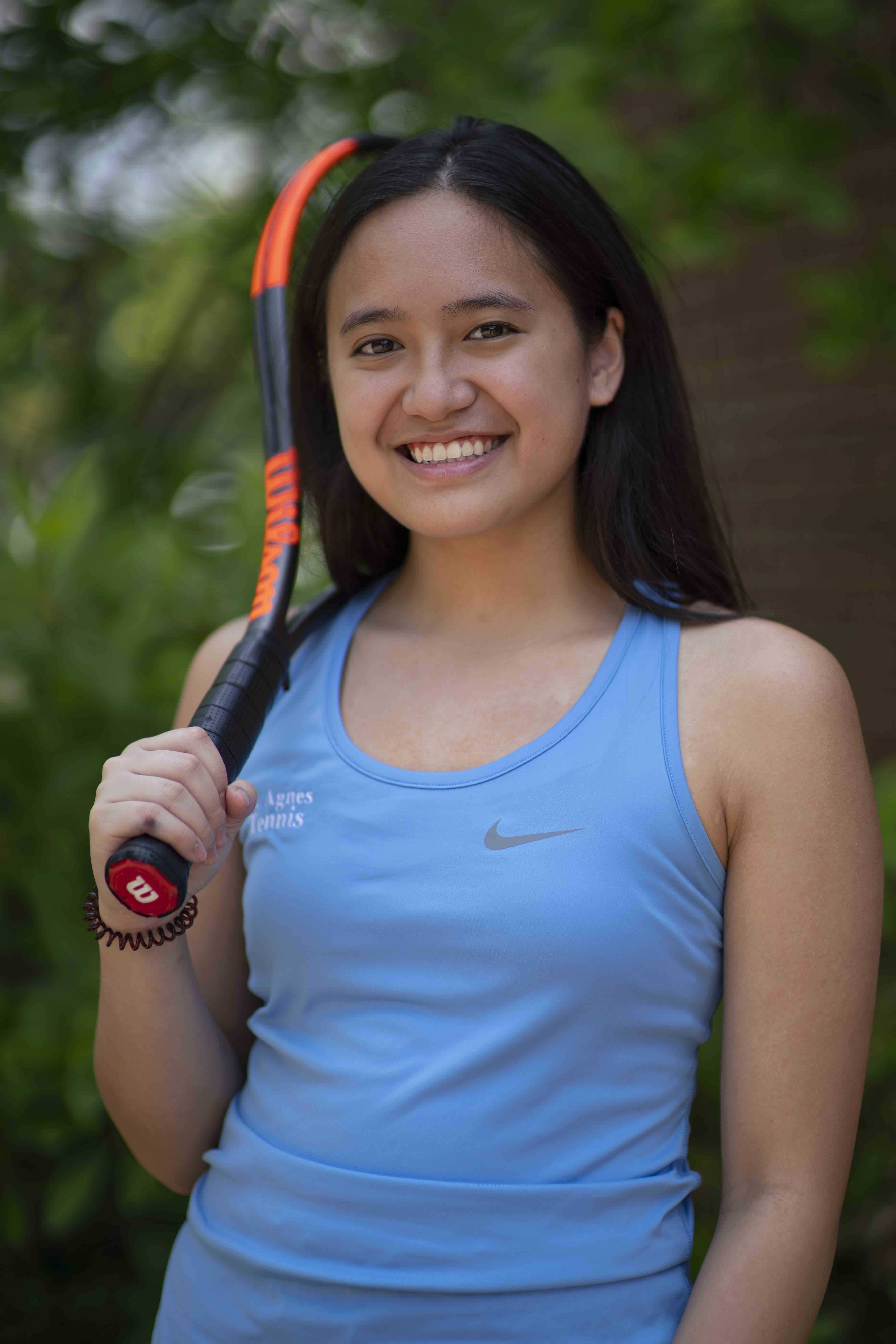 What is your favorite thing about SAA?
My absolute favorite thing about St. Agnes is the atmosphere in the hallways. Although it may sound weird, SAA spirit thrives in the hallways during early mornings and in between classes. Amidst the slamming of lockers, there are girls exchanging hilarious jokes, information about football games, and quick pep talks. The close environment of the hallway, and the people that fill it, have always given me the motivation to strive in school.
Which class has been your favorite?
Although I enjoy my other classes, Spanish has always been the class that I look most forward to. The Spanish immersion program at SAA has immensely improved my Spanish oral and writing skills. Additionally, I have learned about various cultures in Spanish-speaking countries. Because of Señora Kumar's amazing lessons, I have a fondness for Spanish that I will continue to carry with me to the future.
How do the teachers make learning meaningful?
From interactive lectures to hands-on experiments, SAA teachers use different approaches and tools for students to actually enjoy learning. In every class I have attended, the teacher always requires student participation because girls' voices are highly valued at the Academy. Most importantly, teachers find ways to apply school to the real world. For instance, my Calculus teacher, Mr. Burkett, periodically gives eye opening "life lessons" using math. The classroom environment is a challenging, open space where girls are encouraged to share their questions and ideas.
What activities are you involved in at SAA?
For the past three years, I have participated in various clubs, including the National Beta Club, Spanish Club, Key Club, and the Forever Friends Club, which partners with the Madonna Learning Center. I have also competed in competitions on behalf of SAA, such as Wordsmith Writing Competition, Mock Trial, and Poetry Out Loud. Moreover, I am a staff member of Calliope, which is a literary magazine that showcases St. Agnes' creative writers and amazing artists. At St. Agnes, I have also been a part of the Stars' tennis team and performed in several theater productions. My Junior year, I was honored to serve as the Commissioner of Publicity for the Student Government, and I am now blessed to be the SGA President for the upcoming school year (GO STARS!).
What have you learned about leadership at St. Agnes? What does it mean to you to be a leader?
At St. Agnes, I have learned that leadership is all about vulnerability. Being a leader requires courage and bravery, and those key aspects are achieved through allowing yourself to be vulnerable to failure. Nothing at St. Agnes or in the working world can be accomplished unless one puts herself outside of her comfort zone. Progress requires a community, and a leader can go only go as far as her community goes. In addition, I learned at SAA that leadership comes in different forms. A leader can be working behind the curtain, or encouraging other girls to find their own leadership. I am extremely grateful to see how STRONG leadership is at SAA. With Dr. Lovelace as the main leadership sponsor, girls are blossoming into tomorrow's brightest Stars.
What activities do you participate in outside of school?
Outside of school, I make sure to connect with my community of Memphis. SAA provides a positive and amazing environment on campus, but I believe it is important to branch out to different parts of our community in order to gain more experiences. For the past two years, I have been a part of Bridge Builders, a Memphis organization that promotes youth leadership in the city. In addition, I am an ambassador for Facing History and Ourselves. In FHAO, teenagers from various backgrounds engage in difficult and necessary conversations about history and present day problems. As a group, we work to find ways we can solve current issues or improve our Memphis.
How do the Dominican Pillars of Study, Prayer, Community and Service impact life at SAA?
Study, Prayer, Community, and Service direct the everyday mission of St. Agnes Academy, and each pillar focuses on a key aspect of St. Agnes life. The Pillar of Study is shown in every classroom, project, and student. Because SAA is a college preparatory school, the teachers and counselors work tirelessly to provide the best possible academic future for each girl at St. Agnes. Prayer is a top priority for everyone. Although St. Agnes is a Catholic school, it opens its doors to people of all faiths. Students from various denominations connect with God through weekly masses, religious talks from guest speakers, and theology classes. Community is demonstrated in noisy lunchrooms and on spirited field days. At SAA, sisterhood is not just a word. Sisterhood is a reality. On campus, the students' love for one another is evident. Finally, SAA spreads the Pillar of Community through service work. Each year, girls from the Academy practice service by volunteering at soup kitchens, donating clothes to Manna House, and more.
What is your favorite St. Agnes tradition?
My favorite St. Agnes tradition is the senior run down the hallway. On the last day of class for the seniors, the girls get to run as a class down the hallways of St. Agnes. All of the Upper School students line the hallways to cheer on the seniors as they slam the lockers and cross the St. Agnes seal. This year I will be a senior, and I cannot wait to participate in this famous St. Agnes tradition.