Back
Meet the SAA Upper School Fall Sports Coaches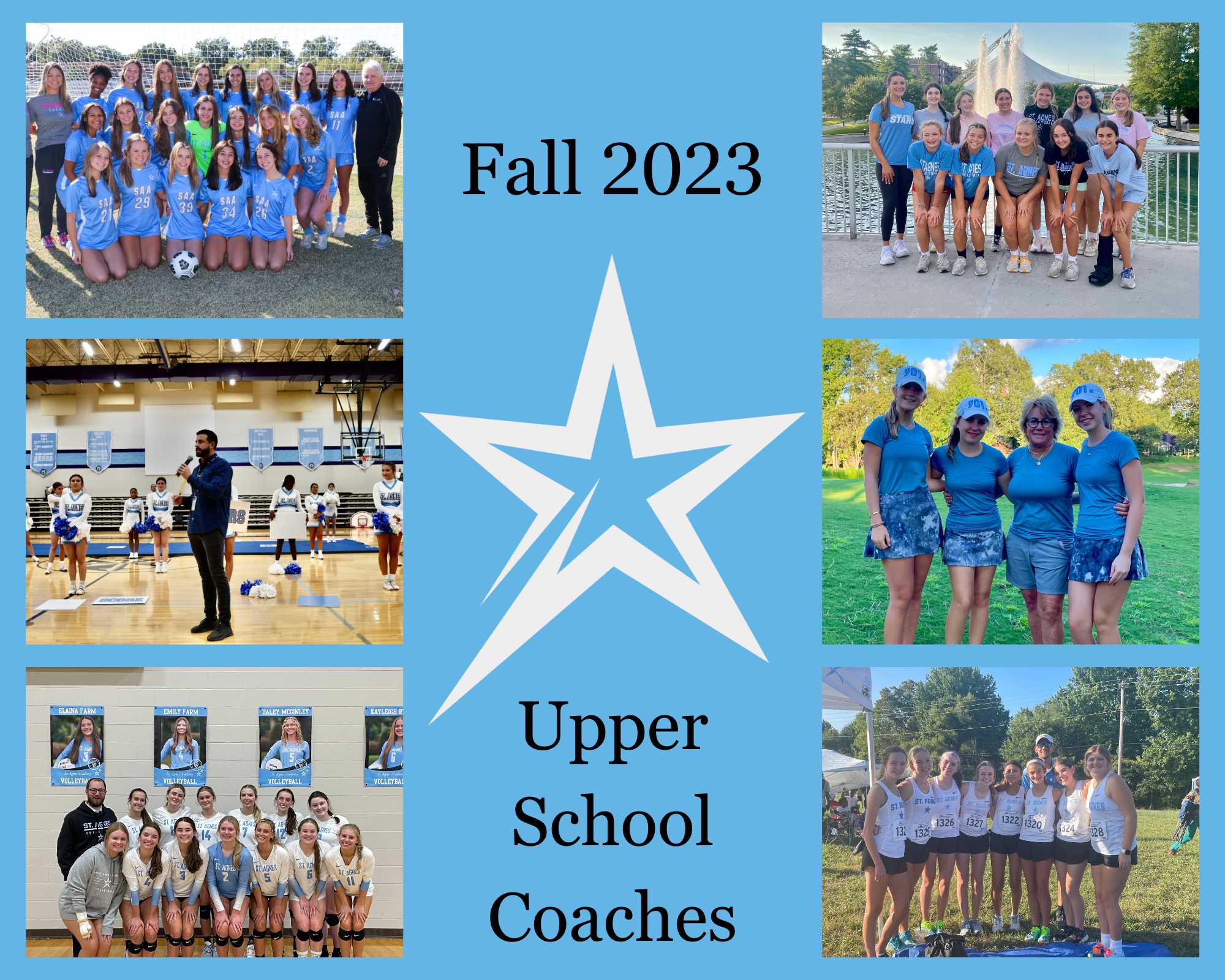 By Emma Mungle '25, Student Contributor
The St. Agnes Academy Athletic Department has a variety of sports to offer in the Upper School, as well as amazing coaches to guide and mentor you on and off the playing field. Here is an introduction of all the fall season coaches so you can get to know them!
Volleyball: Head Varsity Coach, Jared Marks, is coaching his 6th season here at SAA. He has been coaching club volleyball for 10 years, and he is a Master Coach and Recruiting Coordinator for Memphis Metro Volleyball. He was born and raised in Pittsburgh, PA, and is a Penn State alumnus. When asked about why he loves coaching at SAA Coach Mark says: "I love the culture that we have built in the volleyball program! It is built on hard work, competitiveness, and love for each other. I love coaching at SAA because it is about more than just teaching skills and techniques to be successful on the volleyball court. It's about teaching the lessons, mindsets, and habits to be successful in life, long after you hang up your shoes and jerseys." Coach Marks grew up playing volleyball, hockey, and baseball, but after moving to Memphis he realized the opportunity to coach hockey was nonexistent, so he began coaching volleyball and fell in love with the sport.
Head JV Coach, Christina White, is currently in her first season with the St. Agnes Stars volleyball program. She is an alumna who graduated in 2013 with two back-to-back State Championships! She has been coaching volleyball for 4 years, and we are so happy to have her return to her alma mater to join our consistently growing program!
Soccer: Head Varsity Coach, Bobby Ireland, has been coaching soccer here at St. Agnes for 27 years, and has been coaching soccer across the city for 35 years. One thing he loves about coaching here at SAA is "the players!" He played baseball and football until 11th grade, but then decided he wanted to play soccer. Coach Ireland played for Memphis State University soccer in college. One thing most people do not know about him is that he is a musician! He says, "I was born into the music business and grew up around some of the biggest names in the music industry. I have loads of great stories!" Another fun fact-he was also a Search & Rescue K9 handler for a short period of time.
Head JV Coach and Assistant Varsity Coach, Amanda Ray, coached the St. Agnes soccer team from 2006-2009, and this season is now her second year back. When talking about why she loves coaching at St. Agnes, she says: "I love the girls that I coach at SAA! They truly bring me so much joy! They make me laugh all the time! I love that I have been entrusted to help raise them into confident, strong, smart young women." She grew up playing soccer, basketball, and baseball (not softball), and she played soccer in college for the University of Alabama. She grew up in Pittsburgh, PA, and she is a diehard Steelers, Pirates, and Penguins fan!
Cross Country: Head Varsity and JV Coach, Jacob Reeves, has been coaching the St. Agnes Cross Country team for the past 8 years. He loves coaching at St. Agnes because "the girls are very close like a family, and they are always working hard and encouraging each other!" He ran cross country and track and field for Bethel University and was a two-time National Championship qualifier and a 3-time conference runner of the week. A fun fact about him is that his favorite food is sushi! Recently, he has been sharing Cross Country coaching responsibilities with Upper School teacher Mrs. Kathleen Nance (SAA '07)!
Cheer: Head JV and Varsity Coach, Sean Powers, has been the SAA-CBHS cheerleading coach for the past 3 years. He has been coaching cheerleading for a total of 20 years. When asked about why he likes coaching at St. Agnes, he says: "I believe a sport goes further than just the field it's played on. These athletes excel in the classroom, on the sidelines and within the community." Coach Sean was a competitive all-star cheerleader himself, and a fun fact about him is that he can juggle!
Golf: Head JV and Varsity Coach, Cynthia Giannini, has been coaching St. Agnes golf for 25 years. When asked about why she loves coaching at SAA, she says: "I love to coach at SAA because I love to watch the girls grow as players and improve to be great athletes. I also love getting to know the families of my girls and how much they support our program and school!" She played softball, basketball and golf in high school, and a fun fact about her is that before she became a teacher, she was a Germantown Police officer for seven years!