Back
SAA Athletes Sign National Letters of Intent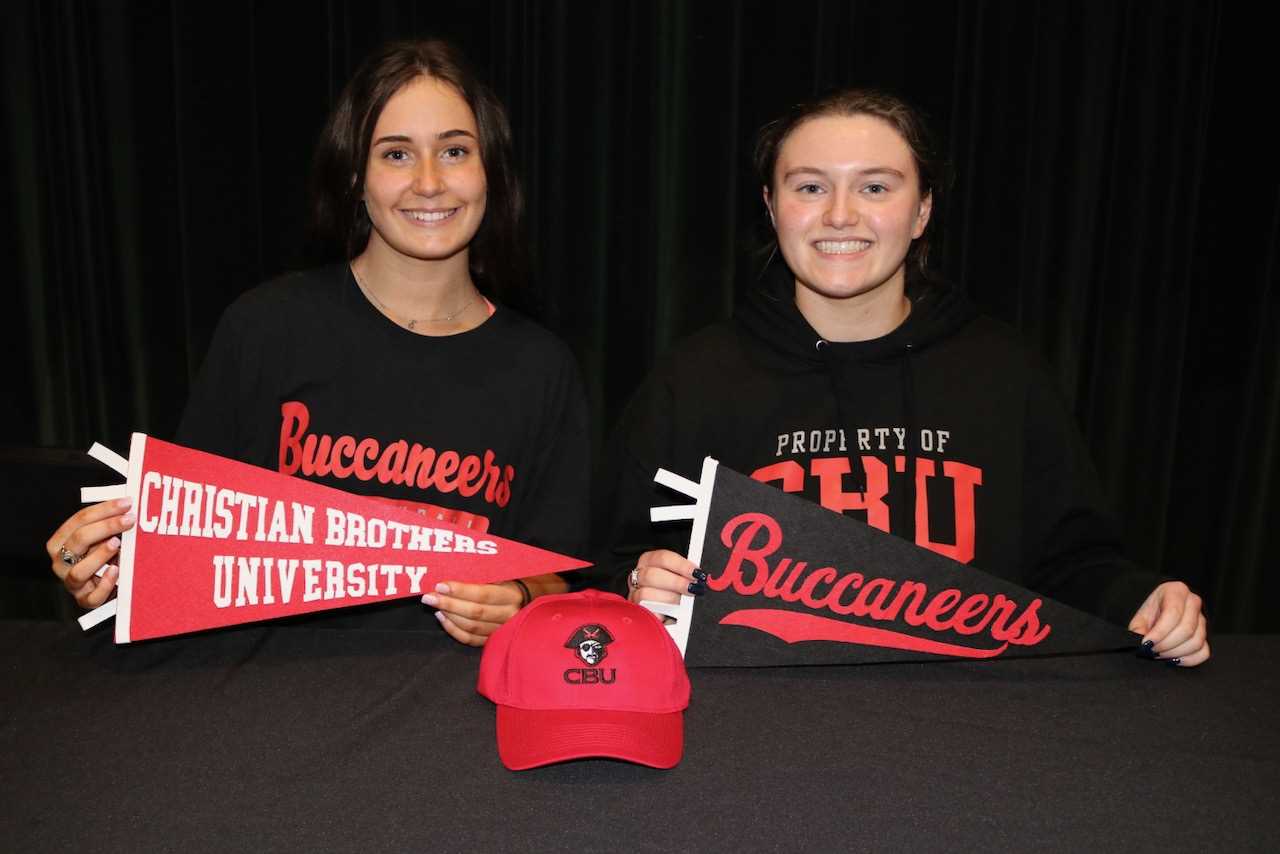 St. Agnes Academy seniors Sofia Rathheim-Hilton and Jenifer Cuyler will be continuing their volleyball careers at the collegiate level together as Lady Buccaneers at Christian Brothers University. The two Stars each signed a National Letter of Intent with CBU during a ceremony on March 23.
"I cannot wait to see both of these girls soar at the next level," said St. Agnes Volleyball Coach Jared Marks.
During the signing ceremony Coach Marks described the positive impact each player has made on the culture of the St. Agnes volleyball program over these past four years.
"Sofia has been an extremely hard working, hungry, team-first player that has been nothing but a joy to coach! She always gave me everything she had, never made excuses, and was constantly trying to go outside her comfort zone to be the best she could be. And Jen's positive attitude, her work ethic, and strong desire to always get better are some of the reasons why she has been such a pleasure to coach! She always pushed herself to work as hard as she could, and always did it with a smile on her face. Her love for the game is contagious and drove not only her to get better, but her teammates as well."
A two-year captain of the team, Sofia was twice named to the Daily Memphian All-Metro team and named a pre-season player to watch. As a senior she was named to the All-Region 1st team, having previously earned All Region Honorable Mention during her sophomore and junior seasons. Throughout her high school career she also played volleyball for Memphis Volleyball Academy, the Memphis Juniors Volleyball Association and Memphis Metro. Off the court Sofia excels in the classroom earning Summa Cum Laude Honors. She is a member of Mu Alpha Theta Honor Society and Vice President of the National Spanish Honor Society. Additionally, she is a member of the Forever Friends Club, Beta Club, French Club and Eco-Stars Club.
Jenifer has played volleyball for four years at St. Agnes earning All Region Honorable Mention Team honors as a senior. Throughout high school she also competed with the Memphis Juniors Volleyball Association and Memphis Metro Volleyball. An excellent student, Jenifer has earned Summa Cum Laude Honors and been inducted into the National Honor Society, National Latin Honor Society, and National English Honor Society. She serves the school as an Admissions Ambassador, Retreat Leader, and a Class Steward. She is also a member of Eco-Stars, Forever Friends Club, HOSA, Latin Club, Stars in Business and Beta Club.