Back
Shining a Light on . . . Katie Marking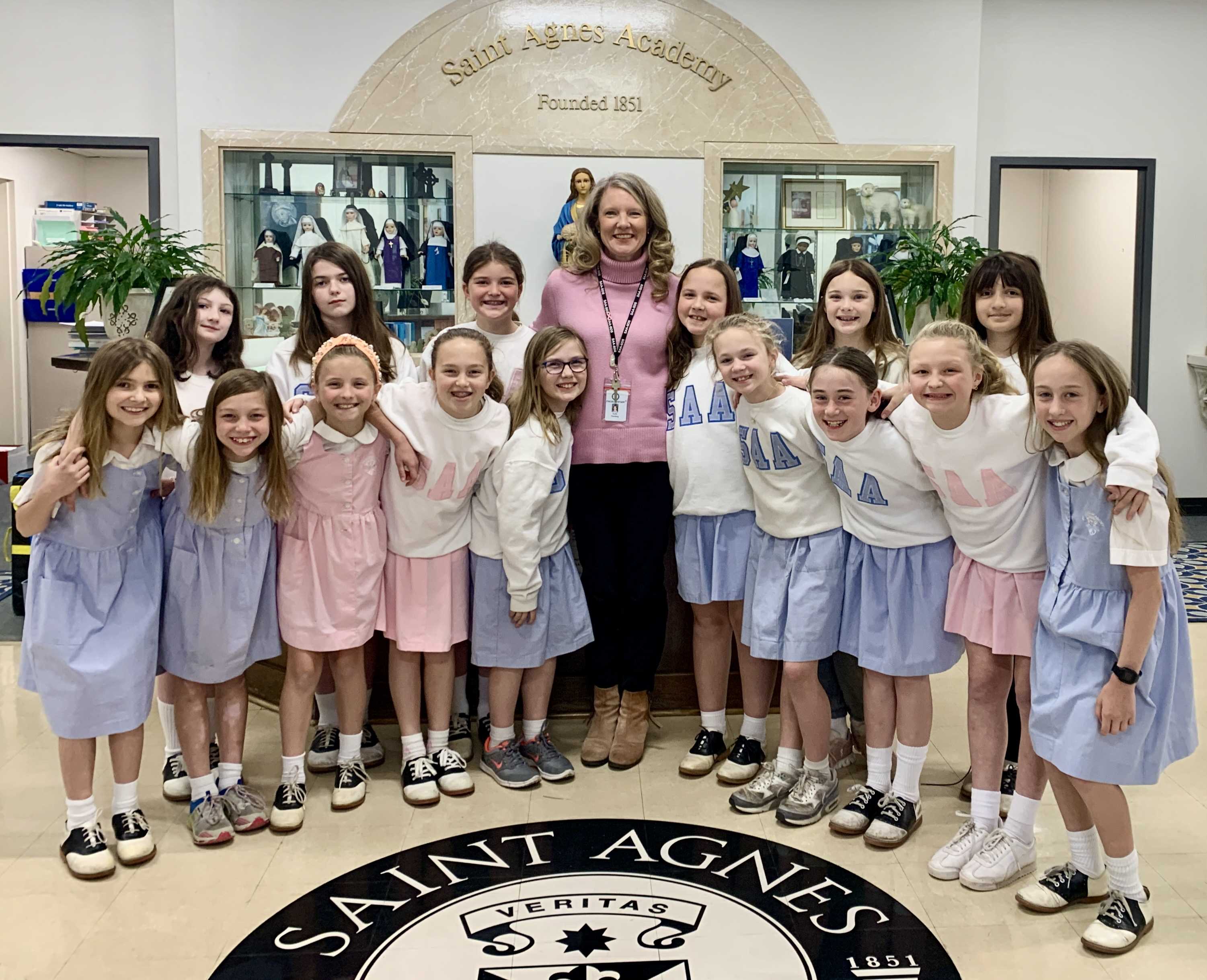 Our fourth-grade teacher in St. Agnes for 11 years, Katie Marking has a kind, gentle disposition that is a positive influence on her students and her fellow educators. Take a minute to get to know Mrs. Marking a little better.
What is your educational background?
I attended St. Ann Bartlett for 1st through 8th grade and Immaculate Conception for High School. I have a Bachelor of Arts from Rhodes College in Psychology and an Education Certification for Kindergarten-8th grade from Rhodes College.
Why did you want to become an educator?
I wanted to become an educator because I loved the people who taught me in school as I was growing up. I admired them and knew that they were a special, happy part of my life.
How would you describe your role here at SAA-SDS?
My role here at SAA-SDS as the 4th grade teacher for the girls is the very best one I can imagine! I think being an educator in a lower school fits my demeanor. Not only do I get to help students prepare for their next school year, but I get to help them prepare for the rest of their lives-as empathetic, kind, and hardworking faith-filled members of a community.
Each morning the girls that enter my classroom are eager to be here and excited to learn. They cannot wait to see each other and share stories. As their teacher, I get to soak in all this joy and inspiration and foster their curiosity-the things they wonder about and the things they want to know more about.
What do you hope to accomplish in your job?
Each day I come in with renewed, refreshed enthusiasm to guide my students-to be listeners and learners, sharers and comforters, helpers and workers. I hope to instill a sense of confidence in my students that allows them to assess situations they encounter each day and respond to them in sensible and Christ-like ways. I hope to cultivate a love of learning and a positive outlook that my students can take with them in life.
What do you enjoy most about your job/what are your favorite parts of your job?
If I must pick a "most" or a "favorite," it is definitely the people around me. My students and my colleagues make me feel so energized each day. From arriving on this beautiful campus each morning to maneuvering through our days bustling with activity, I feel lucky all day long!
Are there any things you are involved in on campus that you're particularly proud of?
I have been a member of the Faith Formation Team for eight years. We meet regularly to make sure each division has what they need to provide religious support and instruction for our students and are aware of the events and activities on campus reflecting the Dominican Pillar of Prayer. "Teamwork makes the Dream Work" on our campus, and I am really proud of that. I will do anything I can to help my colleagues and our families.
What is the most important life lesson you want students to learn?
I want my students to learn that it is important and healthy to surround ourselves with positive and kind humans. Seeing the good in others and finding the joy in life helps us be productive and impactful in our daily lives.
The other lesson that my students learn can be answered in unison by them when I ask the simple question, "What's the Good News?" and they cheerily and enthusiastically answer, "God Loves Us!" I cannot take full credit for that one, though, as I learned this from my own 1st grade teacher and mentor, Sister Connie Tarallo.
I also teach my students a simple mantra, "Hurry is a bad word." Most of the time, nothing good can come from hurrying. This helps them be intentional and detail-oriented and decreases stress and anxiety in my opinion.
Which of the Dominican Pillars-Study, Prayer, Community, or Service-is supported most by your role here, or which one impacts you the most/means the most to you?
This is like a trick question! Right away I thought: Community, hands-down. I'm such a people person and my school family is amazing. But then I thought: Prayer! If it weren't for prayer SAA-SDS wouldn't be the school that it is. Prayer is how we start and end each day, how we get ready for each class, and how we show thanks before and after lunch.
Our annual retreats and traditions like First Friday Adoration, Advent Wreath Lightings, May Crownings, and Stations of the Cross are beautiful things we share together. So, I believe these two Pillars-Community and Prayer-are very tightly wound together to support each other. All these things we do as a Community in Christ's love. It works.
What are you most grateful for?
I am most grateful for family. I love spending time with my husband and children-doing things outside together, watching movies, taking trips and doing projects-just laughing and spending quality time together. We also have a huge extended family, and I enjoy getting together with everybody and feeling the love and hilarity that each one of them brings.
What are your interests outside of the classroom? What are you particularly passionate about?
I'm passionate about exercise and being outside in fresh air and sunshine. I'm passionate about baking and cooking. I love feeding people, which is a good thing because you never know when one of our six children (ranging in age from 12-22 )might be hungry! I'm also passionate about reading books (actual paper books that I can highlight and underline in!) and watching movies in the movie theater.
I cherish my time in Mass, sitting in the pew next to my husband Stephen and any of our children that are available to be with us. I know that in being still, we can truly be present. I am passionate about being present. My mom always encouraged me to live in the day I am currently in, without trying to worry too much about the next thing. I like that. It's comforting and calming.