Back
SAA Junior Honored as 2021 Girl Who Mean Business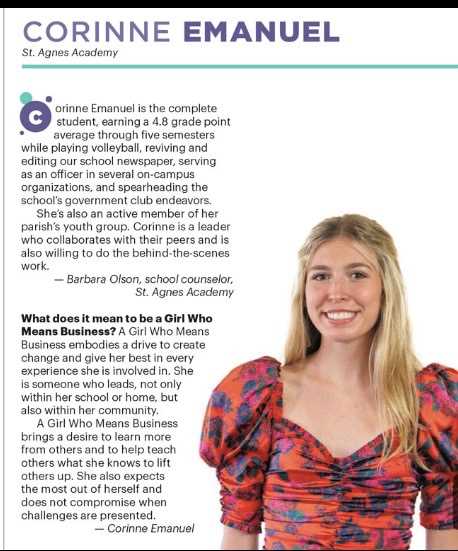 St. Agnes Academy junior Corinne Emanuel has been named as one of the 2021 Girls Who Mean Business by the Memphis Business Journal.
An outstanding student and dynamic leader, Corinne is the editor of the St. Agnes Upper School newspaper, The Constellation, as well as a staff member of Calliope, the school's award winning art and literary magazine. She is a campus leader in Model UN and Youth in Government, volunteers her time with the Forever Friends Club, and has been inducted into the National English Honor Society and Mu Alpha Theta Math Honor Society. Corinne also competes for the Stars as a member of the volleyball, cross country and track teams.
Actively involved in the Memphis community, Corinne serves on the Collaborative Leadership Council of Bridge Builders. As a member of the Council she works with other teens and the BRIDGES staff to assist in efforts to strengthen and represent youth voice. She is also involved in her parish youth group. Corinne was recently accepted to the prestigious summer program at the University of Pennsylvania.
Girls Who Mean Business annually recognizes young women in our community who exemplify excellence in school involvement, both academically and in extracurricular endeavors, as well as in community service and other ways they go above and beyond on a daily basis.