Back
St. Dominic Teacher Honored as Outstanding Educator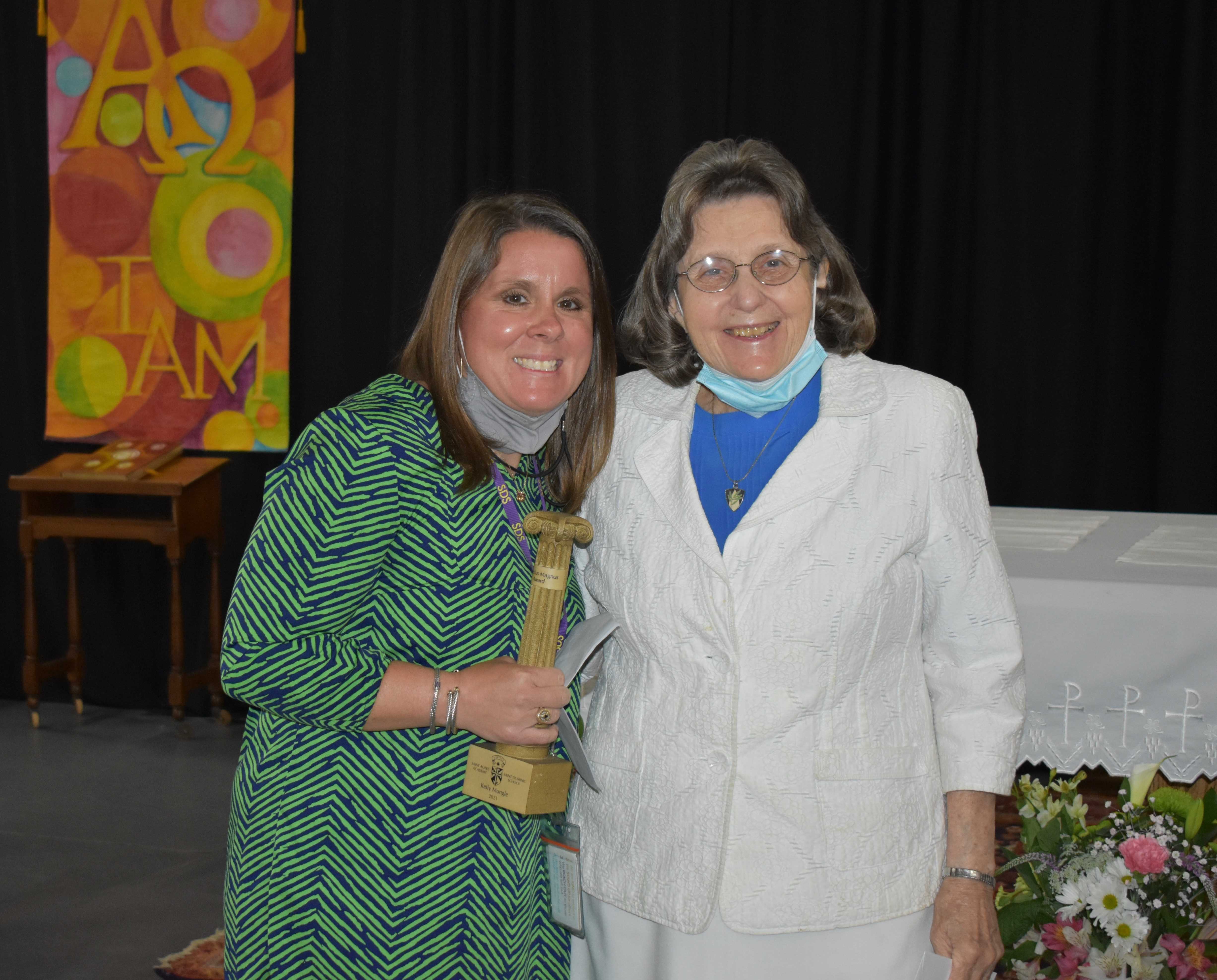 St. Dominic School Kindergarten teacher Kelly Mungle is the 2021 recipient of the Albertus Magnus Award. The award, presented annually by the St. Agnes Academy-St. Dominic School Board of Trustees, recognizes an outstanding educator who demonstrates the four pillars of the Dominican charism - Study, Prayer, Community and Service.
The award was presented during the school's annual Mass observing the Feast of St. Catherine. The 2020 Albertus Magnus Award recipient, Michelle Griggs, was also recognized. Bishop David Talley was the celebrant.
"Kelly Mungle not only gives our students a solid educational foundation, but also instills in them a firm foundation for life, " said Chris Burke, Dean, St. Dominic School. "She is truly passionate about teaching boys and is as an inspiring model of our Catholic faith. During this challenging year Kelly did a wonderful job of making sure our virtual students remained involved in our hybrid classroom and ensured all our students felt the joy of learning."
Mrs. Mungle is loved by her students, appreciated by parents, and respected by her colleagues. She mentors news teachers to our school communityand is always willing to volunteer her time. She is a valuable member of the Faith Formation team and is a recipient of the St. John Bosco Award for the Total Christian Formation of Students. She previously served as a member of the SAIS steering committee.
"I am fascinated to watch my Kindergarteners grow each day and learn to their full potential," said Mrs. Mungle. "They are on an adventure of learning. The expression on a student's face and the happiness I see when a student masters a task is my biggest reward as an educator. And, being a Kindergarten teacher, I get to introduce the four pillars and show the boys how the pillars strengthen our relationship with God, his love, and our love for others," she said.
Mrs. Mungle is an alumna of St. Agnes Academy, and her two daughters Emma and Mary Caroline, are both students at SAA. In 2018 she was inducted into the St. Agnes Academy Outstanding Alumnae Hall of Fame.
Our 2020 Albertus Magnus recipeint Michelle Griggs teachers Jr. High Theology. Mrs. Griggs joined our faculty in 2004. Click here to read more about Michelle Griggs.