Back
Spotlight: PK Educator Sarah Joyner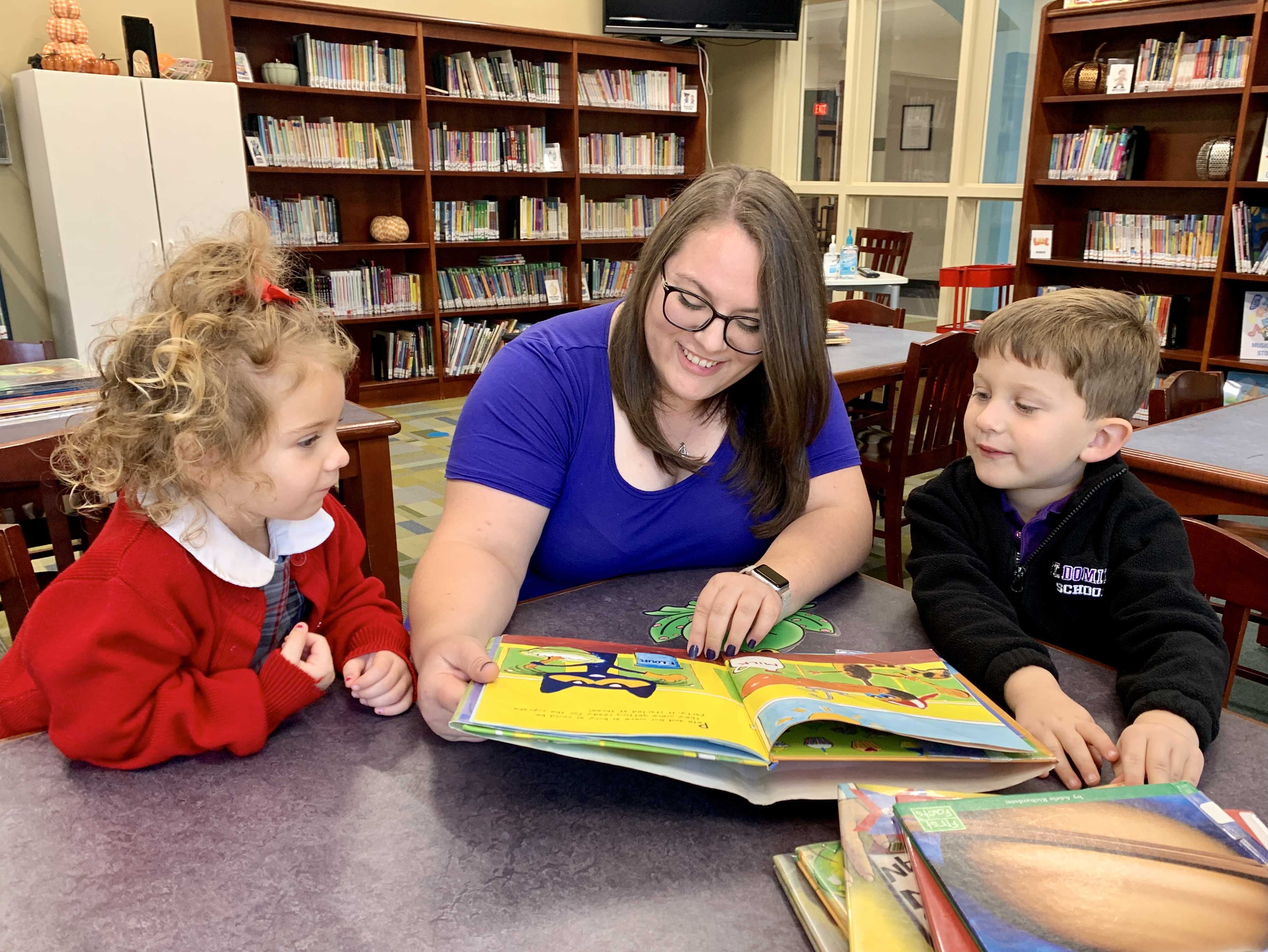 A graduate of Rhodes College (BS) (Bonner Scholar for Service) and Christian Brothers University (MAT), Sarah Joyner has been teaching for nine years. She loves working with her Pre-Kindergarten friends each day and enjoys helping our parents face the challenges of parenting young children. Get to know a little more about Ms. Sarah!
Why did you want to become a teacher?
Helping others has always been a part of my personality, and I was able to explore that passion as a Bonner Scholar at Rhodes. I knew I wanted a career where I could serve in my job capacity, and while I was exploring career fields, I fell in love with the excitement of a classroom of children. There is always time to have fun, be creative, talk, make connections, and support others. There is such joyful energy in a classroom, and it is exciting to learn!
What do you enjoy about teaching PK?
Students at this age are so curious. I love exploring new things with my students. Their amazement and wonder at everything we do is infectious. They love easily, are excited to try new things, and always keep me on my toes. I am always learning right alongside them to make sure I can keep up!
What are some ways you bring lessons to life?
Lessons are best taught through experiences. I want my students to hear, see, and experience life around them and to learn by doing it. If we are learning about colors, we are going to finger paint. If we learn about plants, we are going to be digging in the dirt and touching plants. I enjoy helping my students learn through play and exploration.
What do you hope to accomplish in your job?
I hope that every student in my classroom feels loved and is happy to learn. I also hope that my parents feel supported in parenting their child. For me, achieving these goals makes me feel successful at my job. As for career growth, I enjoy pursuing learning opportunities that help me to learn more about child development, neuropsychology, and brain-based learning. It is exciting to learn about how the brain functions and what I can do as a teacher to help my students and parents achieve their goals each year.
Describe your role in supporting the parents of young children.
When I describe my role as a preschool teacher, I tell people that teaching preschool is not just about teaching a three-year-old, but I am also helping parents learn how to parent a three-year-old. My experience in child development and working with children helps me provide the support parents need daily. From strong-willed little ones to picky eaters, my wealth of knowledge on taking care of children helps me equip parents with the tools they need to face the challenges of parenting young children. We work to find solutions that work for their family. I want all my parents to know that I am here to help, and they have a strong advocate in their corner!
What do you enjoy most about your job/what are your favorite parts of your job?
I get to have fun and laugh every day. I have the best job in the world! I challenge you to find a more entertaining job than teaching preschoolers. I get to play, have fun, and be creative while calling it work and getting paid to do it!
I also work with an amazing and supportive team that have become close friends. Kathi Davidson has been an invaluable vault of experience that advises me daily. She has supported me from my first day teaching at SAA-SDS and keeps me on track. Libby Lynn has been the best assistant I could ask for. She is thoughtful, caring, and anticipates our needs around the classroom. We have such a solid team in the ECC. I could not do my job effectively without them.
What makes the St. Agnes-St. Dominic ECC experience unique/special?
In the ECC, the teachers are given autonomy to create a classroom and curriculum that meet the needs of our students. I have the freedom to take a rainy day and turn it into exploring the seasons and weather. The teachers do not just teach the basics that students need for school, but teach life skills such as being flexible, taking on challenges, exploring the world, building relationships, and recognizing and communicating their needs. The ECC experience is unique because we do not just teach academics, but we also foster an environment to help students learn to be great people.
Which of the Pillars-Study, Prayer, Community, Service-is supported most by your role here?
To serve my students is at the core of my teaching in ECC. Every day I am given the opportunity to show God's love through caring for my students and meeting their needs. I give my time, patience, knowledge, and support to help my students grow and be successful.
What are you most grateful for?
I am grateful for my family. I am very close to my parents and siblings. They love and support me in my life goals, give my guidance, and are always ready to listen to all the funny and crazy stories I have from teaching preschoolers. They have taught me the value of love, support, patience, and hard work. They make me a better person.
What are your interests outside of the classroom?
Outside of school, I love to travel and foster rescue dogs. I joke that I always have a bag packed and ready to go. I enjoy traveling and experiencing new places, especially new foods. One of my favorite things to do while traveling is to try all the famous local foods or restaurants. I am also very involved with rescue groups and helping foster dogs. It is so very rewarding to help a pet recover from their experiences, train them in manners, and help them find a family that fits them perfectly.