Back
We know that during a child's formative years of elementary school, many lifelong habits and attitudes are established. At St. Agnes we aim to cultivate a love and enthusiasm for learning and to nurture a positive self-concept through every subject and activity.
Our motto is Truth, and in all subjects, we proclaim that truth is the foundation of knowledge and learning. Based on this belief, our curriculum is both balanced and academically challenging, and it blends the skills of creativity, critical thinking, communication and collaboration across content areas so that each girl's elementary experience is a time of growth and joy.
Corinne Emanuel, SAA Class of 2022
Curriculum
Our dynamic Language Arts curriculum encompasses reading, literature, grammar, vocabulary, spelling, composition, listening, speaking and penmanship. Extensive phonics work in the primary grades is used to develop a strong foundation in spelling and decoding skills. Our teachers implement the Orton-Gillingham methodology as a multisensory resource for reading and phonics instruction.
We place an emphasis on building grammar and vocabulary proficiency promoting the acquisition of effective oral and written communication skills. Our K-6 writing workshop curriculum, Being A Writer by Collaborative Classroom, introduces the girls to the creative and technical process of writing, which imitates how real writers write.
Through exposure to the world of literature, we teach reading comprehension, speaking and listening skills. A range of books and novels are taught through guided reading, and the girls are assigned independent reading outside of class. At the intermediate level, a focus on discussion skills, critical thinking, and literary analysis is accomplished through the Great Books Program.
We are committed to growing girls who are confident in the mathematical skills that will support their future work in classes, careers, and daily living. Our Math curriculum reflects the current research on how girls interact with and learn mathematics. The Go Math program engages our students with a wealth of resources, differentiates instruction, and builds and reinforces foundational math skills that translate from the classroom to real life.
In addition to focusing on math achievement, our math department includes attention to building each student's confidence in math and to creating open and engaging environments for novel problem-solving strategies. This comprehensive approach addresses the wide spectrum of early interventions that play a critical role in developing a deep conceptual understanding of content, critical and abstract thinking skills, and a positive disposition to mathematics.
Our program engages students with a wealth of resources that allow for differentiated instruction thus ensuring that each child's developmental needs are addressed.
Through our comprehensive science curriculum, girls learn to ask questions, investigate answers, and think conceptually. Using a project-based, hands-on approach, the curriculum awakens in each girl a curiosity and a sense of wonder about the world and how it works.
Mystery Science provides the framework for our girls in grades 1-4 as they develop a scientific understanding of the world through an inquiry-based approach. Grades 1-3 also attend a weekly STEM-based class called Innovation Lab. During iLab our science and technology team of teachers guides our budding scientists through the inquiry process while answering a central question, solving a problem, or meeting a challenge. In grade 4 girls work in our science lab on a culminating environmental STEM project in conjunction with the Wolf River Conservancy and other environmental resource programs in the greater Memphis area.
Grades 5-6 use Science Dimensions as the framework for their coursework. In grade 5, students explore the engineering design process, properties of matter, and plants and animals and their ecosystem interactions. Grade 6 is an engineering-based course where students build and program Lego EV3 robotics.
Through our social studies program girls explore the diversity within their communities and environments both locally and globally. Girls learn to think critically and analytically about past and current events, and to provide a framework for understanding other cultural works, such as art and literature. By studying the cultures of people, geography, and current events, our students gain an appreciation for their own heritage, cultivate a respect for diversity in other cultures, and develop an awareness of what binds us as human beings.
We use Studies Weekly as the guidepost of our program, and students also participate in interdisciplinary projects with other subjects such as religion, science, math and language arts. A hands-on creative approach within the program fosters many unique signature learning experiences within each grade level.
Religious studies and faith formation are an integral part of our school's curriculum and culture. The goal of the religion program is to foster in children an awareness of and a sensitivity to God's presence in their lives. We cultivate an environment of prayer, study, community and service in which children can develop a close relationship with God and a love for each other. Religion is taught in all grade levels, and the teachings of the church are integrated across content areas. In grade 2, there is an emphasis on the Sacraments of Initiation which enhances the sacramental preparation that they receive in their individual parishes.
Each day begins and ends with prayer and students are encouraged to form habits of virtue throughout the school day, as well as at home. Our student body is comprised of children from a rage of religious denominations, and respect for the religious preferences of all students is fostered and encouraged.
The power of the Arts to enrich the human experience and society is recognized and celebrated at St. Agnes Academy. At St. Agnes the arts connect our students to the history, to diverse cultures, and to their own imaginations. We offer students a comprehensive Arts education in an environment that includes a well-equipped and spacious art studio, two music rooms and a large theater. Our robust Arts program includes visual art, vocal and instrumental music, and drama
Through the Visual Arts, our students experience drawing, painting, printmaking, and graphic design, and they study great works of art. The girls have opportunities to participate in a variety of art contests, and their art is displayed in local exhibits. Our Performing Arts program provides students with an opportunity to participate in theatrical productions and to develop musical concepts and skills both vocal and instrumental. The curriculum includes Orff Music instruction and World Music Drumming.
Extra-curricular activities enhance our Arts program offering our students numerous opportunities to further explore their creativity. Two full-production theater performances are offered each year along with Liturgical Choir, middle school Chorus, and string ensemble. Our Extended Day program offers gymnastics and ballet throughout the year, and the girls can share their musical gifts at Mass, school assemblies, and community events.
Teaching our girls the importance of lifelong wellness is at the center of our PE program. In Grades K-6, we implement the award-winning SPARK Program that is dedicated to creating, implementing, and evaluating research-based programs that promote lifelong wellness. In conjunction with SPARK, students receive instruction in yoga, golf, soccer, basketball, volleyball, badminton, aerobics, and track. The PE program aims to develop agility, coordination, and endurance, as well as to instill general health knowledge. At the end of each year, the girls participate in the The Presidential Youth Fitness Program which places emphasis on the value of living a physically active and healthy lifestyle—in school and beyond.
St. Agnes Academy offers a robust extra-curricular athletics program. Our girls have the opportunity to be involved in soccer, golf, basketball, volleyball, track, cross country, swimming, and gymnastics.
Exposure to a world language enables our girls to expand their knowledge of diverse cultures. In addition, research indicates that studying another language enhances creativity and memory.
The Spanish curriculum in grades K-6 emphasizes speaking and listening skills, provides opportunities for writing and reading the language, and includes a study of the Spanish culture. Students participate in live exchanges with Spanish speaking students through the use of our Distance Learning Center. To connect their classroom experience to our local community, the girls are also exposed to local cultural events and experiences such as art exhibits and music and dance performances.
Our school is a leader in the use of technology in an educational setting and has been designated as an Apple Distinguished School. Using the student standards outlined by the International Society of Technology in Education (ISTE), our girls are using technology to transform their learning. The girls leverage technology to become empowered learners, knowledge constructors, innovative designers, creative communicators, digital citizens, computational thinkers, and global collaborators.With the world of technology opening before them, our girls are preparing to take their place in this field.
Our Student Services department leads the Guidance program providing our girls with a strong foundation for social relationships and academic achievement. The objectives of the program are based on the five core competencies set forth by the Collaborative for Academic, Social, and Emotional Learning: self-awareness, self-management, social awareness, relationship skills, and responsible decision-making. These five core competencies provide our girls with a strong foundation for social relationships and academic achievements. This growth and development process not only prepares our girls for the challenges of their continuing education but also for life.
St. Agnes Academy provides a range of ways for the girls to exercise their leadership skills whether that be through elected, selected, academic, athletic, or service opportunities.
In Grade 6, the curriculum includes a weekly leadership course called Claim Your Gifts (CYG) during which the girls explore and identify the gifts they have been given and how they can use their gifts in the context of leadership, including personal leadership. The curriculum is inspired by concepts derived from the Garner Carney Leadership Institute and includes a myriad of engaging activities such as team building, discussion, and visible thinking routines from the Harvard Project Zero Program.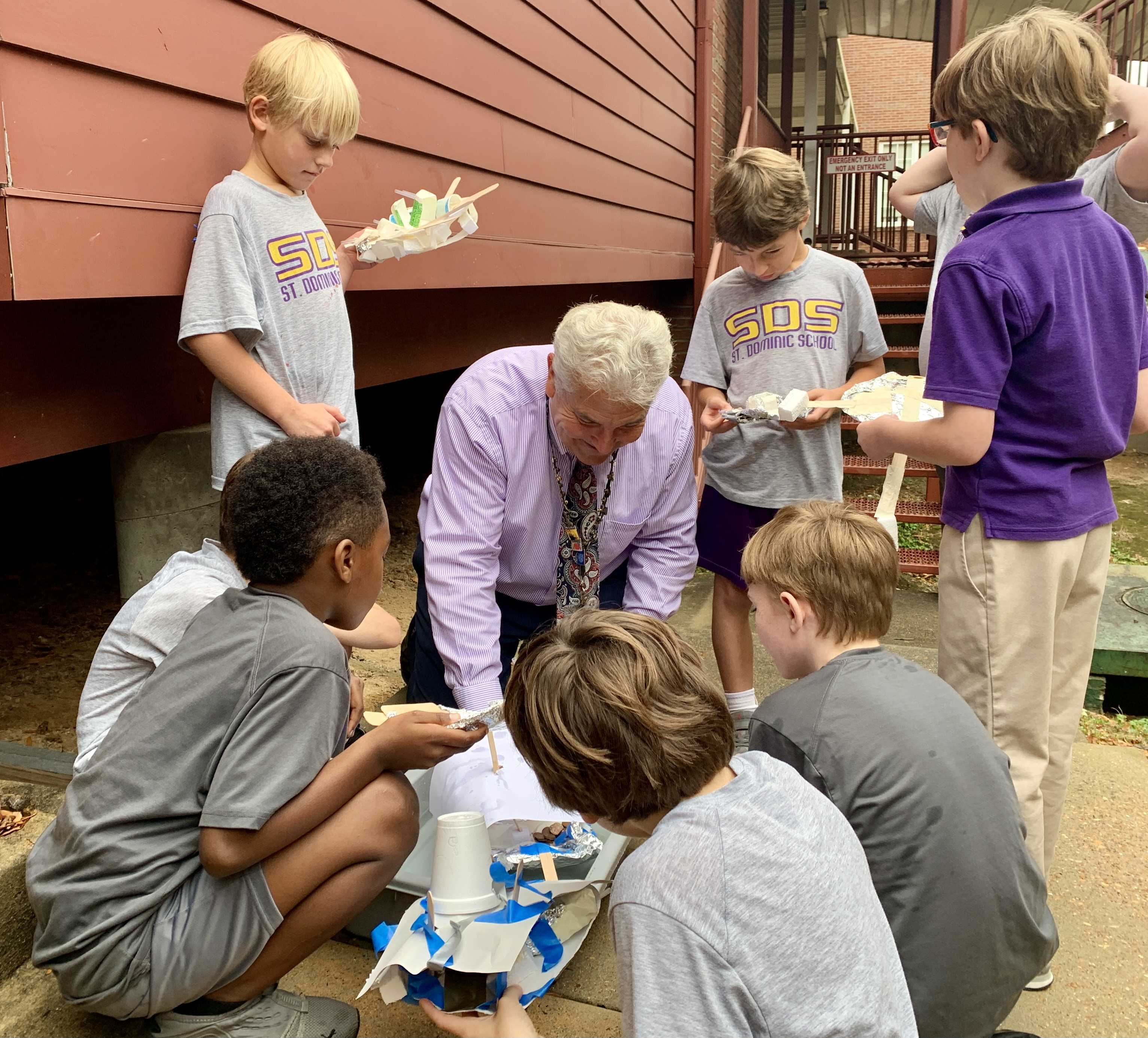 What is iLab? iLab is fun, iLab is messy, iLab is loud, iLab is creative, iLab builds grit and determination in our students!
Read More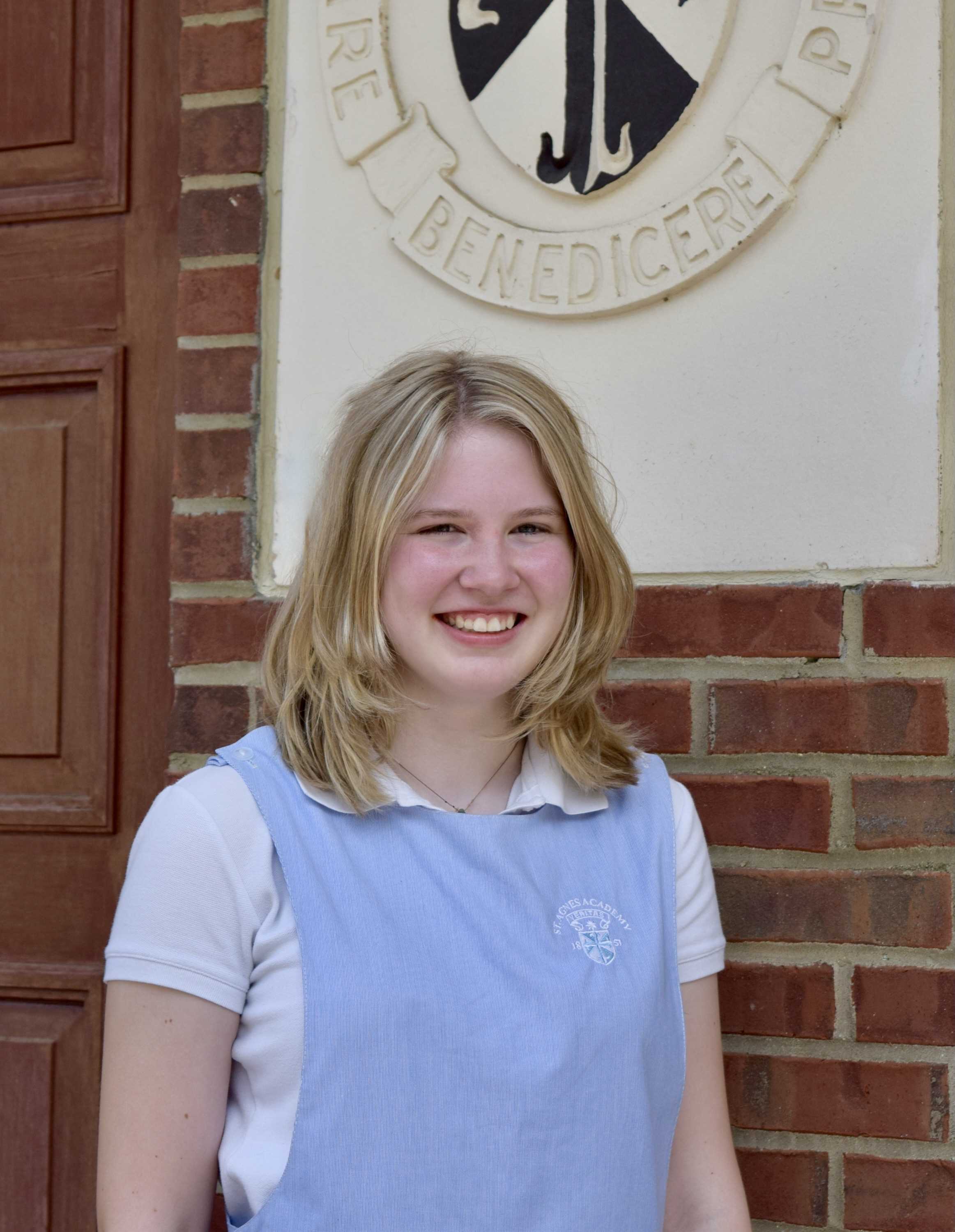 Editor-in-Chief of Calliope, Ladies First, Theatre, Field Day Coordinator, Model UN, Youth in Government
Read More