Back
Meet the SAA Upper School Winter Sports Coaches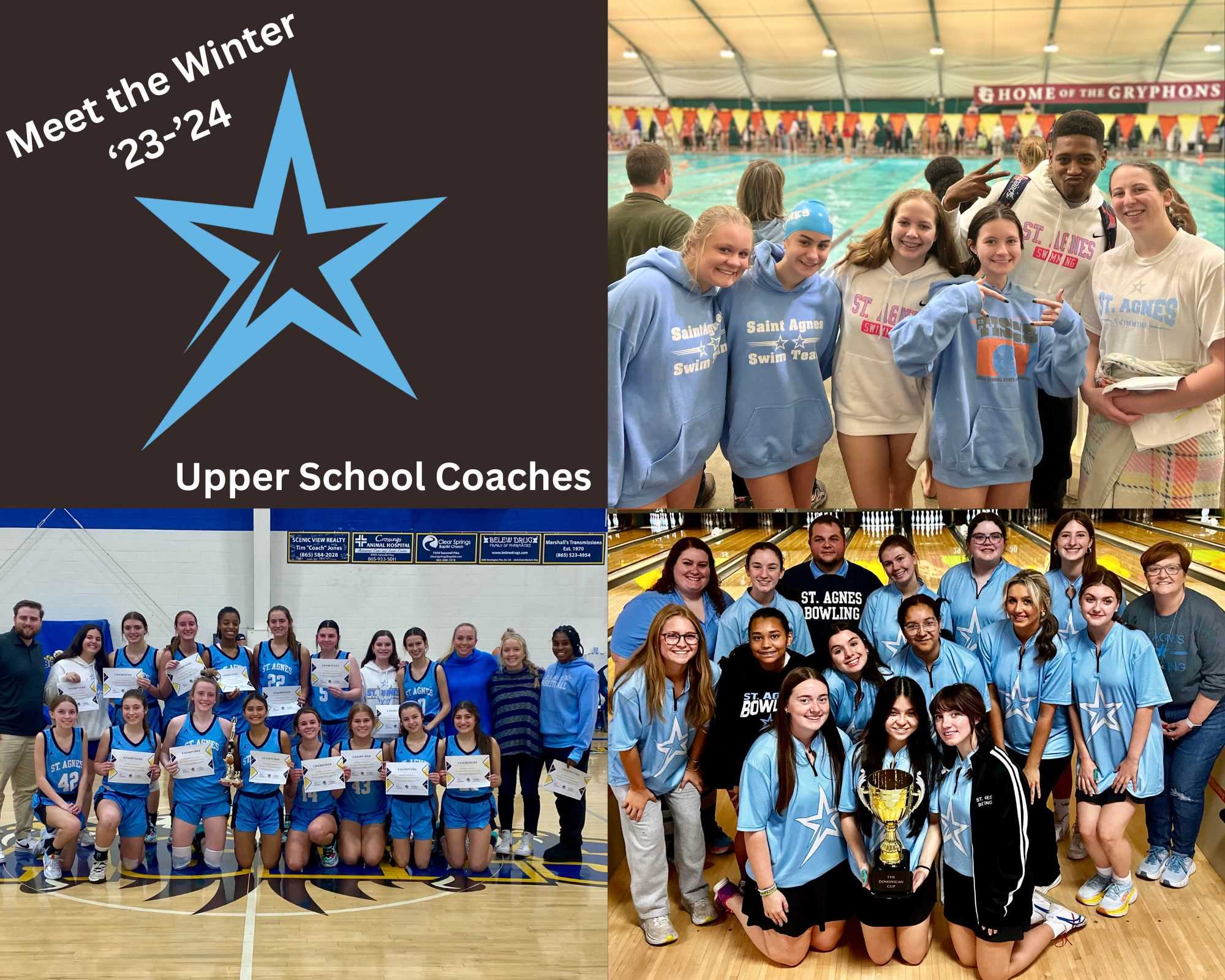 by Emma Mungle ('25), Student Contributor
St. Agnes Athletics has a variety of sports to offer, even in the winter! We have amazing coaches to guide and mentor us on the court, at the lanes and in the pool! Here are all the winter season coaches and some information to help you get to know them all a little better:
Basketball: Head Varsity Coach, Caitlin Motte, is entering her 10th year as a basketball coach, and her third year here at SAA! When talking about why she loves coaching at SAA she says: "My favorite part of coaching at St. Agnes is the relationships that I can build with my players. We preach family in our program, and I am grateful that our coaching staff has been able to successfully cultivate a sense of family amongst our teams year after year. I truly enjoy getting to know each girl, beyond their interest in basketball, and supporting them in their endeavors both while at the Academy and after they graduate." Coach Motte ran cross country and track as well as played basketball and soccer in high school. She lettered in two sports at Mississippi College and Millsaps College, participating in both basketball and cross country. A fun fact about her is that she has run in both the New York and Chicago marathons!
Bowling: Head Varsity Coach, Matt Burkhead, has been coaching bowling for 11 years, with seven of those years at SAA! He shared that he likes "the culture, the determination from student athletes, and the support from our Athletic Council." He really enjoys coaching here at SAA! Coach Burkhead has successfully led our bowling team to two state champion titles, five regional titles and two regional runner-up awards. He bowled in college for four years at the University of Alabama and was a pro bowler on the PBA tour. A fun fact about Coach Burkhead is that he is 80% Italian and can cook Italian food better than anyone in his family. His favorite is lasagna!
Swim: Head Varsity Coach, Bakari Williams, has been coaching swim for 11 years! He has coached at St. Agnes for three years, and he also coaches Memphis Tigers Swim Club. Coach Williams swam all throughout his childhood, in high school at Northwest Rankin in Jackson, Mississippi, and at Rhodes College in Memphis. His coaching philosophy is all about personal growth-improving your times and being the best that you can be. One fun thing to know about Coach Williams is that he always starts practice by asking what you had for breakfast that morning. He believes that you should eat well in the morning because breakfast is the most important meal of the day!