Back
Three St. Agnes Athletes Sign National Letters of Intent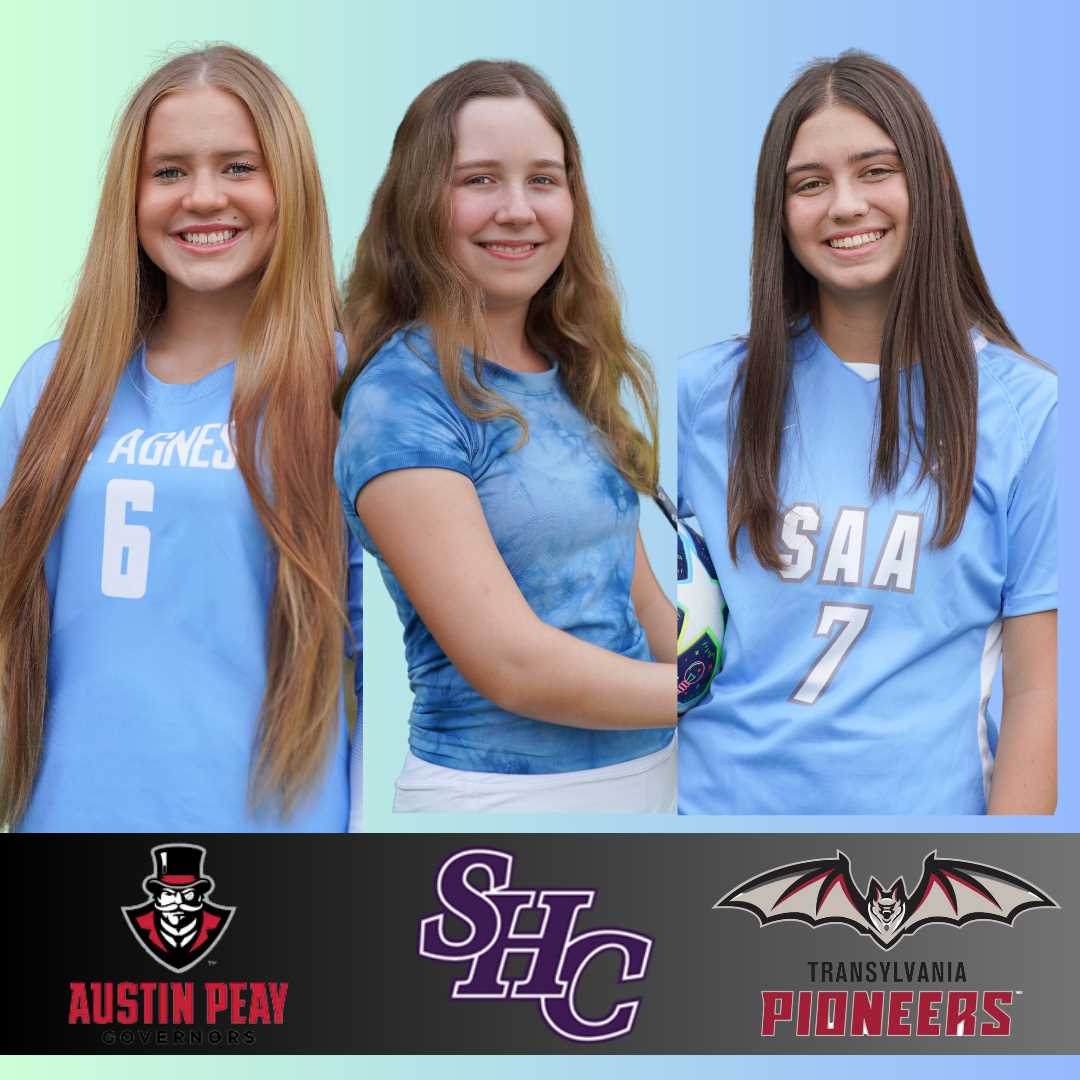 Congratulations to three of our outstanding St. Agnes Academy athletes who will be taking their talents to the collegiate level next year. Seniors Grace Denegri, Anna Pieralisi and Kayleigh Ryan signed National Letters of Intent today during a ceremony held on campus in front of family, coaches, and classmates.
Grace Denegri will continue her golf career at Spring Hill College in Mobile, Alabama. Grace is a four-year member of the SAA varsity golf team serving as captain her senior year. She helped lead the team to three region championships including the 2023 region title where Grace shot a career-best 66 and was the individual region champ.
"We are beyond grateful to have had Grace compete for four years. Her work ethic has helped her grow as an exceptional student and an amazing athlete," said Varsity Golf Coach Cynthia Giannini. "Her commitment and sacrifice to our program exemplifies the characteristics of what a STAR truly is and without a doubt will help her succeed at the next level."
Excelling off the course as well, Grace has been named an AP Scholar. She is a member of the National Honor Society as well as the English, Spanish and Mu Alpha Theta (Math) Honor Societies, and she was the recipient of the Yale Book Award. She is a retreat leader, peer mentor and tutor in the SAA Learning Lab. Grace plans to study Elementary Education and Math at Spring Hill.
Anna Pieralisi will compete for Transylvania University in Lexington, Kentucky, as a member of the Lady Pioneers soccer team. Anna is a four-year member of the SAA soccer team and has also competed for Lobos Rush throughout her high school career.
"Anna works hard, she plays for the team, she supports her teammates and most of all she has a wonderful personality," said Varsity Soccer Coach Bobby Ireland. "She has been an amazing and calming influence on our team since she came on board. She gives confidence to the team and creates a solid partnership on the backline with the other defenders. I believe Anna will reach new heights in her career as she moves to the next level. She has so much to offer, and she'll be an amazing addition for Transylvania University."
An AP Scholar, Anna is also a member of the National Honor Society as well as the English, Latin, and Mu Alpha Theta (Math) Honor Societies. She is Co-President of HOSA and a four-year member of the National Beta Club. Anna plans to study Biology with a focus in Pre-Physical Therapy.
Kayleigh Ryan will showcase her volleyball talents at Austin Peay State University in Clarksville, Tennessee. Throughout her high school career Kayleigh helped lead the Stars to three back-to-back Regional Championships and a state runner-up finish this season.
Varsity Volleyball Coach Jared Marks described Kayleigh's competitive spirit, saying, "I have never met a player who doesn't like to win. But very rarely do you find a player who hates to lose. That is what makes Kayleigh the ultimate competitor. She never backs down from a fight, is a great commander on the court, and pours everything she has into her team and the game. It has been such a pleasure coaching Kayleigh these past four years and watching her to grow into a confident person who is ready to go and leave her mark at Austin Peay. I can't wait to see her continue her journey at the next level and wish her all the best in her future endeavors!"
Kayleigh is enrolled in the Biomedical program at St. Agnes. She is an active member of the STEM club and has represented St. Agnes as a member of the award-winning Canstruction team in the annual competition at the University of Memphis. Kayleigh plans to study Psychology at Austin Peay.
SAA-SDS is proud of these young women who understand the value of challenging themselves and putting in the hard work to achieve, while displaying the leadership skills necessary to make the world a better place. We look forward to watching them compete in college. Go Stars!