Back
Meet the Upper School SGA President, Emma McClellan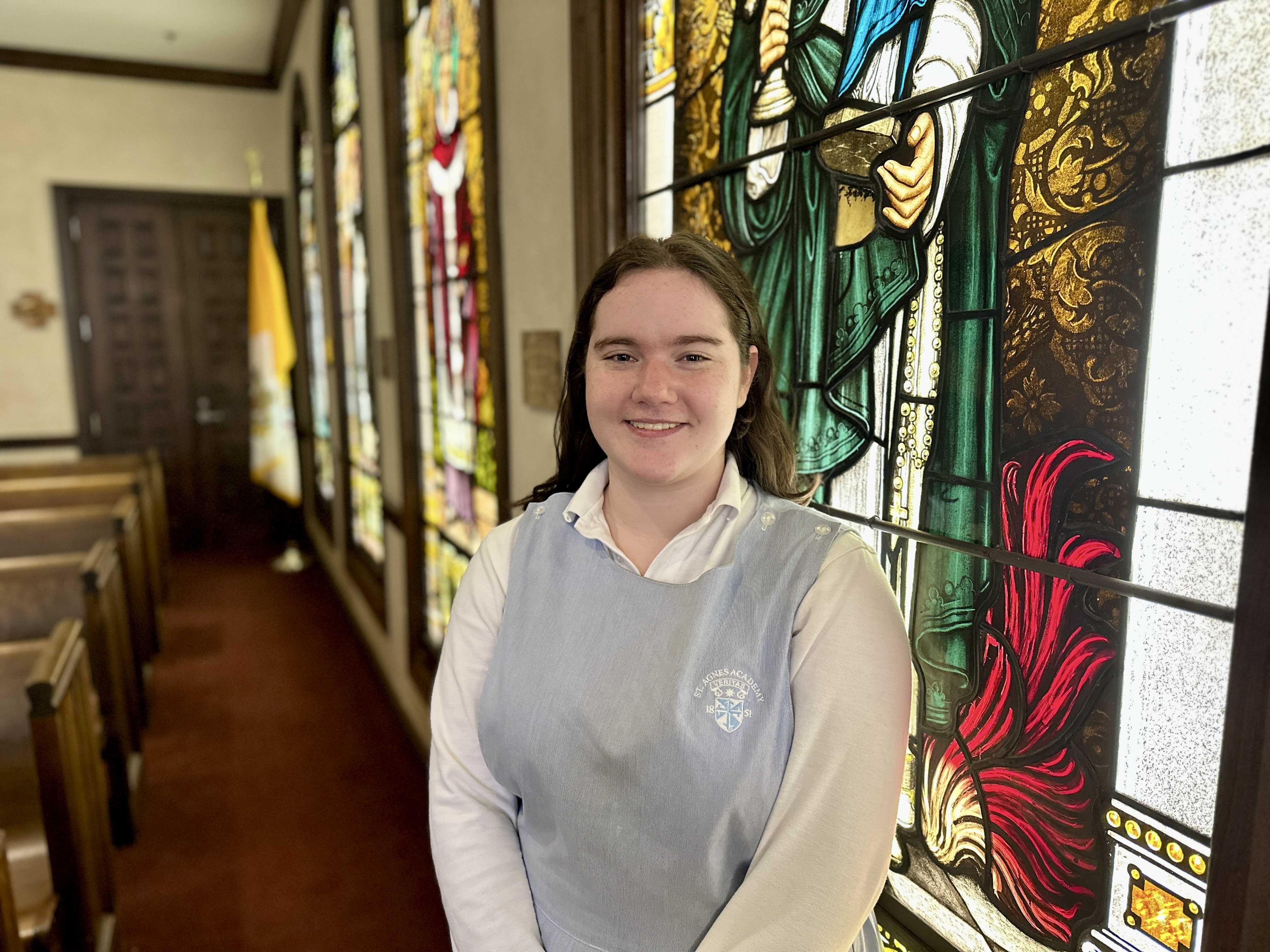 A student at St. Agnes since the 5th grade, Emma McClellan knows that true leadership is about connecting with and listening to her peers. Take a minute to get to know Emma a little better and hear about her goals for the year and her love for the SAA Theatre Department!
What is your favorite thing about SAA?
My favorite thing about SAA is definitely the people, whether it be students or educators. I love to have fun with my classmates, and they're a constant source of joy and a wonderful group of girls that I know I can lean on. I've always been somewhat of a "class clown" so anytime I can get my classmates to laugh at me is a good day. As for the educators, they're knowledgeable about topics in and out of the subject area they teach and are incredibly helpful as my mentors.
Which class has been your favorite?
My favorite classes have always been any kind of English or Literature class. I thoroughly enjoy learning about the history that inspired the authors and analyzing all different kinds of novels and plays. Recently, AP Psychology taught by Dean Patterson has swept me away. It's truly a course unlike any other, and the experience has been incredibly refreshing to take on a new subject I've never studied before. These classes have been a major influence on my decision to pursue a career in writing for film and television.
What is your favorite St. Agnes tradition and why?
My favorite tradition at St. Agnes would have to be a tie between the senior voices at assembly and class rings. Honestly, I've probably been writing my senior voice in my head since freshman year. I think it's incredible that the seniors have a chance to share their story with the students and educators, while also getting the opportunity to invite their family and friends to watch. My other favorite tradition is the class ring. Ever since I got my ring last year, I've gotten noticed by so many alumnae as a fellow star. Also, the rings are absolutely gorgeous!
Why did you decide to participate in Student Government?
I have always been interested in leadership. Starting in the 6th grade as class representative, I was constantly looking to express not only creativity but also problem-solving skills, and what I found was that leadership provided a great opportunity to exercise those skills. I continued to serve as SGA president in the 8th grade as well as hold class president positions in the 9th and 10th grade, before being elected for SGA as business manager last year. I always considered myself to be a strong leader, and I saw an opportunity to strengthen my leadership along with an opportunity to acquire a deeper connection with my classmates and high school peers as a whole. Participating in Student Government has offered me incredible opportunities to grow as an individual, student, and leader.
What does it mean to you to have the support of your peers?
Being elected as president was a one-of-a-kind moment, especially running unopposed. Knowing that the Upper School students had that level of trust in me and believing that I am the best person for the job, challenged me to be the best leader that I can be this year. It's what they deserve for having that faith in me. Having this incredible support from my peers has been such an uplifting experience and I really couldn't be more grateful for each person that places confidence in me each day.
What are your goals for the year as SGA president?
My goals for the year mainly focus on emphasizing positivity and sisterhood in everything we do as a school community. I believe that everything can be accomplished with some laughter and enthusiasm. Even the more difficult tasks can be completed with some fun sprinkled in every now and then. My overall hope for the year is to lift people's spirits and to further develop a tight-knit community of sisters.
What has St. Agnes taught you about leadership?
St. Agnes has taught me that being a leader is not about always making the right decisions or doing the work yourself. It's about listening to the right people at the right moments and taking ideas from anywhere you can. I've learned that leadership is about being a friend to everyone, first and foremost.
What other activities are you involved in at SAA?
I have been an active member in the St. Agnes Theatre Department for many years and was inducted into the International Thespian Society last year. I spend most of my time after school in the Hook Theatre rehearsing. In high school, I have been a part of productions such as Descendants, Clue, and most recently, Newsies. There's no other way I would choose to spend my time than in the theatre. It really is a magical space where everyone belongs, no matter what your talents or skills are. We have just started rehearsal for the next musical Beehive, which is super exciting. I already can't wait to get back on stage!
What are you involved in outside of school?
Outside of school, I spend a lot of time at my piano. I have been taking classical piano lessons for about 9 years. Music has always been and probably always will be one of my greatest passions.