Back
Sisters Shine in the Summer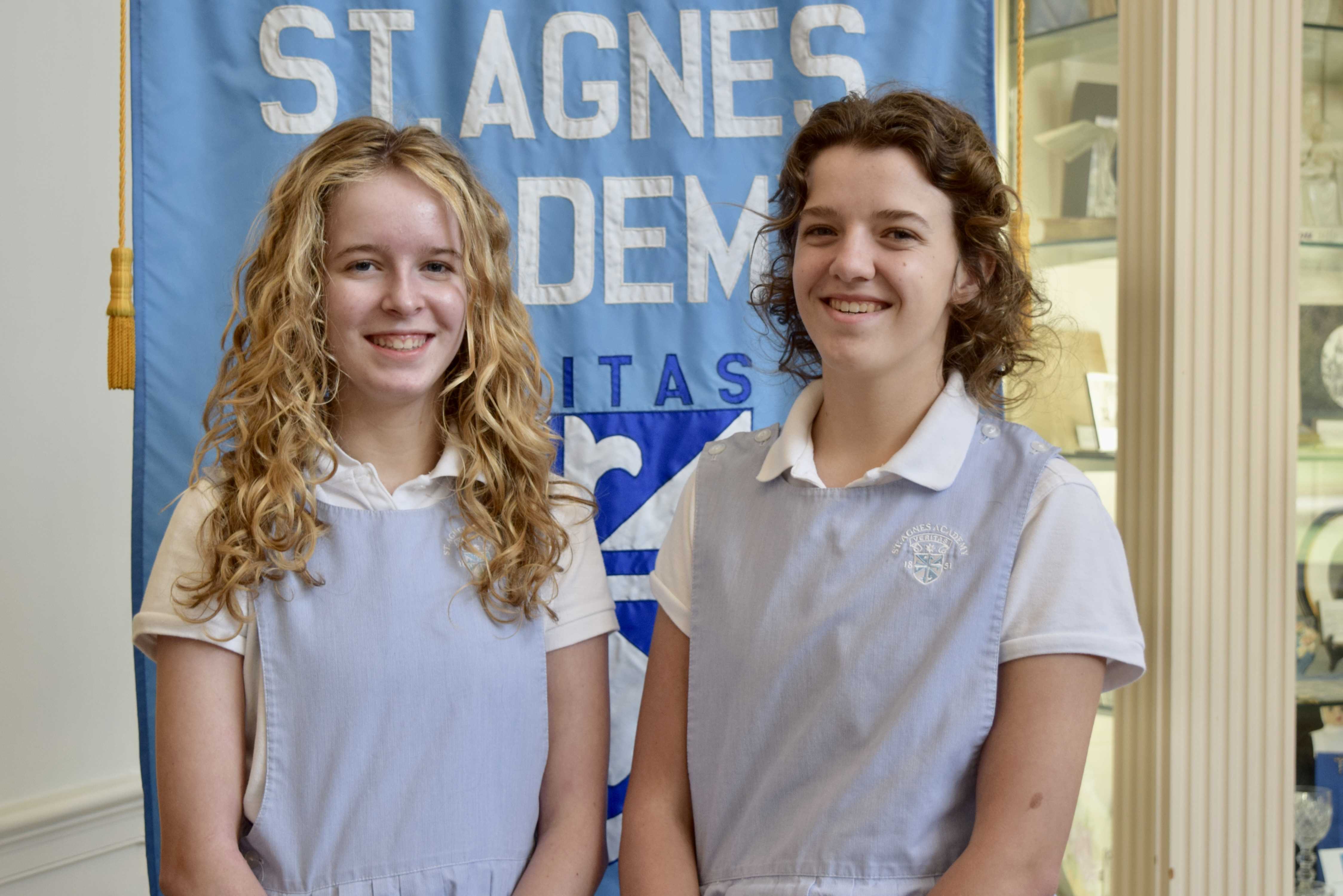 Not many high school students get to conduct research on cancer fighting drugs or experience being the on-air talent in a broadcast, but this summer St. Agnes seniors Madelyn and Sarah Henry Havard got that chance.
Madelyn and Sarah Henry are twin sisters that have very different interests, however both found summer programs well suited to their academic and career goals.
Madelyn participated in an 8-week internship through the St. Jude High School Research Immersion Program. Sarah Henry spent 12 days on the campus of Elon University as one of only 20 students from throughout the county selected to participate in the Emerging Journalists Program.
"Madelyn and Sarah Henry are two dynamic students who have found a home for their individual pursuits here at SAA. They had the drive and the confidence to really challenge themselves over the summer, and they were able to grow academically and socially through their experiences," shared Dean Heather Valdez.
The St. Jude High School Research Immersion Program Madelyn participated in is a competitive internship comprised of 32 high school seniors selected from around the Memphis area. Participants receive a stipend and are required to work a 9-5 schedule for 8 weeks. Students work in pairs with a research mentor to conduct a research project.
"I am very interested in medicine and cancer biology. This internship gave me an opportunity to learn about research in a real-life setting, as well as gain mentors in the field," shared Madelyn.
"I was placed in the Department of Surgery at St. Jude in the Yang Lab with my specific research project focusing on drug development and solid tumors. I looked at the effects of a compound called indisulam on neuroblastoma by running different experiments on neuroblastoma cells. The program culminated in two exhibitions during which I presented my research both at St. Jude and at Lichterman Nature Center."
When asked how St. Agnes has fostered her pursuits, Madelyn offered, "SAA supports me in exploring my interests through my biomedical courses. Because of these classes, I was able to realize my passion for medicine early in my high school career, and I have learned about many aspects of the healthcare field. I also really appreciate the STEM and HOSA clubs because they provide even more opportunities for me to explore my interests in science outside of the classroom."
The Emerging Journalists Program at Elon University in North Carolina is designed to inspire rising seniors to embark on journalism careers. The cohort, which is fully funded by the Scripps Howard Foundation, is a two-part program focusing on both Exposure and Immersion. Through the Exposure experience, students get access to virtual educational opportunities throughout the spring to learn about journalism and communications careers. The Immersion is a 12-day on-campus experience with sessions on News Gathering & Writing; Editing & Design; Photojournalism & Multimedia Broadcast; and Law & Ethics.
"I worked on three main projects: the newspaper, the broadcast, and the website," explained Sarah Henry. "I particularly enjoyed directing the broadcast and being an on-air talent for the broadcast. While working on my assignments, I had the chance to interview members of the Greensboro Grasshopper team and the Associate Dean of the School of Communications of Elon. Over the course of the 12 days, I saw an improvement in my writing skills, networking skills, and overall confidence in my abilities. I believe my experience at Elon helped prepare me for college life."
Sarah Henry has also found avenues to explore her future on our campus. "The curriculum at St. Agnes supports my interests by allowing me to take classes like AP Literature, AP Language, and Journalism-which all foster my writing skills. The school also offers a multitude of other opportunities like taking pictures and covering school events. Across campus I am involved in the yearbook as editor, staff member on Calliope, and active in the Theatre Department," said Sarah Henry.
After high school, Sarah Henry hopes to attend the University of Missouri or Elon University as a journalism major with a concentration in sports media. Madelyn is unsure of where she wants to go to college but is planning to major in Public Health. Whatever they choose, we know that they will leave our halls prepared for their future.
At St. Agnes Academy, our Upper School students are strongly encouraged to participate in the many summer programs offered by universities, institutions, and businesses. These summer opportunities can be an important part of preparing for the future-where students can discover new interests, enhance their knowledge in specific subjects, learn what it is like to live on a college campus.
Ms. Julie Montgomery, our Senior Class Counselor and College Counselor explained "If students are interested in specific colleges, we encourage them try a summer program on that campus so they can get a real feel for 'campus life' there. If students are interested in a specific major/career, a summer program focused on that field could help them understand that field even more. And if summer programs don't fit into a student's schedule or budget, then we always encourage them to volunteer or find an internship in a field that is of interest to them."
During Upper School assemblies throughout the fall, participants have the opportunity to speak about their summer program experiences to help educate other students on all the opportunities available-from diversity and inclusion programs at Clemson to writing intensives at Rhodes College.