Back
Check Out the SAA-SDS Library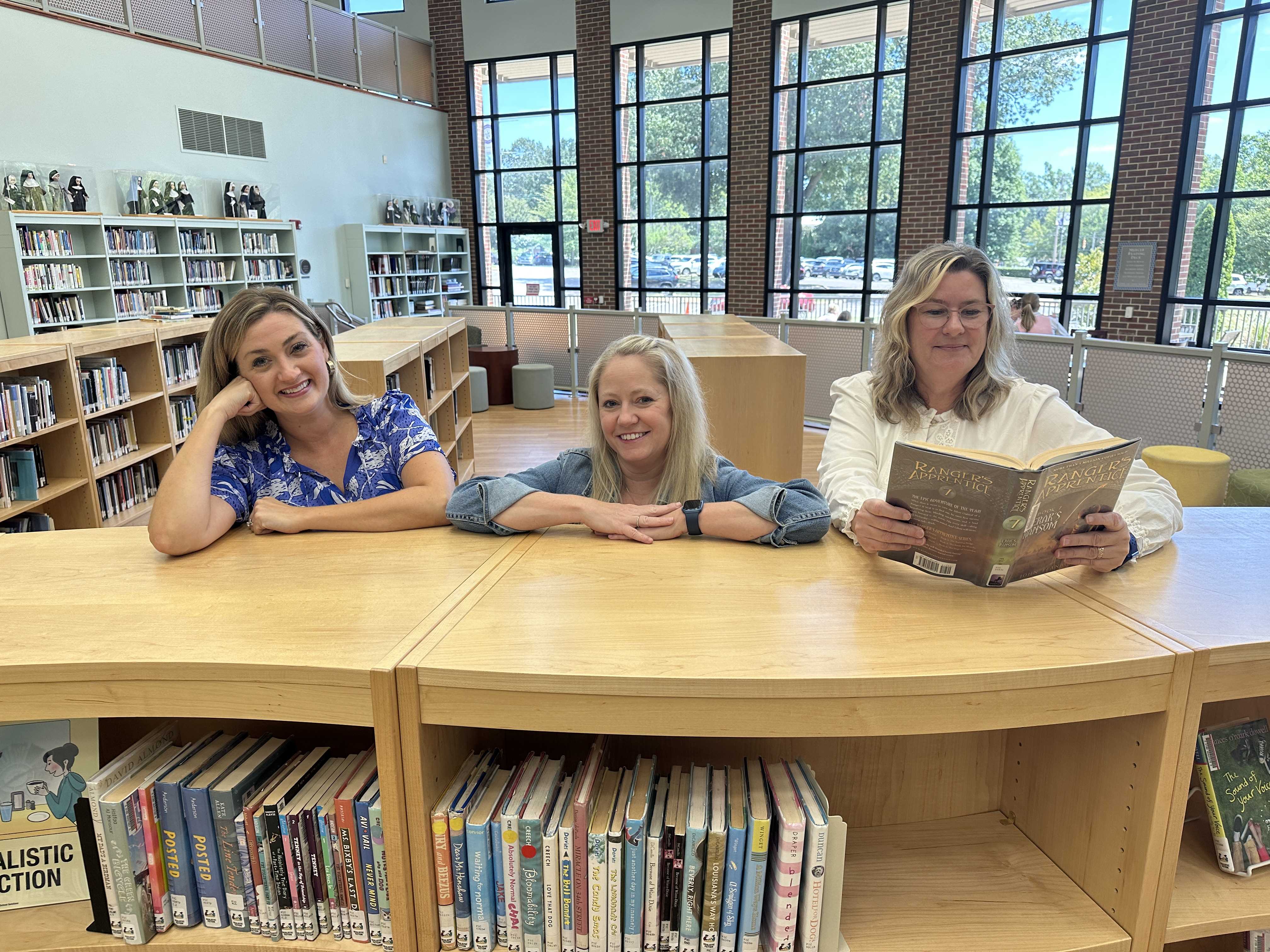 Not so long ago there were whispers that libraries were going to be a thing of the past-that technology would take their place and they would become relics. At St. Agnes Academy-St. Dominic School we have proven that that is categorically untrue. In fact, our library is more active than ever!
"In recent years the library has seen a transformation from the traditional quiet repository of books that libraries are often known to be, to a learning common that is alive and active," explained Mrs. Sara Casey, Director of Library Services. "Books fly off our shelves daily, laughter can be heard from the story nook as stories are shared, students feel welcome and at home in our space, and learning in all forms is always happening."
SAA-SDS is blessed to have a dynamic library staff whose mission is to provide a setting in which students feel free to explore information and literature. Our librarians have one over-arching goal: to foster a love of literature in as many students as possible, creating lifelong readers. We would love for you to take a minute to get to know these three ladies and their philosophy of what "library time" should be for each age group.
Mrs. Casey has been an educator at SAA-SDS for 18 years as a member of the library and technology departments. In 2018 she was named Director. In her current role Mrs. Casey works with our youngest students in the ECC and teaches our Upper School students. She holds a Bachelor's Degree in Legal Studies and a Master's Degree in Information Science, both from the University of Tennessee at Knoxville. She is married and has two daughters who both attend SAA, Emma (9th) and Ava (7th).
Mrs. Rachel Young, who has been at SAA-SDS for two years, teaches students in grades K-3. She holds a Bachelor's Degree in Journalism from the University of Memphis and a Master's Degree in Elementary Education from Union University. Mrs. Young also has an endorsement as a Library Media Specialist from the University of Memphis. She is married and has two children, Jack who is in second grade, and Evie who is in fourth grade.
Mrs. Erica Guillen is the newest member of our library staff, joining us just this year to teach students in grades 4-8. She holds a Bachelor's Degree in Social Sciences from Florida State University and a Master's Degree in Library and Information Science from the University of Hawaiʻi at Mānoa. Mrs. Guillen is married and has one grown son, Max.
Our librarians work hard to inspire our students to become competent users of information. According to Mrs. Casey, this looks different at each level.
In the ECC, the focus is on becoming engaged and good listeners during story time. Students are encouraged to listen and participate in discussions about the books. Story time with Mrs. Casey often includes movement based on the book. ECC students check out books they can take to their classroom as they begin to learn how to care for borrowed materials.
K-3 students become more independent choosers of the materials they read. They learn the rules for basic book care and checkout, how to search and find books that are just right for them, and they are introduced to the basics of research skills. Students at this level checkout books and can take home.
In grades 4-8, the focus is on building competent researchers and consumers of information. Students in these grades learn research skills such as choosing the best and most reliable sources of information, synthesizing that information, and learning how to cite their work. Mrs. Guillen works in partnership with the educators to support the curricular needs of the students both in the library and in the classroom. Students practice choosing and reading books independently and for pleasure.
Upper School students visit the library to research, study, and collaborate. Mrs. Casey partners with the Upper School educators to ensure that our students have access to database and print materials that support their research needs. Our Upper School students are prepared to be confident and independent users of the library.
With programming like the always-popular Breakfast and a Book, the Birthday Book Club, and the hallway community bulletin board (which always offers an interactive activity to participate in) our librarians are always finding ways to get students engaged. Just last year they added Starbooks cafe, a drink bar providing coffee, tea, and hot chocolate for our students in grades 9-12.
"We are always exploring new ideas to engage our community in the library," said Mrs. Casey. "Some of our future ideas in the works are family game nights and movie nights. Stay tuned!"
In a world where we are often disconnected by our focus on technology, we are proud that our SAA-SDS library continues to offer a space for us all to connect!