Back
Retreat Leaders on Retreat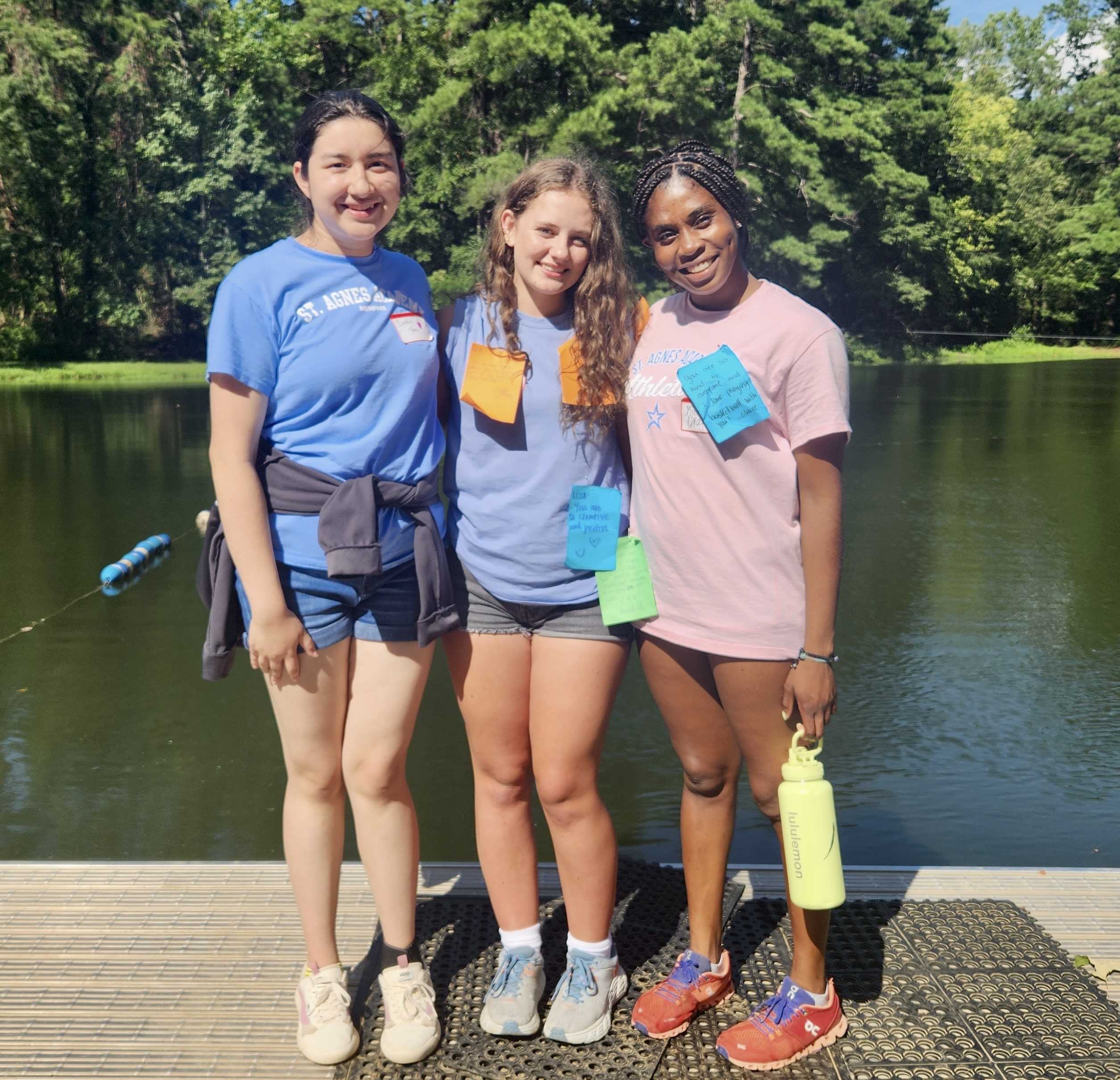 One of the most influential roles a St. Agnes Academy Upper School girl can assume is that of Retreat Leader for her peers. These student leaders-both Catholic and Non-Catholic-are a vital aspect of the creation and execution of our annual class retreats.
For the first time, our Retreat Leaders kicked off the school year with their own retreat-an overnight at St. Columba. With the theme "Be fed, Be united, Be prepared," Theology teacher Mrs. Dorissa Robinson, along with her Junior and Senior Class Chaplains Lillian Brent and Ava Podnar, set out to provide a space for encountering Christ for our Retreat Leaders.
Director of Dominican Catholic Identity Beth Odom explained the retreat's importance: "In order to lead a good retreat, you must experience one! Mrs. Robinson put a great deal of time into restructuring the way our retreat leaders 'lead' and created time for their own personal encounters with Christ. They are now able to share that encounter with the girls they minister to. Mrs. Robinson has a passion and a desire to make young leaders out of our retreat team."
Senior Lauren Brown, a first-time retreat leader, shared, "This retreat was a very calming and fun experience for me. I think this retreat helped get our minds ready for school and the upcoming retreats we will lead. It got us all excited for the things to come!"
Senior Nealy Sankey has been a retreat leader for two years. When asked why she thought it was important to start the year with this retreat, she explained, "The retreat created a bond between retreat leaders that consists of more than just the retreat planning. It also reminded us to have an open heart and mind and to remember why we are doing all of this."
Day one of the retreat included several speakers, as well as time for team building, reflection and prayer, small group discussions, skits, praise and worship, adoration, and Mass. The second day was student-led. "Lillian and Ava did an incredible job!" explained Mrs. Robinson. "The ownership they have is so exciting as we start this year."
Junior Mirriam Okafor is a retreat leader for the first time this year. She shared, "The Retreat Leaders Retreat I attended this month gave me a deeper insight into how we are all called to be great transmitters of God's love towards our fellow students. It created this sense of wanting to share more of my faith with people around me and gave me a chance to learn from other people's testimonies and praises."
Mrs. Robinson summed it up well in saying, "As a school, that's what we hope for-for each of our students to not only learn and grow academically, but to learn and grow spiritually as they encounter Christ in each other. We know that when our student leaders share their witness and experience with Christ, it encourages their classmates. As the Retreat Leaders get excited about the Class Retreats, their excitement will trickle down through the classes."
Retreat Leader Mission Statement:
Our Mission as Retreat Leaders is to share Christ with everyone we meet, to provide a place of encounter with Christ on retreat and invite our sisters into a deeper relationship with Him. We do this through nurturing our relationship with Christ in prayer and deed.