Back
St. Agnes STEM Students Win at Canstruction Competition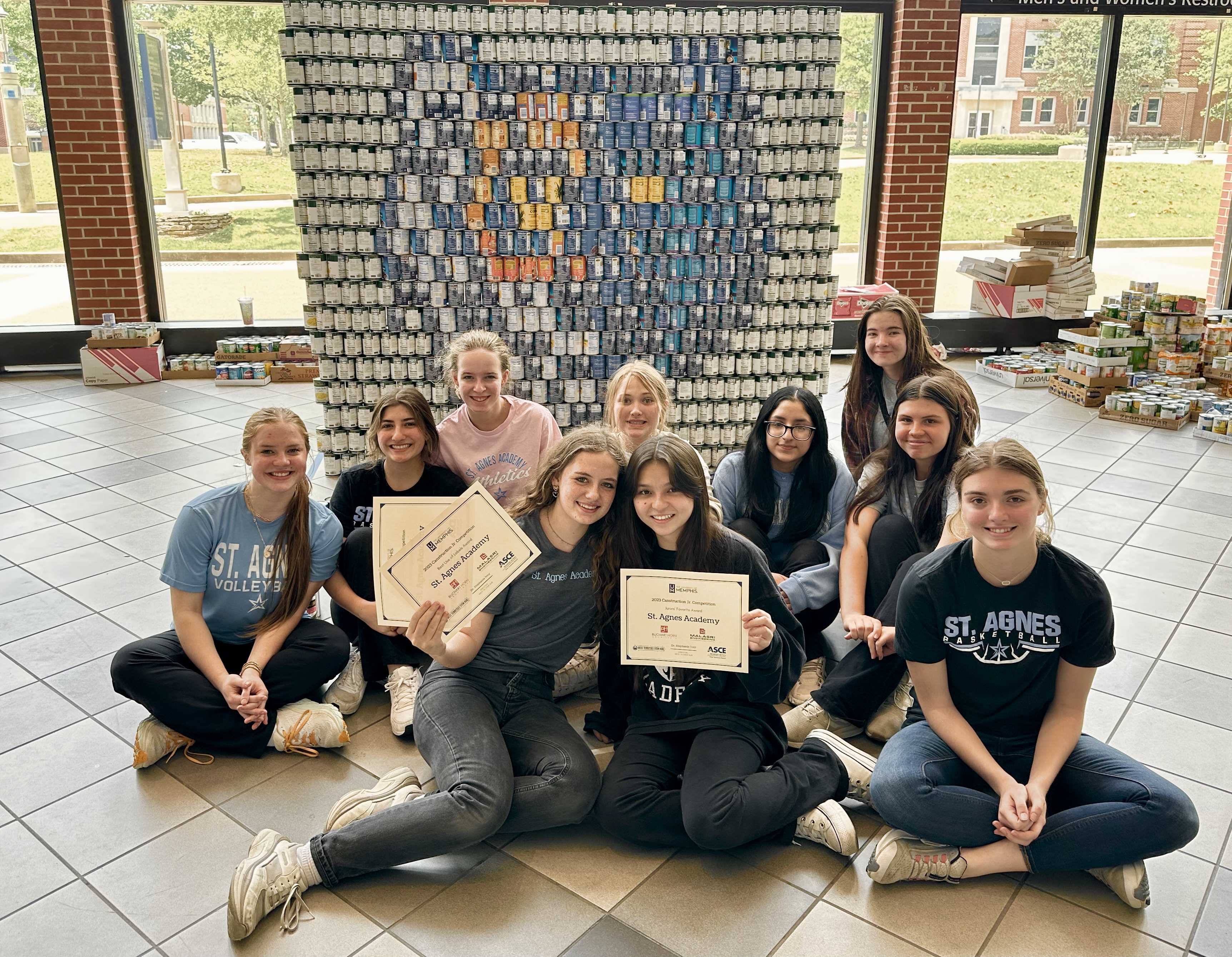 May 8 was a great day for our St. Agnes Academy STEM students! The SAA Canstruction team won the top award-Juror's Favorite-as well as awards for Structural Integrity and Best Use of Labels at the annual competition held at the University of Memphis.
Canstruction, which is sponsored by the West Tennessee Branch of the American Society of Civil Engineers, is unique in that it incorporates fundamental STEAM principles-Science, Technology, Engineering, Art, and Mathematics-while teaching the concepts of teamwork, brainstorming and community service. In the competition teams are charged with building creative themed designs with non-perishable cans of food, benefiting the Mid-South Food Bank.
The theme for this year's competition was Celebrating Memphis, and the St. Agnes students decided to celebrate two Memphis sports teams with their build entitled The Heart of Memphis. They described their build as follows:
We don't bluff! Our team worked hard this year to collect cans displaying the combined logos of two of Grind City's most beloved sports teams, the University of Memphis Tigers and our NBA team, the Memphis Grizzlies. We've also made the stadium- the iconic Fed Ex Forum- where these two roaring teams come to brawl it out with opposing teams. We are WILD about the Tigers and the Grizz and how they have put Memphis sports on the map. We used a large variety of blue cans to represent both the proud colors of the teams, as well as Memphis's history of blues music, which is the heart and soul of our beloved city. Grit & Grind and Go Tigers!
Additionally, team members Madeline Mitchell, Lillian Brent and Anna Osias won first place in the Innov8 Intersection Safety Challenge, which provides students an opportunity to engage in a semester-long research project related to a major transportation engineering issue: intersection design. Students were required to compile a comprehensive analysis and case study of an intersection in their hometown and report possible safety issues, document recent data and statistics, and propose new intersection design and safety solutions.
Congratulations to all the participants in this year's challenges: Maria Angeles, Clara Bolden, Ivy Gates, Madelyn Havard, Abigail Henninger, Meghan Kallaher, Anna Osias, Grace Reece, Sofia Rojas, Liza Russ and Kayleigh Ryan.