Back
Shining a Light on . . . Melissa Brooks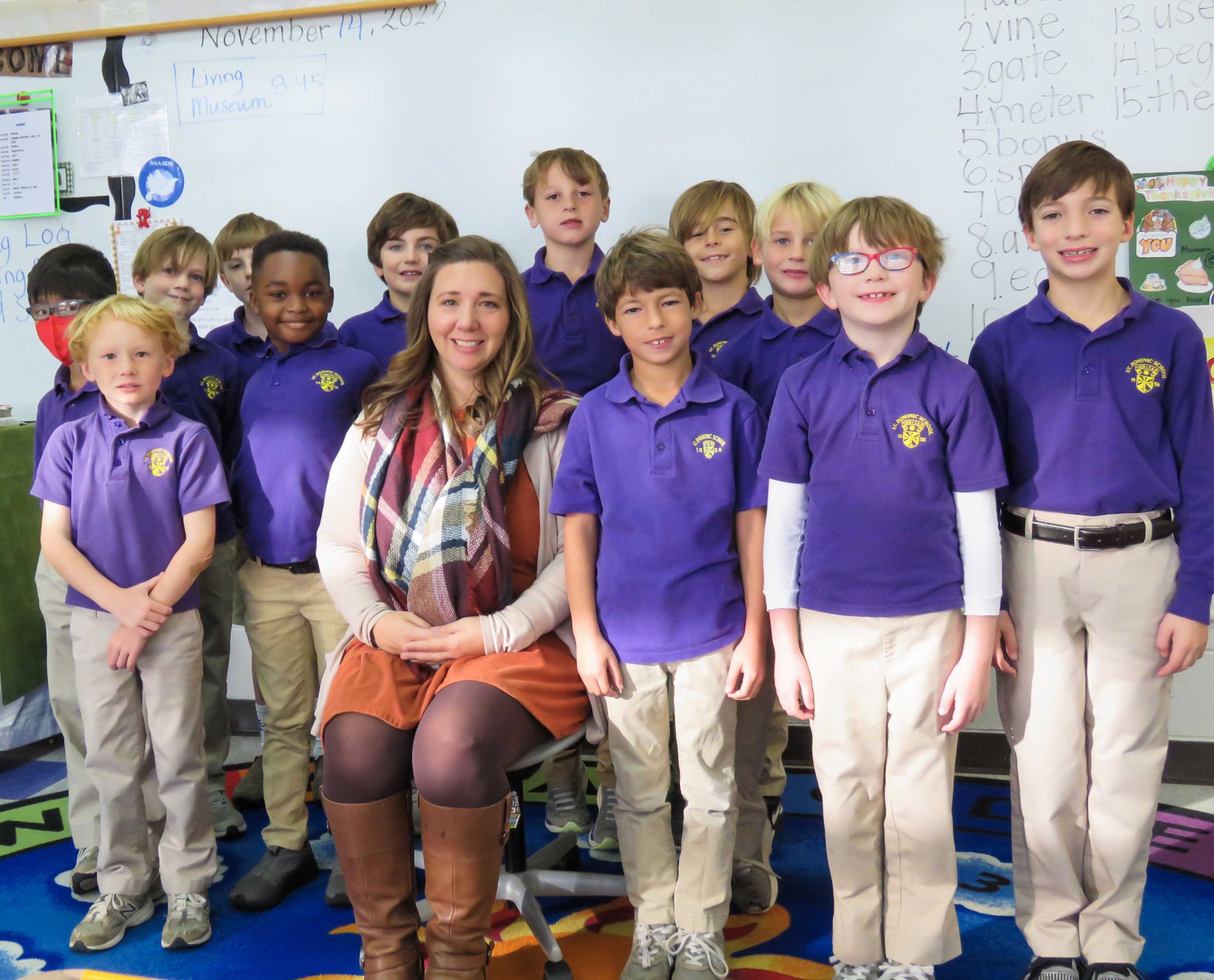 A teacher at St. Dominic School for 13 years, Melissa Brooks has served our community as a first, second and third grade teacher—but has really found her calling in the second-grade classroom. Take a minute to learn more about Mrs. Brooks and the impact her students have on her each day.
What is your educational background?
I have a degree in K-6 Elementary Education from the University of Tennessee at Martin, and a Master of Education in Administration from Christian Brothers University.
Why did you want to become an educator?
I wanted to become an educator because I knew at a young age that our youth are the future generations that will lead the world to Christ.
What makes the SDS single-gender environment so effective for teaching boys?
I love having a classroom of ALL boys! They are extremely eager and energetic! I love how here at SDS our boys are enriched in a culture that cultivates learning through hands-on activities, relationships, and experiences.
What do you enjoy most about your job?
In a classroom of all boys-it's never a dull moment. I love how the SDS faculty lift each other up and are encouraging. Most of all, I love being part of the boys' formation of receiving both Reconciliation and Holy Communion.
The Religious instruction/Sacramental preparation is a large part of your job, which is unique to that second-grade position. How special is it for you to be a big part of their spiritual journey?
Teaching Religion is the best part of my day! Being part of the boys' Sacramental prep is very meaningful to me. We can have intentional, deep conversations about sin, temptation, and God's grace. We participate in a "mock" Reconciliation in our classroom where the boys will pretend to be the priest and me. I "confess" my sins so that they get the real emotions and responses to what their First Reconciliation will be like. We even practice receiving the body of Christ with regular bread. All these things help to take away any fears or questions they may have before their actual Sacrament dates. Their inquisitive minds are so beautiful and innocent.
I try to attend as many of my students' First Holy Communion celebrations at their parishes as possible! I've been to most Catholic churches in Memphis to join with their families to celebrate these important days. It is touching to be part of their formation and watch it grow into fruition as they grow in their young faith lives.
What do you hope to accomplish in your job?
My goal is that each day, every student develops an eagerness to learn something new (even possibly from a mistake), feels welcomed, safe, and loved. My hope is that journeying through second grade in Mrs. Brooks' classroom draws students closer to God and assists them on the path of becoming the best version of themselves.
Are there any things you are working on right now that you are particularly excited about?
This spring the 2nd grade boys will work on a book report about flight and the accomplishments of the Wright Brothers. I am very excited to be working with Sara Casey to possibly incorporate a Distance Learning Experience. We may even create our own flying objects and host a competition so to see which object flies the farthest.
What is the most important life lesson you want students to learn?
The Mother Teresa quote that I live by . . . Do small things with GREAT love. We can all make a difference!
Which of the Pillars-Study, Prayer, Community, Service-is supported most by your role here, or which one impacts you the most/means the most to you?
This is a very hard question to answer. I truly believe it is a balance of all . . . but Community is the one that stands out the most for me. In times of strife, joy, pain, and victory, having a sense of community here at SAA-SDS is what makes this a second home for me.
What are you most grateful for?
At this moment in my life, I'm most grateful for my family, friendships, and a good night's rest.
What are your interests outside of the classroom? What are you particularly passionate about?
I enjoy my time walking my dog (Luna) and completing fun projects on my Cricut machine. I love all kinds of crafts!