Back
Freshman Voice-Fallon Drzyzga, Class President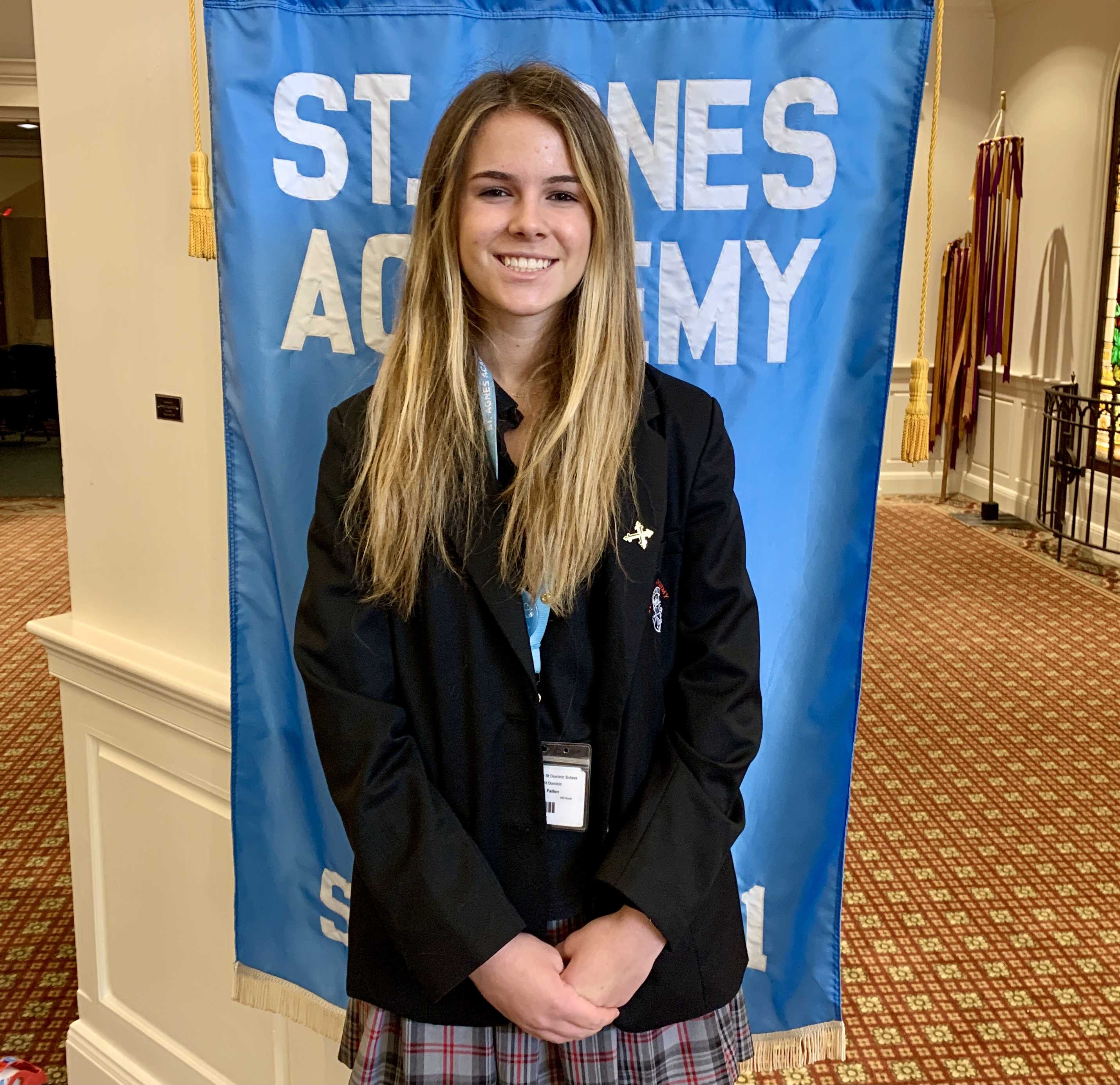 Fallon Drzyzga has been a student at St. Agnes Academy since Pre-Kindergarten. Recently elected Freshman Class President, she is described by teachers as "already making a positive impact on the Upper School in just a few months."
What has the transition in high school been like for you?
When I entered the St. Agnes Upper School, I expected to be overwhelmed with schoolwork, sports, and meeting new people. Instead, I found myself in an environment where everyone works extremely hard to ensure that I know what is required of me in high school. My transition into high school has been better than I ever could have imagined due to the efforts of the staff and other students. Everyone is eager to answer my questions or help me learn the ropes of high school. I feel like I belong here because everyone on this campus radiates positivity and kindness.
Is there anything you've learned about the Upper School that surprised you?
I think the one thing that surprised me the most is how student-led everything is. From assemblies to the yearbook to spirit week, almost everything is planned and organized by students. I feel that this teaches us independence and gives everyone an opportunity to participate in something they are interested in.
How did your experience in the Lower School prepare you for high school?
Once I got into the rhythm of high school, I came to the realization that my Lower School teachers had given me all of the tools I needed to be successful. For example, the Lower School English department taught me how to write a paper in MLA format, so when I write essays, I never have to worry about whether I am formatting correctly. Additionally, I used to resent completing the daily fifteen minutes on a vocabulary website called Membean, but in retrospect, I notice how much Membean has improved my word choice and comprehension.
Likewise, I never feel lost in Spanish, Geometry, or Biology because in Lower School, I was taught basics that help me to continue to grow my knowledge. In addition to preparing me academically, the Lower School program taught me how to set and achieve goals and how to keep up with assignments in my planner, which are both skills that I frequently use in the Upper School. Overall, I feel that my Lower School experience has been a large contributor to my smooth transition into high school.
If you could give an eighth-grade girl one piece of advice going into high school, what would it be?
My advice would be to get involved. Getting involved in school clubs and sports has helped me get to know my classmates and find new interests. Additionally, I would suggest that rising high schoolers get involved in things that they are not necessarily comfortable with. Maybe run for a leadership position or join the culinary club. Being uncomfortable with something is only the beginning of growth.
Why did you want to become the Freshman Class President?
At the beginning of the first semester, I knew that I wanted to serve my class in a meaningful way. I knew that I wanted to get to know everyone in my class on a personal level, and that I wanted to explore and expand my leadership skills. That is why when the opportunity to run for president arose, I took it. I take pride in getting to represent my classmates, and I love how being in this position teaches me to be a better problem solver. Being the Freshman Class President has not only improved my leadership skills, but my teamwork and communication skills.
What is your favorite thing about St. Agnes?
My favorite thing about St. Agnes is the focus around the Dominican Pillar of Service. I love the way that the St. Agnes community strives to help those in need through Dominican hour, required service hours, food drives, and service- centered clubs.
How do teachers at SAA make learning meaningful? What is your relationship like with your teachers?
Teachers at St. Agnes make learning meaningful by ensuring that there is never a dull moment in the classroom. They do their best to determine our needs and to make learning fun. If I ever feel lost, I know that my teachers are willing to help me understand the material, even if it means that they must get to school early or stay after school. I can truly say that I have a great relationship with all my teachers because of the effort and dedication they bring to their jobs.
Why do you like attending an all-girls school?
My favorite part is that I get to be myself. I know that I can love who I am without worrying about whether people will judge me. Personally, attending an all-girls school has also built my confidence. At St. Agnes, I feel safe to express myself and to engage in anything and everything on campus.
Do you have a favorite SAA tradition?
My favorite SAA tradition is not stepping on the seal until graduation. I feel that this tradition creates exciting anticipation and symbolizes a new chapter of life after graduation.
What other activities are you involved in, both on and off campus?
At St. Agnes, I am a member of both the basketball and track and field teams. I am also a member of five clubs which include Forever Friends, Pep Club, Angels Among the Stars, Spanish Club, and Key Club. Off campus, I am a member of an AAU basketball team called Memphis Elite. In the future, I think I would like to get involved with the culinary club. Although it is new this year, I have heard great things about it from my peers and would love to try something new.