Back
SAA Seniors Sign National Letters of Intent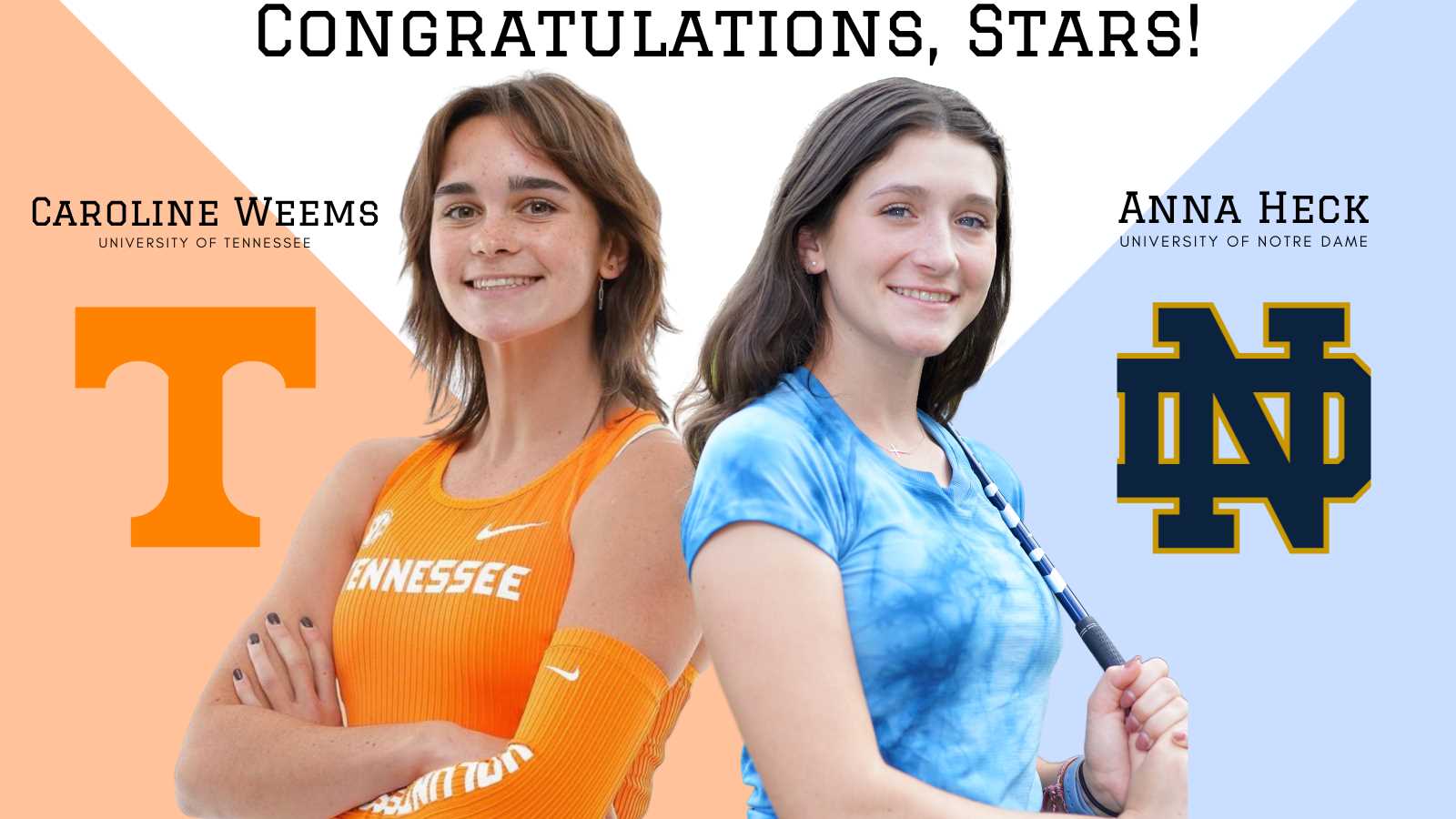 Congratulations to St. Agnes Academy seniors Anna Heck and Caroline Weems who signed National Letters of Intent during a ceremony held on campus on November 10.
Anna Heck will continue her outstanding golf career next fall at the University of Notre Dame. Anna is the TSSAA 2022 Individual State champion and was named Golfer of the Year by the Daily Memphian. She has served as Team Captain for three years and helped lead the Stars to two state titles and 3 regional titles. During her high school career she was the state runner-up in 2020 and won three Individual Regional Championships. As a sophomore Anna was selected Best of the Preps Golfer of the Year, and she was named to the Commercial Appeal All-Metro team for five years in a row.
Anna is a member of the National Honor Society, National English Honor Society, Mu Alpha Theta, and Sociedad Honoraria Hispanica. She is a Student Ambassador for the school's Costa Rica Exchange Program, tutors Math and Spanish in the St. Agnes Learning Lab, and serves as Co-President of Forever Friends.
Caroline Weems signed a letter of intent to pole vault as a member of the University of Tennessee Track and Field team. A record-setting pole vaulter, Caroline posted a top 10 finish at both the Adidas Outdoor Nationals and the New Balance Indoor Nationals held earlier this year. Caroline has won two state titles, capturing both the 2022 Tennessee Outdoor State championship and the 2022 Indoor State championship. She won two Outdoor Regional titles and was the Indoor State Runner up as a sophomore. In April of this year Caroline set a Houston Classic Meet Record as well as a personal record with a vault of 12 feet 8.5 inches. She was selected as a Daily Memphian Athlete of the Year Finalist for track and field in 2022 and named the Tennessee Girls Performer of the Week. She has twice been named to the All-Metro Track and Field team.
Caroline has served as president of her class both her junior and senior years and as treasurer of the Beta Club. She is a member of the National Honor Society, Mu Alpha Theta Math Honor Society, English Honor Society, Key Club, Forever Friends, and tutors in the Math Lab.
"As a school, we constantly champion the high commitment and dedication needed to be excellent in any sport. Anna and Caroline have both been incredible models for our SAA athletes," said Matt Nelson, SAA-SDS Athletic Director. "
He continued, "Anna's love of the game is so authentic and her pursuit of excellence as a golfer is relentless. The Fightin' Irish are getting a leader with the highest level of competitive drive. Caroline knows no other mode than full commitment to her craft. Her passion for gymnastics gave her the tools to try pole vaulting in the 8th grade as part of the track and field team. Her level of commitment from there was unmatched. The Vols are getting a gritty competitor who always strives for perfection."