Back
Meet the Upper School SGA President, Madelyn Wallace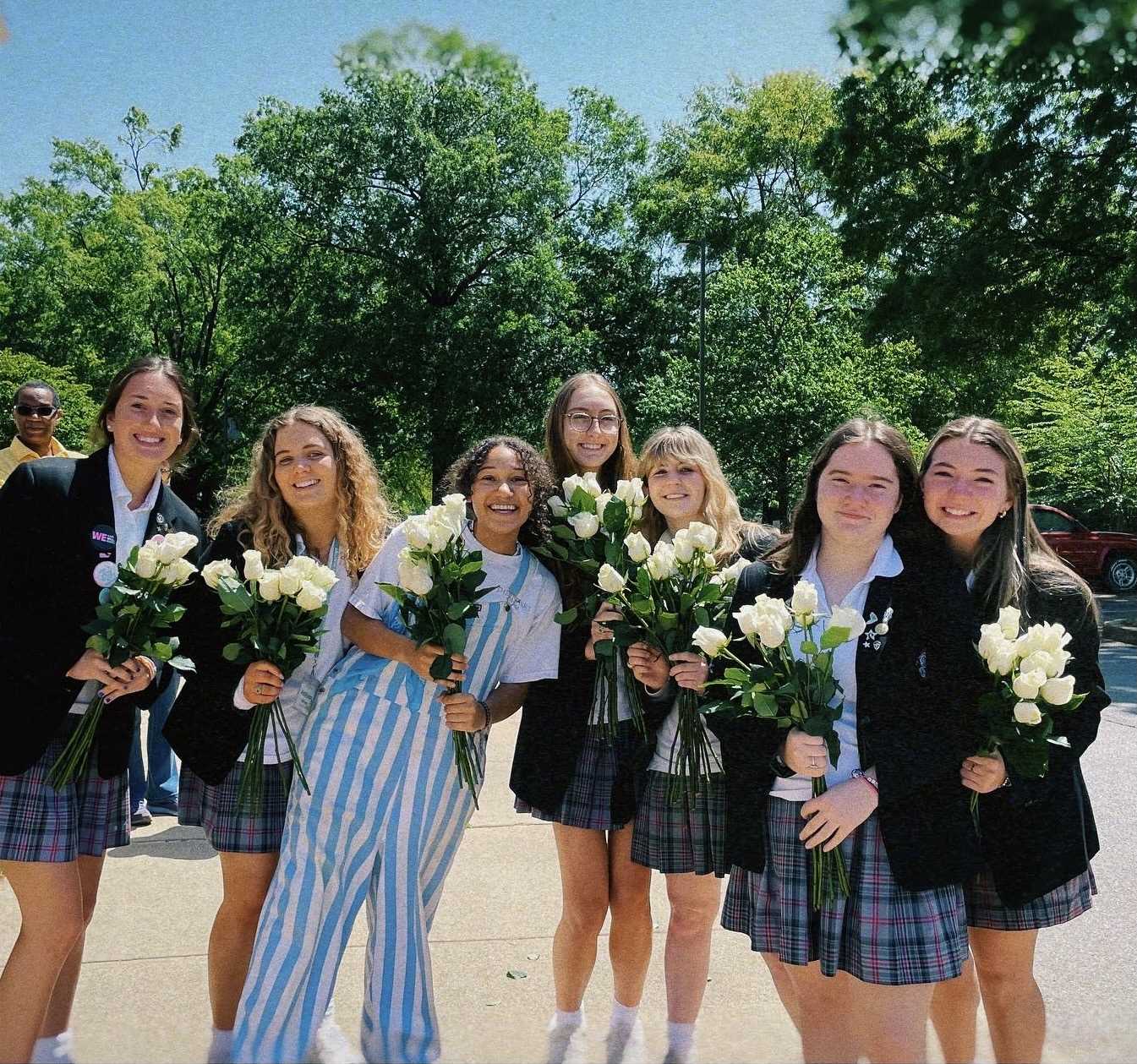 Get to know St. Agnes senior Madelyn Wallace! Madelyn, who has been a student at St. Agnes since 4th grade, is the SGA President, serves as a Peer Mentor, and is a member of the soccer team, Black Student Union, Eco Stars, and Pep Club.
What is your favorite thing about SAA?
My favorite thing about St. Agnes is the community that surrounds me. I love that I can walk in the Lower School hallways and hug my former teachers. I love that there's a sweet army of little kids that run up and hug me every time I walk outside to get my lunch. And, I love our different classes—each of us unique—but bonded together as a St. Agnes Star. We've experienced joy, pain, loss, and growth together. We've seen each other's bad days and good days. After all of this, we are still a strong community that walks through the halls at 8:30 a.m. everyday ready to start the day.
Which class has been your favorite?
I have loved all of my English classes, especially the ones with Dr. Zanone my junior and senior year. I love our open discussions, seeing other people's perspectives, and challenging myself to critically think. In a world that has incrementally lost the value of meaningful conversation, her English class has brought it back to life for me.
How would you describe the classroom environment at SAA?
It's mostly small classes with teachers that are excited to teach, crack jokes, and help out in any way. You get to have one-on-one relationships with your teachers, and even become closer with classmates you didn't think you'd become close with.
What is your favorite St. Agnes tradition?
My favorite SAA tradition is stomping on the seal and slamming the lockers when you are about to graduate. I remember standing outside our doors in Lower School watching the seniors be so excited to jump on the seal with smiles on their faces. Now, finally being a senior, I think back to my past self in complete awe. The traditions at St. Agnes always make me think about how much growth has happened to me over the years.
What activities are you involved in at SAA?
I got involved in SGA my freshman year and have never looked back. I love being able to help grow the school, with student interests in mind, to make our community better. I was my Freshman Class President, Sophomore SGA Secretary, Junior Treasurer, and now the Student Body President as a Senior. I have also been involved in Pep Club, the Black Student Union, and Eco Stars, Freshman Peer Mentor, and Beta Club—all clubs that I love and that advocate for better student and academic life.
Why did you decide to participate in Student Government?
I decided to get involved in Student Government because I wanted to collaborate. I wanted to be with like-minded individuals to make the school better. But, ultimately, I wanted to feel empowered—I can have an opinion of my own and voice it while learning life skills about effective communication. Although as a freshman, those weren't my exact thoughts, but I knew in the long run it would be highly beneficial for me.
How do the Dominican Pillars of Study, Prayer, Community and Service impact life at SAA and what do they mean to you?
The Dominican Pillars impact life at SAA because they ground us in important core values. We can't lean on one without having the other. The Pillars of Study, Prayer, Community, and Service mean that we get to live a life that advocates not only for ourselves, but for the common good of everybody, and we get to do it through faith and friendship.
What are your goals for the year as SGA president
My main goal for this year is inclusivity. A school can look inclusive on the outside, but not actually be inclusive on the inside. Depending on your race, faith background, and identity, people can feel alienated very quickly, but I want everyone to feel included—knowing that SAA is a place where people are eager to learn about the different backgrounds and cultures of everyone and not feel intimidated to ask those questions. Growth is how we move forward as a school and as a society. And, being in a space where everyone is comfortable to share their backgrounds, perspectives, or identities will push conversation and growth forward.
The SGA theme for this year is "Be the Change." Change is difficult, but it's essential to growth. If we want to see something be different, we have to be the ones to start the change. We can't always rely on others, especially adults if we want to change something that's important to us students.
What has St. Agnes taught you about being a leader?
St. Agnes has taught me that being a leader is not about being at the top, but pushing your community up. Leadership is about growth— how you learn from your mistakes and stay in a mindset that uplifts not only you, but your surroundings. People want to see a leader as a human being, not a robot that never makes a mistake. St. Agnes has taught me that being honest with yourself by knowing your strengths and weaknesses so you can build a team that allows people to use their talents.
What activities do you participate in outside of school?
Outside of school, I focus on music and soccer. I've played the piano all of my life and along the way I've picked up guitar and drums. I currently play in a band with my best friend and always practice, not because I'm forced to, but because it actually brings me peace when I can zone out and focus on the music that I love. I also have played soccer since I was little. I love being physically active, whether it's going on runs, weightlifting, and especially soccer. The team aspect is something I love and no matter how hot or cold the practices or games are, I will always love it.