Back
Stars in Wonderland – A Magical FSO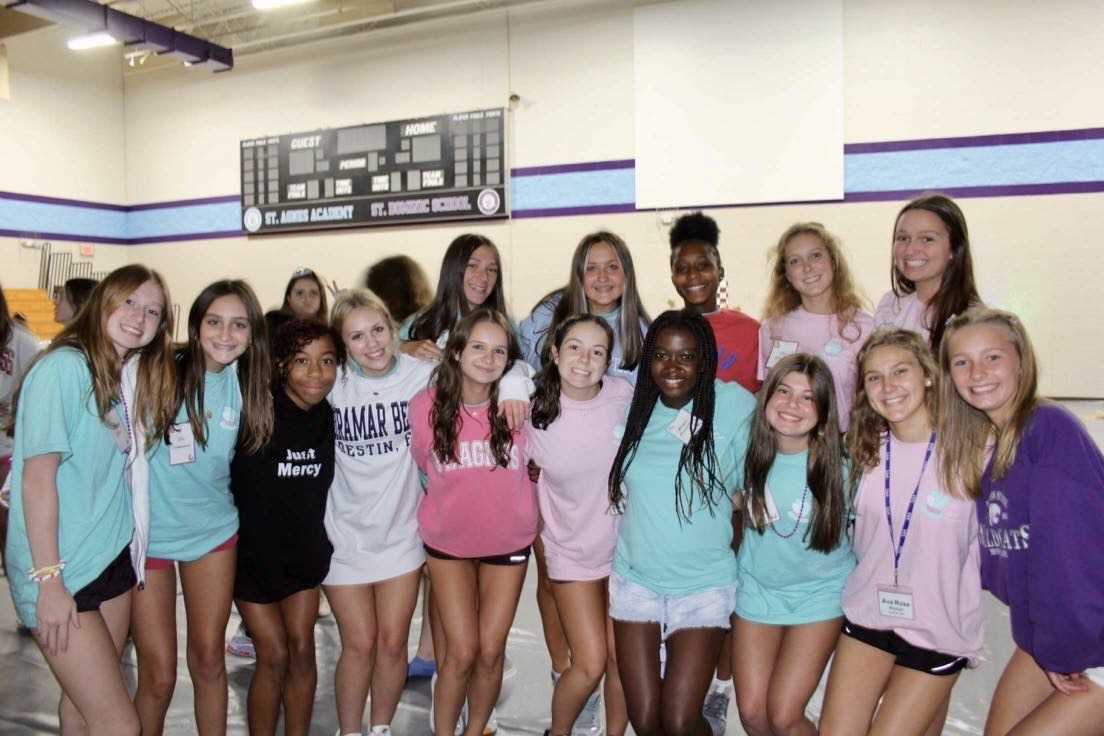 By Anna Osias '24 and Eva Ryan '24, Student Contributors
Freshman Student Orientation (FSO) is a distinct St. Agnes tradition. Although it is typical at most schools to hold an orientation for freshmen, our FSO is an exciting entrance to the sisterhood in the Upper School at St. Agnes. This year, our Peer Mentors from the Class of 2023 and our excellent freshman class sponsor, Mrs. Wills, spent countless hours preparing for this event for the incoming freshman.
FSO is an all-day event at which the freshmen stay overnight at St. Agnes to build meaningful relationships within the class. Peer Mentors are seniors who lead the orientation. They play a huge role in planning and running FSO through decorating the school, sending out invitations to the freshmen, and leading individual peer mentor groups. At FSO, students separate into small groups that allow freshmen to connect with seniors, creating a sisterhood that will constantly support them for the rest of their years at St. Agnes. At orientation, freshmen participate in activities including an introduction to high school, games, a dance party, and the infamous class photo.
This year's FSO theme was Stars in Wonderland, based on the characters from Alice in Wonderland! Walking through the decorated halls felt like an instant teleport to Wonderland! Clocks, the Queen of Hearts, teacups, and more... the talented sisters of St. Agnes made the mundane magical and created an experience the freshman will never forget.
A few of the peer mentors and freshmen shared these thoughts with us about their experience:
"I wanted to be an FSO leader because of my personal experience at FSO my freshman year. I felt so welcomed to St. Agnes, and I wanted to ensure that the incoming freshman class had the same experience." Hannah Brucks, Class of 2023
"I had the time of my life at FSO. The seniors helped prepare me so much for my first year of high school. They opened my eyes to everything I can do at such an amazing school." Morgan Paige, Class of 2026
"My favorite part of FSO was all the fun activities we did! We played games like Ships and Sailors and had a scavenger hunt around the school. It was such a fun experience and a great way to get to know the Class of 2026!" Benton Bounds, Class of 2023
"I loved FSO because it allowed me to meet and talk to my classmates outside of school. Also, all the advice from the peer mentors was very helpful. Overall, it was an enjoyable experience and something I will always remember." Molly Deutsch, Class of 2026