Back
Upper School Torch Award Winners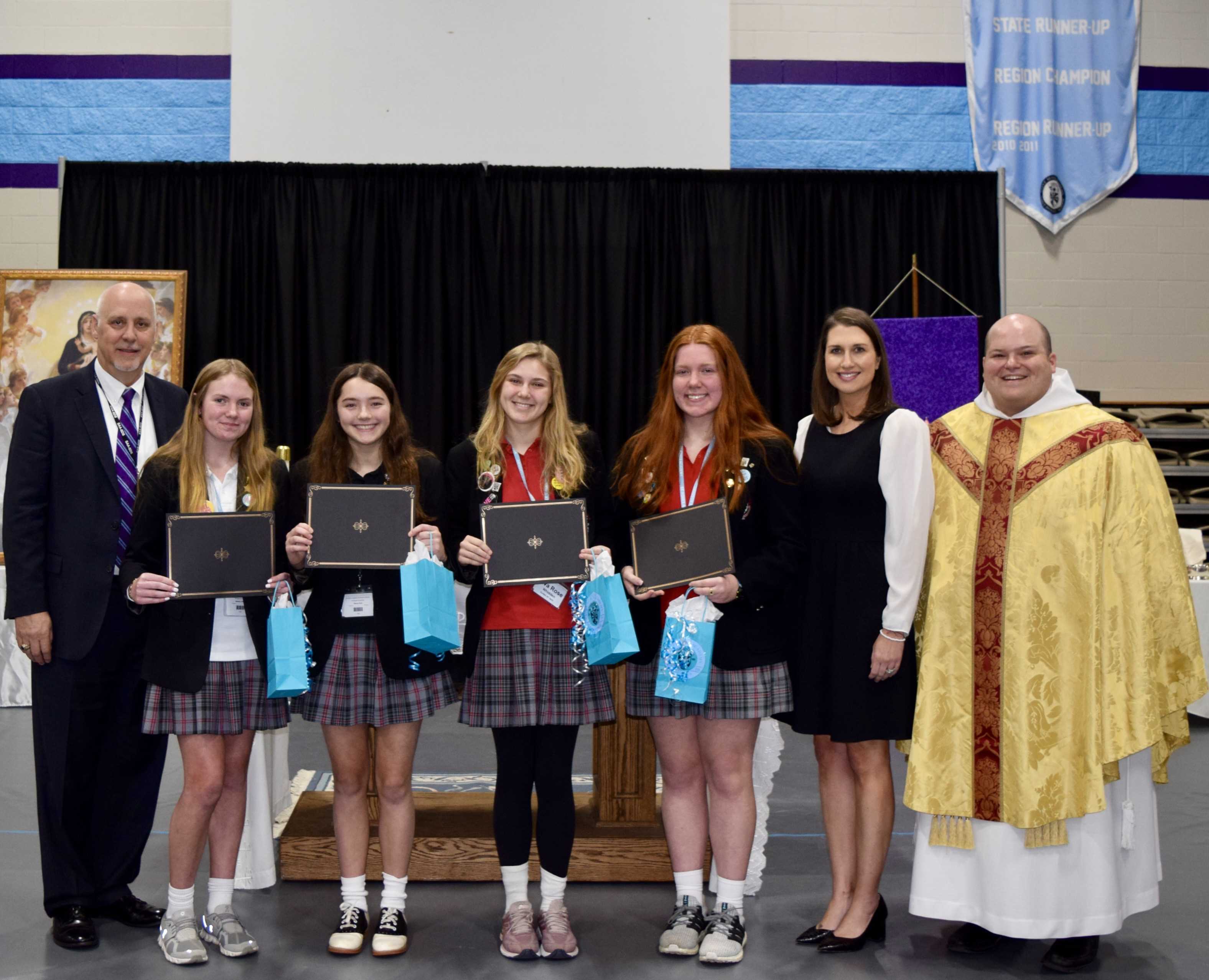 On December 8 we had the honor of presenting the Dominican Torch Award to four of our outstanding Upper School students. The Dominican Torch Award, presented twice a year, recognizes those students who live their daily lives in a way that reflects the Four Pillars of Study, Prayer, Community and Service. These students uphold our standards of conduct and represent the core values of our school.
Classmates and faculty members nominated the award recipients because they noticed something special about them and the ways in which they live out the Gospel daily. Congratulations to our deserving award winners: Madelyn Allison, Elaina Farm, Ava Rose Whidden and Gretta Fogerty. Below are excerpts from the nominations recognizing the many ways these students exhibit a loving and faithful life.
Madelyn Allison, SAA 9-Her nomination read: "Madelyn Allison exemplifies all Four Dominican Pillars, but especially Study. She is hard working, responsible, conscientious, and always willing to participate. In addition, as she exhibits all of these traits, her classmates notice that she "always has a positive attitude and a smile on her face."
She excels in the classroom, but also uses her gifts to encourage, support, help and lead others. Her presence and example are a blessing to all around her, best reflected by one of her peers who stated, "I am so glad to have her in my class."
Elaina Farm, SAA 10-Her classmate wrote: "Elaina honestly exhibits every Dominican Pillar. She is very kind to all of those around her. She is very smart and studies a lot. She gets all of her work done while also having time to hang out with friends. Elaina cares about everyone and always has a smile on her face. She is a beacon of light walking around our school. She is very focused in Mass time and has a very big faith that is very moving to those around her who are questioning their faith. She is someone I personally can look up to and always go to in time of need.
Elaina is very optimistic, and she has a very positive attitude. Again, she always has a smile on [her] face. I don't think I've ever heard something mean come out of her mouth, and she lifts up those around her. Elaina exhibits partnership and friendship. She has many friends and if you aren't her friend yet, I'm sure she would love to be your friend. She cares and works hard during partnership activities. She is one who will not let anyone down.
One of her teachers shared: "Elaina truly has a joyful and peaceful spirit. She is responsible and has a generous heart. She is always ready to learn and has a joy that is infectious. Elaina is well deserving of this award!"
Ava Rose Whidden, SAA 11-A fellow classmate of hers wrote: "I think Ava Rose exhibits the Pillar of Community. She constantly walks through the hallway with such positivity and encouragement. She always builds everyone up, and she's always inclusive. Ava Rose always offers her assistance to anyone in need. There have been times when I walk alone, and she'll come up to me and ask me how I am or say something kind. It's comforting to know there is someone here so positive who will never fail to bring a smile to your face. She exudes an optimistic love of learning, partnership, and friendship to everyone she meets.
One of her teachers shared: "Ava Rose exhibits the Pillar of Prayer. She is a devout Catholic who has a special love for the Holy Sacrifice of the Mass. She is a loyal member of the liturgical choir who lends beauty to the liturgy with her voice and her time. Ava Rose is a role model for her classmates and upperclassmen, who embodies the faith and virtues we strive to instill in our students at St. Agnes Academy.
Gretta Fogerty, SAA 12-Her nomination read: "Gretta Fogerty lives out the Four Pillars in her daily life. She is especially strong in the Pillar of Community. Gretta is always respectful to her peers and teachers, and her caring attitude and optimism brighten the lives of those around her."
One teacher commented, "Gretta encourages her classmates in her quiet yet good-natured way. She has been my student for three years, and I have NEVER heard her say a negative thing about anything or anyone." Additionally, she is committed to the Pillar of Service. As a member of the retreat leader team, Gretta volunteered and gave of her time and service to lead the Lower School retreat with Mrs. Odom. Moreover, Gretta designed the invitation and program for the Senior Class Rose Ceremony. Her willingness to share her talents to help others is an inspiration for us all."
Congratulations to all our Dominican Torch Awards recipients! You are excellent examples for us all, and we appreciate your commitment to the Four Pillars and living a virtuous life.