Back
St. Dominic Peace Week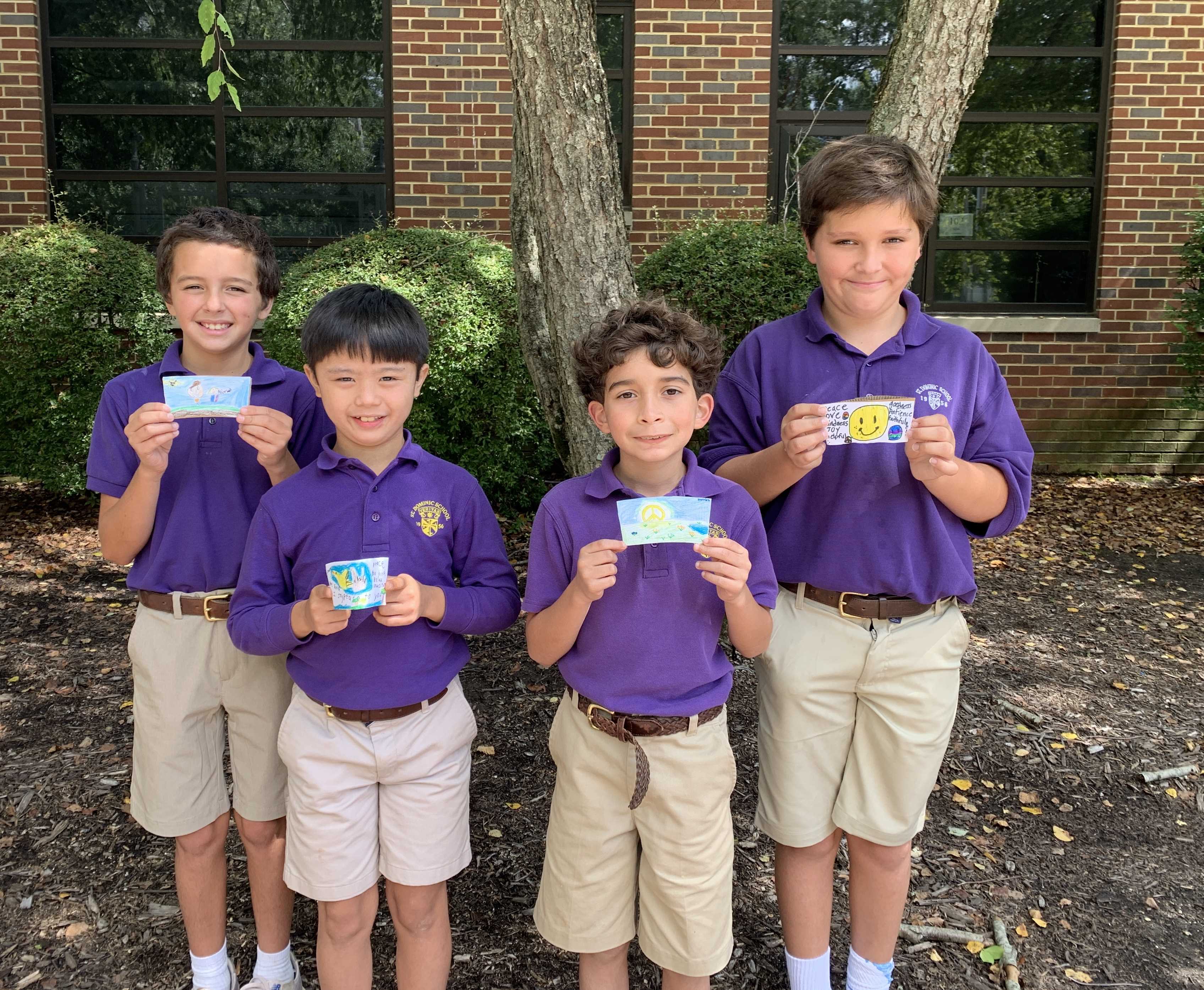 During the week of September 20th, the SDS boys participated in the first ever SDS Peace Week, a week full of activities to coincide with the International Day of Peace on September 21. The goal of Peace Week, according to Dean Adam Woods was simple: "We live in a culture that often highlights or promotes conflict, yet we see God's desire for peace and reconciliation in the Beatitudes of Jesus when he tells his disciples, 'Blessed are the peacemakers, for they will be called children of God.' Our hope was to help the boys develop a desire to pursue peace in their own relationships and in the world."
During Peace Week, the SDS fourth grade class partnered with a local Starbucks franchise on a special project. The boys' job was to create "peace sleeves" for the store to distribute to customers on their cups. Starbucks donated the cardboard sleeves and the students decorated them with original art and words of peace.
"It was a really exciting project for the boys! Knowing that their art and words of encouragement would spread peace outside of the school made it special for them," said SDS School Counselor Rosa Tutor. "The boys understand that when we talk about the Dominican Pillar of Community, we mean our community here on campus, but also the city around us and our world community."
When asked to share what he thought about the project with Starbucks, 4th grade student Miller replied "I like that we are giving them to the employees, and they can give them to people who might be having a bad day. The cup could make their day better." Harris, another 4th grader replied, "I think it's really cool to spread kindness to people, and I like that a lot of people can see our artwork when they get coffee."
Throughout Peace Week, each grade participated in different age-appropriate lessons and activities designed to teach them how they can share peace. Our first grade had a special visit from Father James Martin, who talked with the boys about growing in their faith and showing kindness through their words and actions. Our second and third graders read The Peace Book and created a Peace Tree in the hallway, sharing ways they can spread peace with everyone. Some of their ideas were "sharing meals," "helping others," "listening" and "making new friends."
Our fifth-grade students painted Peace Rocks, a project they did for the first time when they were in fourth grade. The Peace Rocks are hidden around campus to bring a smile to those who find them. After all, as Mother Teresa said, "peace begins with a smile!" Sixth through eighth grade students participated in follow-up conversations centering around the film Upstanders, which they recently viewed. They discussed being peace, spreading peace and the social responsibility we share as members of a community.
Peace Week was a special opportunity to focus on the concept of peace, but promoting character education through our faith is something that happens on our campus every day. As we send these boys to explore their futures, we are confident that they will make the world a better place!