Back
Alum Stories - Cameron Volpe Fili '09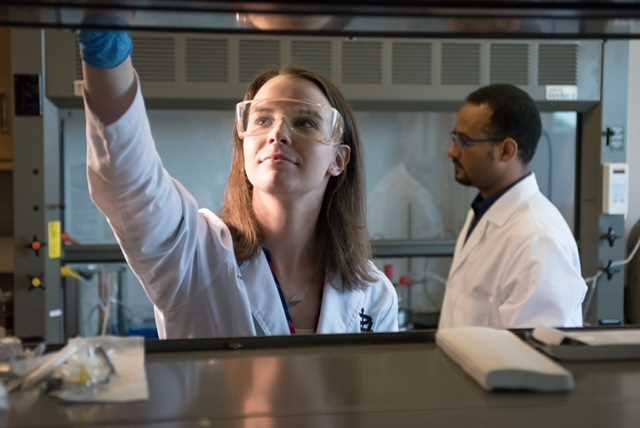 At the Dominican Community of Schools our students have many opportunities to realize St. Catherine of Siena's call to "Be who God meant you to be and you will set the world on fire." Through superb academics, arts and athletics, co-curricular activities, retreats, and service, our students explore and achieve their potential. Our well-rounded and well-balanced students become assured and involved graduates who contribute meaningfully, in college and beyond.
Throughout the summer we are spotlighting some of our young St. Agnes and St. Dominic alums and the varied ways they are impacting the world.
Meet Cameron Volpe Fili, SAA Class of 2009! After graduating from St. Agnes as salutatorian in 2009, Cameron attended Christian Brothers University on a full tuition Plough Scholarship. She graduated in 2013 with a B.S. in Biology and a minor in Chemistry. She then attended Mississippi State University College of Veterinary Medicine, graduating third in her class in 2017.
Upon graduation, Cameron was accepted into a residency in Laboratory Animal Medicine at the University of Tennessee Health Science Center, where she graduated in 2020. During her residency, she researched the effects of nutritional supplements in a mouse model of diabetes and development of a long-acting insulin product in a rat model of diabetic retinopathy. She presented her findings at the National American Association for Laboratory Animal Sciences Conferences in 2018 and 2019 and has two manuscripts pending.
Cameron was also involved in lifesaving research into novel therapeutics in a hamster model of COVID-19 at the UTHSC Regional Bio-Containment Laboratory in 2020. Cameron is now a Veterinary Medical Officer at the FDA National Center for Toxicological Research near Little Rock, AR. At the FDA, Cameron cares for essential research animals and ensures that the highest standards of animal care and welfare are met. We cannot wait to see how Cameron continues to make a difference in our world!