Back
Paige Jerit, St. Agnes Class of 2023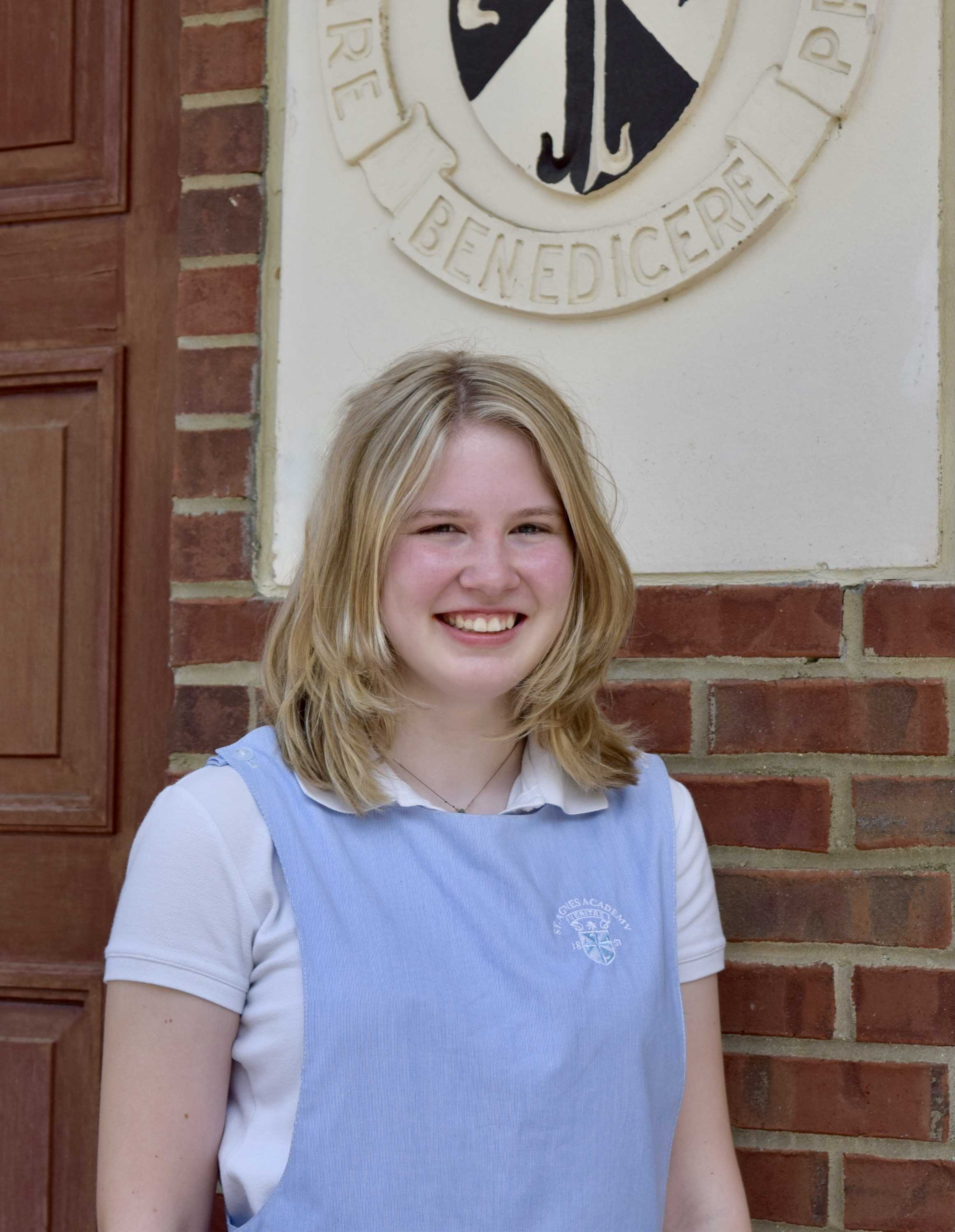 Editor-in-Chief of Calliope, Ladies First, Theatre, Field Day Coordinator, Model UN, Youth in Government
What is your favorite thing about SAA?
My favorite thing about SAA is the welcoming community. My fellow classmates motivate and support me to wake up and better myself as a person every day at SAA. Nothing brings me more joy than cry-laughing until my stomach hurts in the cafeteria because one of my friends cracked a joke. The community makes SAA such a special place.
Which class has been your favorite and why?
Though I have enjoyed most of the classes I've taken at St. Agnes, my favorite one of all, has always been Art class. On chaotic days when I was anxious or stressed about upcoming tests, I could always step into art class and feel relaxed and less stressed by the end of the period. Art has been a very therapeutic type of self-expression for me. Also, our art teacher, Mrs. Crittendon, is one of the sweetest people I have ever met. She encouraged me to see the beauty within each work I create and has given me constructive criticism and art techniques to further improve my creative pieces.
How would you describe the classroom environment at SAA?
One word I would use to describe the classroom environment at SAA is welcoming. From the fun banter between teachers and students to my teachers' enthusiasm to assist and answer my questions, the atmosphere enhances and ignites my curiosity to learn about a variety of topics. The SAA teachers' passion and dedication to their lessons are what makes students learn the material with interest, making the material meaningful for the teacher and student.
What is our favorite St. Agnes tradition?
Field Day is probably my favorite St. Agnes tradition by far. The competitive activities between other grades and the camaraderie among classmates is what makes Field Day so easy-going and exciting. I love dressing up in my class colors whether it's with broken wings, glitter, or a witch hat. I also play a nasty game of dodgeball and knockout.
How do the Dominican Pillars of Study, Prayer, Community and Service impact life at SAA and what do they mean to you?
The Dominican Pillars set a strong base of values that St. Agnes and the students strive to uphold. The Dominican Pillar of Study is demonstrated through positive learning environments, and it means striving for your best effort in each class by taking the time to study. The Dominican Pillar of Prayer is shown through the weekly Catholic masses and our Theology classes. Prayer to me is about asking yourself the hard-hitting questions, which has helped me dive deeper into prayer and religion. The Dominican Pillar of Community is seen through the tight-knit sisterhood within St. Agnes and through yearly collaborative activities like Spirit Week and Field Day. Community means helping and being there for the people you love the most and for the people you only know by first name. The Dominican Pillar of Service is exemplified by the service opportunities St. Agnes gives each student to help our Memphis community, whether that's bringing in hygienic supplies for the homeless or working at the Soup Kitchen. Service to me is observing the problems within the community and taking action in aiding people and figuring out how to relieve or solve those problems.
What activities are you involved in at SAA?
I'm involved as this year's editor-in-chief for Calliope which is our school's literary magazine where we showcase our school's art, literature, and photography. I have performed in several of the plays and musicals in our theatre departments for the past two years. I have also participated in Model United Nations, held an office for Youth in Government, and Government Club because I believe it is very important even as a young teen to be involved in what kind of bills our government passes and how it affects our community and the world today. I am also in Book Club, our vocal music group called Ladies First, Secretary for National Beta Club, have been inducted in honor societies, and will be our Junior class Field Day Coordinator this year at SAA.
How has your experience on the staff of Calliope impacted you?
Through Calliope, I have learned how important it is that people have outlets in which they can submit their creative works and be heard through SAA. Joining the Calliope staff has changed my viewpoint of literature from dreading writing for a letter grade, to enjoying writing and honing my poetry or short stories in my free time.
I wanted to become an editor because I desire to transform Calliope into something bigger to encourage all high school students to shed light on their creative works and let staff members speak their ideas into existence through the magazine. If it wasn't for previous editors encouraging me and allowing me to form my opinions and ideas in a safe space, I would not be an editor this year. I hope to further develop an inclusive space for ideas for underclassmen who might want to be editors one day too.
Describe your experience with the SAA Theatre Department?
The SAA Theatre Department is like a second home for me. The Theatre Department gives a safe space for everyone to be unapologetically themselves and step out of their comfort zones through music and acting. I have met a variety of the nicest people through the Theatre Department. Mrs. Neal and the people surrounding me have also really taught me how to build more confidence within myself. It's always been a joy to work with my favorite people in the Theatre Department.
What do you like about attending an all-girls school?
The Sisterhood is the best when you attend an all-girls school. Having a strong set of classmates that you can even consider as your sisters is a type of bond that is irreplaceable, and I will forever cherish. Having someone always there, to be honest with, to laugh with, and to cry with, is what makes St. Agnes so safe and welcoming. You always have a support system that has your back when times are rough, and your sisters are your biggest cheerleaders for you and your achievements.
What activities do you participate in outside of school?
I'm usually painting, writing poetry, or reading a book in my free time outside of school. I also love to skateboard.