Back
Meet Aubrey Bubrig '22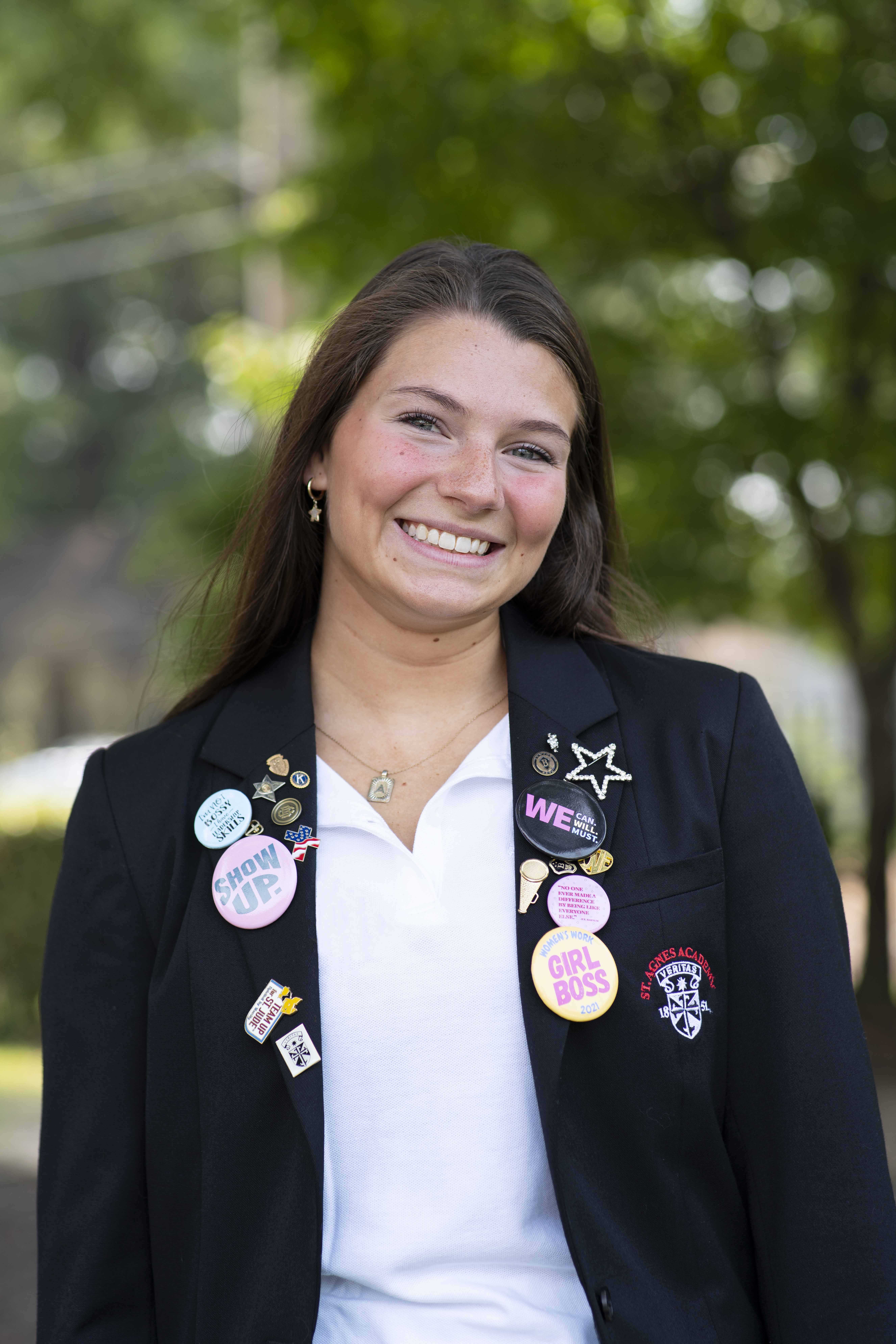 SGA President, Freshman Peer Mentor, Retreat Leader, CBHS Cheerleader, Key Club, and Beta club.
How long have you been a student at St. Agnes? I became a St. Agnes star in kindergarten after my family moved to Memphis exactly 12 years ago! This will be my 13th year at my favorite place.
What is your favorite thing about SAA? My favorite part of St. Agnes is the sense of family. Everyone has an opportunity to really grow into themselves and prepare for the future while still being able to enjoy the present moments with their SAA sisters.
How would you describe the classroom environment at SAA? From when I started in kindergarten through 12th grade, I've always felt that our classroom is a place of safety, acceptance, and inclusivity. Everyone's ideas are celebrated, and each girl is appreciated. All students are given the room and encouragement to grow into who they're meant to be.
What is your favorite St. Agnes tradition? My favorite St. Agnes tradition is Spirit week! I love the way everyone comes together from all friend groups and grades, and we celebrate as one big family. I love the feeling of our class' bond growing stronger as we work together to paint the last bit of the banner or submit the final edit of the script for our skit.
How do the Dominican Pillars of Study, Prayer, Community and Service impact life at SAA and what do they mean to you? St. Agnes is founded on the Four Pillars, and they are evident in each girl's everyday life. At SAA, we are taught at an early age to be diligent in our schoolwork at home and at school. We incorporate prayer into our everyday lives by praying before each class, and this faith has been instilled in my personal life. Our community is one that fosters growth and acceptance in each girl, and it has been the perfect environment for me to find myself. We are a tight-knit community that lives to serve each other and our faith. We are strongly rooted in service, and each year we are offered a multitude of service opportunities that often lead to students discovering what we love to do and how we can serve our community.
Why did you decide to get involved in Student Government? Dr. Jennifer Lovelace. She has been my mentor since freshman year, "school mom", fearless sponsor of the SGA, and a dynamic leader in the Upper School. Freshman year, she encouraged me to run for a class office, then sophomore year, I was elected to the SGA. Her support and confidence in me sparked my love for leading and serving our St. Agnes community. Being in a leadership role and having an impact on our school community is extremely rewarding to me. My goal is to leave SAA in a better place than where it was when I entered as a freshman.
What has St. Agnes taught you about being a leader? St. Agnes has taught me that leading is serving. I have learned that leadership comes in all shapes and sizes and that anyone can be a leader. A leader doesn't have to be the person that's out in front of everyone; a leader can be behind the scenes- not elected or appointed. It's about being selfless and giving your all for the good of those around you. Being in official leadership roles has shown me that I truly enjoy serving others and want to continue this service throughout my life.
What do you like about attending an all girls' school? I can really be myself and confidently test the waters around me to see what I'm truly passionate about. I also feel that since we are an all girls' school, the relationship between a girl and her SAA sisters thrives. I like walking down the hall and knowing everyone's name. I know that the girls I'm surrounded by at this place will always support me and love me because of the bond we all have with each other.
What activities do you participate in outside of school? I have been a dancer since I was two years old. I am a Senior Representative for Chris Landau's Photography Team. I enjoy exercising, babysitting, as well as water sports and family time at the lake. Also, I cannot wait to spend this last year in high school with my sister who is a SAA freshman!