Back
Celebrating the Virtues in Me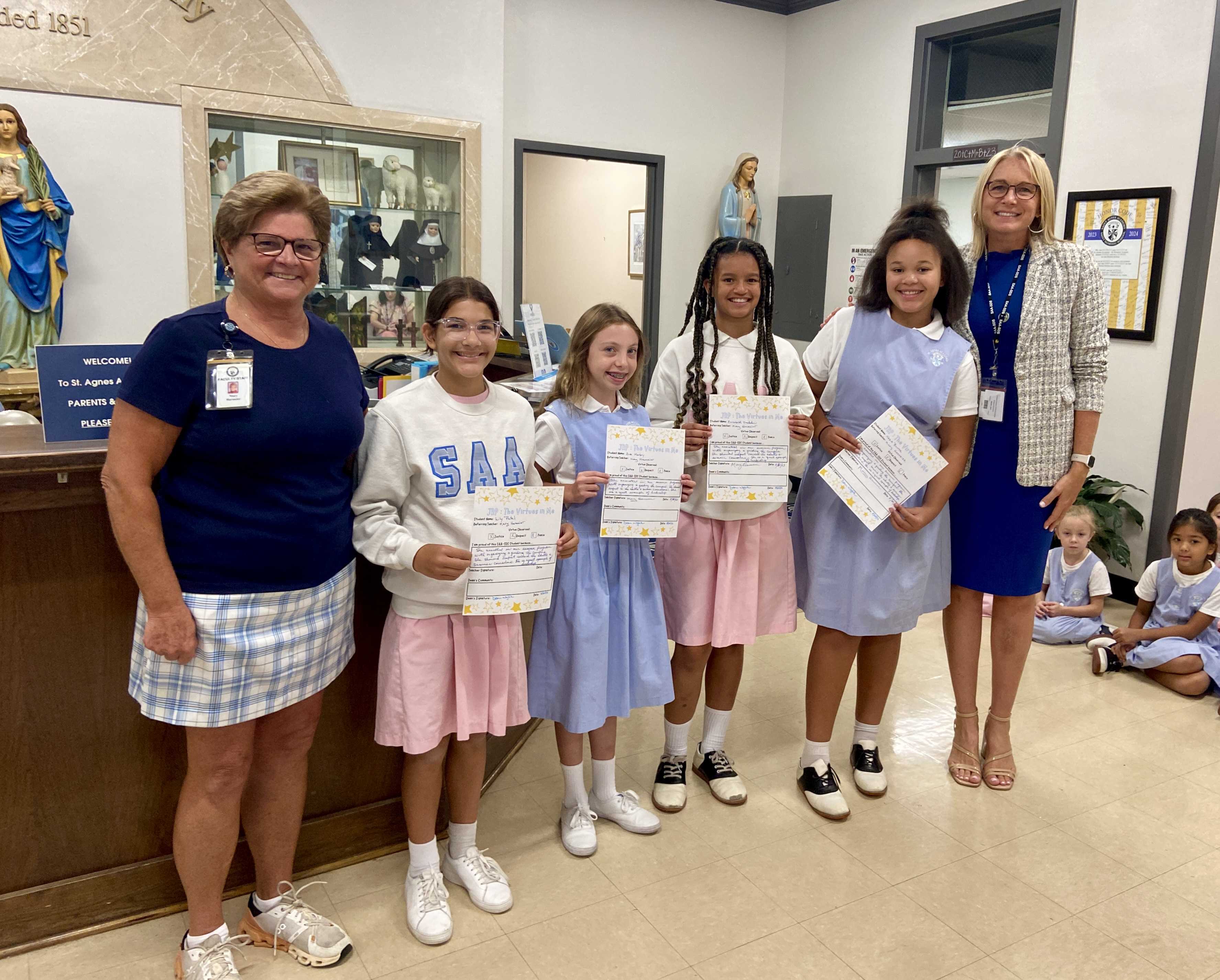 Character education is a key part of our mission at SAA-SDS. We devote time to its instruction, and we think critically about how to best align the school culture with our everyday actions. Justice, Respect, and Peace (JRP) is our K-8 student-faculty program, designed to create a culture of kindness, mutual respect, cohesion, and fellowship.
This year our Lower Schools have established a new award to recognize students who are living out these values in our school community–the JRP: The Virtues in Me Award. Our first recipients of this award for 23-24 are sixth grade students Nadia Boutte, Ava Marbry, Elizabeth Onikeku and Lily Patel. They were recognized and received certificates acknowledging this special honor during a morning Meet in the Middle assembly.
These girls were commended for their generous efforts working with Ms. Mary Harmeier as "Camp Counselors in Training'' this summer. Ms. Harmeier gratefully acknowledged the hard work these young ladies did around campus, and especially noted the outstanding leadership they showed among their peers. She shared, "They went above and beyond to do anything that was asked of them. They read to our ECC campers, organized lunches, games and activities, and even watered plants across campus when needed."
The award came as a complete surprise to the girls. Lily explained, "We were so surprised and proud to receive the award! Mrs. Harmeier read letters in front of everyone at the end of camp thanking us and talking about everything we did-and we thought that was enough. We had no idea we would get this too!"
In speaking with the award recipients, it was evident that they not only took their responsibilities seriously, but also truly enjoyed them and learned from the experience. Nadia shared, "It made camp more fun for us to be able to help. It was a great learning opportunity for us too. We are getting older and will be able to babysit soon, so this gave us a chance to learn a lot."
Ava agreed, "It made it a lot more fun for us this summer, especially getting to know all the younger kids more. The little kids loved us, especially the girls."
The girls also understand the importance of being role models for younger students and the impact the JRP award can have. Elizabeth explained, "I think the JRP recognition encourages girls to do their best-even when no one is watching. They see us and know that it is important."
Even now that summer has ended, these girls are still dedicated helpers. In the afternoons when they have finished their homework or extracurricular activities they help with the younger kids. We are truly proud to recognize Nadia, Ava, Elizabeth, and Lily for the positive influence they have in our community!