Back
Congratulations to Our SDS 8th Grade Graduates!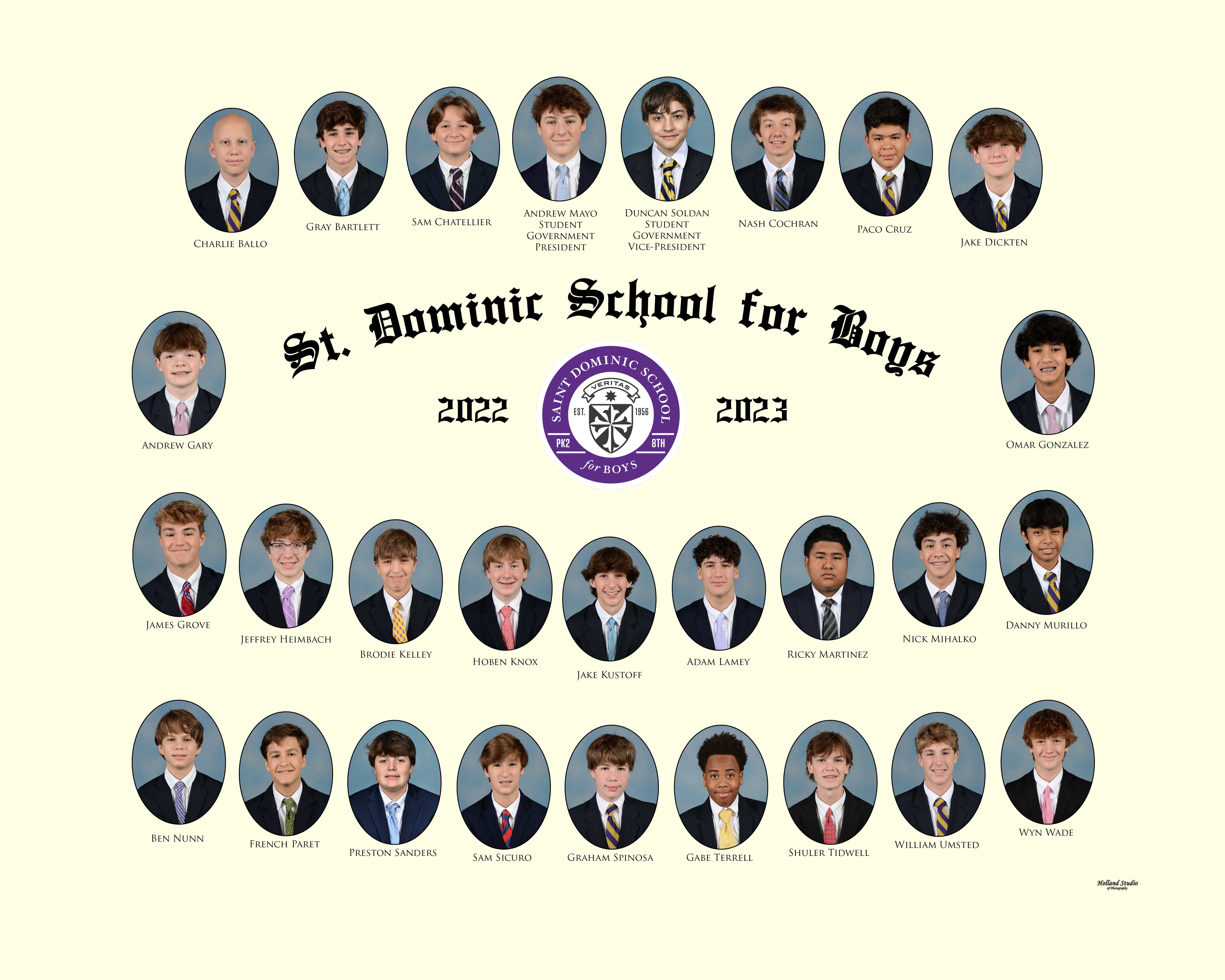 Today we were honored to celebrate our St. Dominic School 8th graders as they marked the end of their lower school years. The members of the Class of 2023 have worked hard to achieve much in all areas of school life, and they are well prepared for the challenges of their high school years. We look forward to watching them as they pursue their talents in high school and the years to come!
ST. DOMINIC SCHOOL TOP ACADEMIC HONORS
Valedictorian: Duncan Soldan
Second Honors: Shuler Tidwell
Third Honors: Sam Sicuro
SCHOLARSHIP AWARDS
The Presidential Scholarship from Christian Brothers High School is awarded to students whose placement test scores are in the top 10% of all students who apply for admission to CBHS. This scholarship was awarded to Gray Bartlett, Brodie Kelley, Adam Lamey, Ben Nunn and Sam Sicuro.
Sam Sicuro received the Brothers Merit Scholarship which is awarded to the top scoring student at each CBHS partner school.
ST. DOMINIC SCHOOL 8TH GRADE AWARDS
Outstanding Service Medal: Jake Kustoff
Dominican Spirit Award: William Umstead
Outstanding Student Government Member: Duncan Soldan and Adam Lamey
Dean's Award: Andrew Mayo
Achievement Award: Gray Bartlett, Omar Gonzalez, Sam Sicuro and Wyn Wade
President's Award for Educational Achievement (GPA between 3.0 and 3.4 in Jr. High): Pakito Cruz, Andrew Gary, James Grove, Jeffrey Heimbach, Preston Sanders and Gabe Terrell
President's Award for Educational Excellence (GPA of 3.5 or above in Jr. High): Gray Bartlett, Sam Chatellier, Nash Cochran, Jake Dickten, Omar Gonzalez, Brodie Kelley, Hoben Knox, Jake Kustoff, Adam Lamey, Andrew Mayo, Nicholas Mihalko, Ben Nunn, Sam Sicuro, Duncan Soldan, Shuler Tidwell, William Umstead and Wyn Wade
Michelle Sting Fine Arts Award: Adam Lamey
Sun Awards: Pakito Cruz, Gabe Terrell, Graham Spinosa, Andrew Gary and Ben Nunn
St. Dominic School Spirit Award: Shuler Tidwell
The Fellowship Award: Brodie Kelley
Outstanding Student Award: Jake Kustoff