Back
The 2023 St. Agnes Academy Outstanding Alumnae Hall of Fame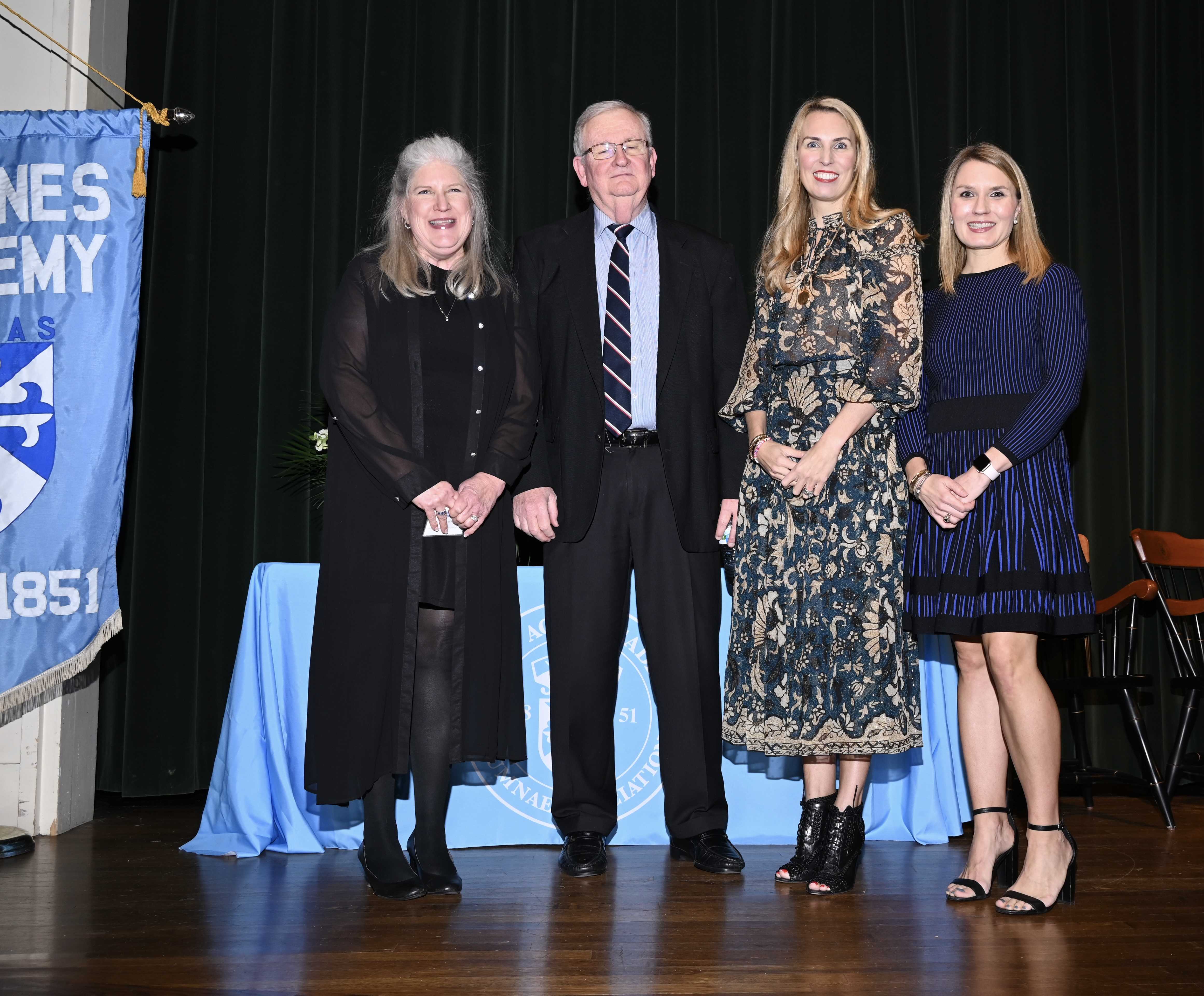 Four outstanding inductees were honored during the St. Agnes Academy 22nd Annual Outstanding Alumnae Hall of Fame ceremony on January 27. The 2023 inductees are Diane Borgognoni Clowers ('76), Fiona Dodd Simmonds ('95), Dr. Jennifer Haaga Berger, and Jim Lassandrello (former SAA Athletic Director). Each of the 2023 inductees has gone above and beyond to make a difference in their communities.
The St. Agnes Academy Outstanding Alumnae Hall of Fame was established in 2001 on the school's 150th anniversary. The Hall of Fame honors those exceptional individuals who command respect within their careers, civic, or charitable endeavors, and are devoted to the mission of St. Agnes Academy.
Diane Borgognoni Clowers, '76
In the class of 1976, Diane Borgognoni Clowers stood out as one of the best. Not only was she Student of the Year, but she also received the American Legion Award and the Service Award. Diane was a member of the Pep Club, Fine Arts Club, and served as President of the SGA.
Diane attended the University of Memphis and earned a Bachelor of Science in Early & Elementary Education. While in college, Diane was President of her sorority for two years, a member of Angel Flight, and named Who's Who Among Students in American Colleges and Universities.
She was also active in the Memphis area high school Young Life ministry and became youth director to high school girls at Church of the Holy Spirit and Second Presbyterian Church.
Since 2016, Diane has been committed to mission work at an orphanage in Uganda. She has been the keynote speaker at conferences around the U.S. to encourage women, she has led many Bible studies, and has written Vacation Bible School curriculums. She is a Fundraising Organizer as well as a Mission Trip Coordinator. Diane also owns a floral design and event planning business.
Diane and her husband Gary have been married for 41 years and have three sons and one daughter, Kathryn, SAA Class of 2002, and 9 grandchildren.
Fiona Dodd Simmonds, '95
To say that Fiona Dodd Simmonds was an active participant in the Class of 1995 would be an understatement. She was a member of the newspaper and annual staff, Key Club, and Spanish National Honor Society. Fiona played tennis, was a participant in the Knowledge Bowl, Treasurer of her senior class, and President of Mu Alpha Theta Honor Society.
Fiona earned her Bachelor of Arts degree in Spanish and Communications from Vanderbilt University and her Master's degree from The Wharton School of the University of Pennsylvania.
Fiona was an Associate at Citigroup Global Markets in their investment banking division before joining American Express where she served as Director and then Vice President of Mergers & Acquisitions. In 2019, Fiona co-founded Pinkie, Inc. and serves as the company's CEO. Pinkie is a puberty company that makes period products for tweens and teens.
Fiona lives in Manhattan with her husband, Ian, and three children, but remains close to her alma mater through her philanthropic efforts. She has also been a featured speaker at Upper School Career Day events sharing her experience with current SAA students. In her spare time, Fiona coaches a boy's flag football team.
Dr. Jennifer Haaga Berger, '01
As a member of the Class of 2001, Jennifer Haaga Berger was very active in all that St. Agnes offered. She was a member of the Key Club and the soccer team; she was awarded the Science Award and inducted as a member of the Aquinas Chapter of the National Honor Society. Jennifer was also the President of the Pep Club and has fond memories of Spirit Week.
Jennifer received her Bachelor's degree from the University of Virginia and her Doctor of Medicine degree from the University of Tennessee Health Science Center. After completing her residency at Le Bonheur Children's Hospital, where she also served as Chief Resident, Jennifer joined Memphis Pediatrics. She is a member of the HPV Cancer Prevention Committee at St. Jude Children's Research Hospital, a member of the American Board of Pediatrics, and the American Academy of Pediatrics. Jennifer is currently a Trustee on the St. Agnes Academy-St. Dominic School Board.
Jennifer and her husband, Johnathan, have three children who are students at St. Agnes Academy-St. Dominic School. They attend St. Louis Catholic Church where Jennifer has been a lifelong member
Jim Lassandrello, Former SAA-SDS Athletic Director
Jim Lassandrello came to Memphis from Chicago to attend Christian Brothers University and immediately began volunteer coaching that same year. After earning his degree in 1976, he began teaching and coaching at Grace St. Luke's School. During his 20-year career at GSL he was named the MCAA Basketball Coach of the Year.
In 1997, Jim brought his talents and visionary leadership to our campus. In his 20 plus year tenure, the athletic program grew from 11 high school sports to 14. He worked alongside students, teachers, coaches, and parents to develop an athletic program that led to successful fundraising and numerous awards: 23 State Championships, 18 individual state championships, 67 Regional Championships, numerous state runners-up, and 68 college signings.
Under his leadership St. Agnes Academy was awarded the Commercial Appeal Best of Preps, Female Division for four consecutive years and the A.F. Bridges "Do What's Right" Award for sportsmanship for two years.
"Coach Lass" initiated the Booster Club in 2000 and organized the first St. Agnes Academy-St. Dominic School Golf Tournament which has continued successfully for 23 years. In addition to his contributions as Athletic Director, Jim also coached SAA varsity basketball for 20 years and SDS football for 10 years.
Jim is dedicated to his faith and the mission of the school. His three daughters are all St. Agnes alumnae: Jenny, Class of 2000, Kate, Class of 2003, and Jamie, Class of 2005. He is also the proud grandfather of three. Following fellow Hall of Famers Frank Martinez and Bill Cate, Jim Lassandrello becomes the third man to join our St. Agnes Academy Hall of Fame.