Back
Learning Through the Process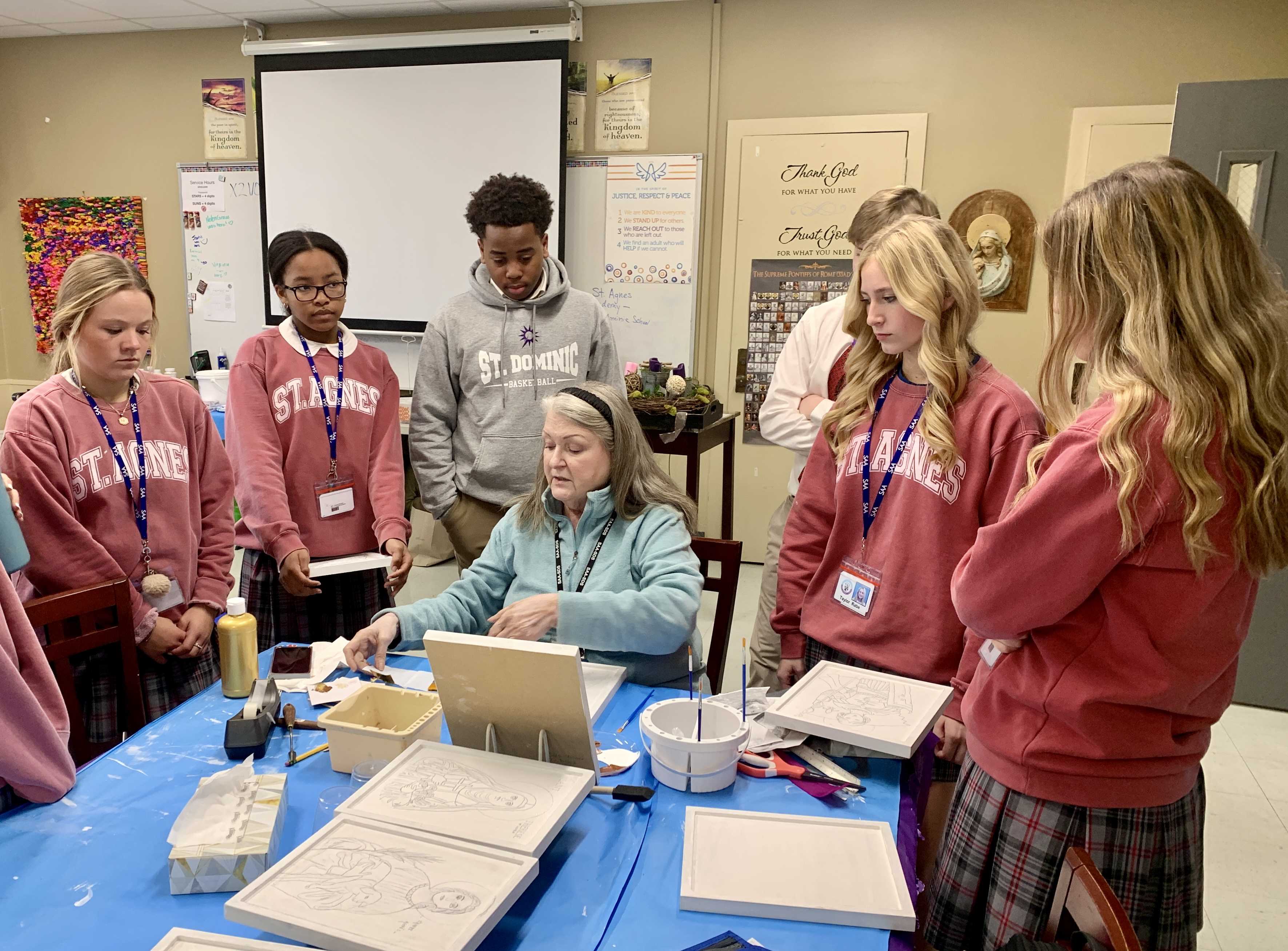 An interdisciplinary approach to teaching is something that comes naturally to the amazing educators at our school. You might be surprised to learn, however, that this approach is equally effective in a Religion classroom as it is in the general subject areas. Weaving together History, Art, and Religion, eighth grade teacher Julia Schuster has transformed a yearly research project into a hands-on experience, creating a final "exam" project that truly engaged her students throughout the process.
Each year as our 8th graders prepare for the Sacrament of Confirmation, they are asked to research the saints and select a saint whose name they will adopt for their Confirmation name. Students often choose a saint who holds special meaning to them personally or who reflects the virtues they aspire to.
St. Dominic student Duncan explained his choice: "I chose St. Francis (Patron Saint of Animals, Merchants & Ecology) because I know that in my future, I want to do work to help save the environment, and I also love animals."
This year, in addition to researching their chosen saint, students were also challenged to depict that saint through art in the tradition of the ancient practice of iconography. Iconography dates back to the 16th century, having its earliest representation in the field of archaeology. Later, this art form became associated with Christianity and the depiction of religious figures.
Mrs. Schuster introduced the class to the practice of iconography, explaining the important details of the images and the art mediums historically used to create the icons. She demonstrated making "egg tempera" paints using egg yolks, white wine to stabilize them, and mica color pigments. She also demonstrated the delicate art of gold leafing.
In keeping with the Mission of our school, bringing their saints "to life" in this creative, personal way, provides an opportunity for our students to deepen their faith and relationship with God.
"I cannot express how proud I am of these students. They amazed me daily and put so much love and effort into this project," Mrs. Schuster shared.
Bennet Slater, owner of Slater Lumber and Millwork (husband of Lower School Art Teacher Megan Slater, and father of Audrey, SAA '36), very generously donated 55 specially cut and routed wooden boards for the students to create icons of their chosen Saints. The students sanded and primed their boards and created their images with pencil, paint, and gold leaf. The results were amazing!
Last week, Father James Martin visited each class period to pray a blessing over their works of art. Each student now has a beautiful, tangible product to remember their chosen Saint.