Back
Class of '23 Celebrates Rose Ceremony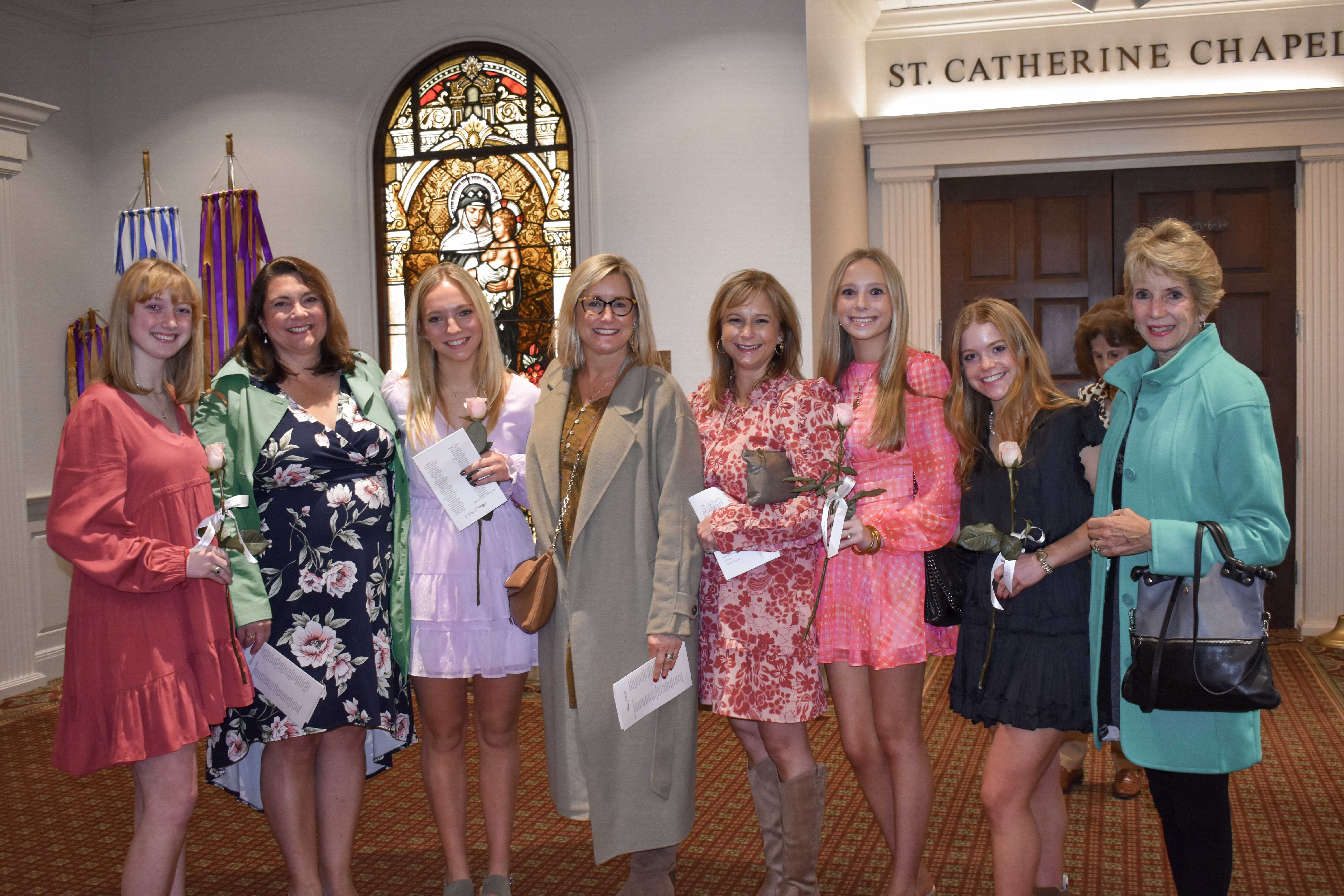 On December 2 the Class of 2023 celebrated the Rose Ceremony-a time-honored tradition at St. Agnes Academy. For over 50 years, the senior class has gathered each fall to honor their mothers and other special women in their lives with the presentation of a rose. The seniors shared heartfelt speeches reflecting on how important these women are in their lives, thanking them for their years of love and for forming them into the young women they are today. With extended arms, the seniors gave their moms a blessing to end the ceremony.
Dean Heather Valdez shared, "The Rose Ceremony is one of my most favorite traditions at St. Agnes Academy! I love that each young lady can honor the significant women in her life. The impact of a positive female role model is crucial in the academic, social, and spiritual development of each young lady. Women are powerful influences, and as a mother of four young ladies, I was inspired by the words of the seniors during the ceremony as they praised, offered thanks, and desired to live the values the women in their lives are living."
This year's speeches left us laughing and crying. They gave us a glimpse at how beautiful it can be to have a mother and a stepmother, the special ability a mom of twins must have to make each child feel special, and how the powerful influence of all the strong women in the lives of our girls has impacted them.
Below are a few excerpts from the speeches:
"My mother is always there for me and has always been the woman I strive to be when I grow up. My mother has encouraged me to always be myself. She leads by example and inspisres me to follow my dreams. She has always taught me that I can do anything I put my mind to--which I truly believe because of her. My mother is an intelligent woman and everything I know I have learned from her. Each and every day of my life, she continues to model kindness, patience, and prayer. In addition, my mother has influenced my faith by raising me to be a strong Christian like herself and inspiring me to pray more often. She is everything I want to be and more. She is the bravest, strongest, and kindest woman I know. She is my best friend. She is my mother." (Megan Norsworthy)
"Abraham Lincoln once said, "all that I am, or ever hope to be, I owe to my angel mother." In my case, I owe who I am to both my mothers. I have been blessed with a mom and a stepmom. I have come to realize that both of these women are essential to my life and have made me the person I am today. My mom is the person who gave birth to me and has always been my place of comfort and safety. She's given me my loud, energetic personality, my uncontrollable laughter, and the ability to stand up and fight for what I believe. I am so thankful for her influence and her presence in my life. My stepmom came into my life when I needed her most, and I appreciate the structure and stability she gives me on a daily basis. She has taught me the importance of tough love and how to respect others and myself. "(Rowan Whittington)
"What can I begin to say about the person who gave me everything? The person who dealt with my terrible twos, sassy childhood, the dreaded pre-teen years filled with "I hate you's'' and many, many rude remarks. But now here we are, in the last several months until I graduate. As I reflect on my Mom's influence on me over the past 17 years of my life, the biggest takeaway is that I would be nowhere without her–without you." (Mary Ann Shearin)