Back
Meet Our Student Contributors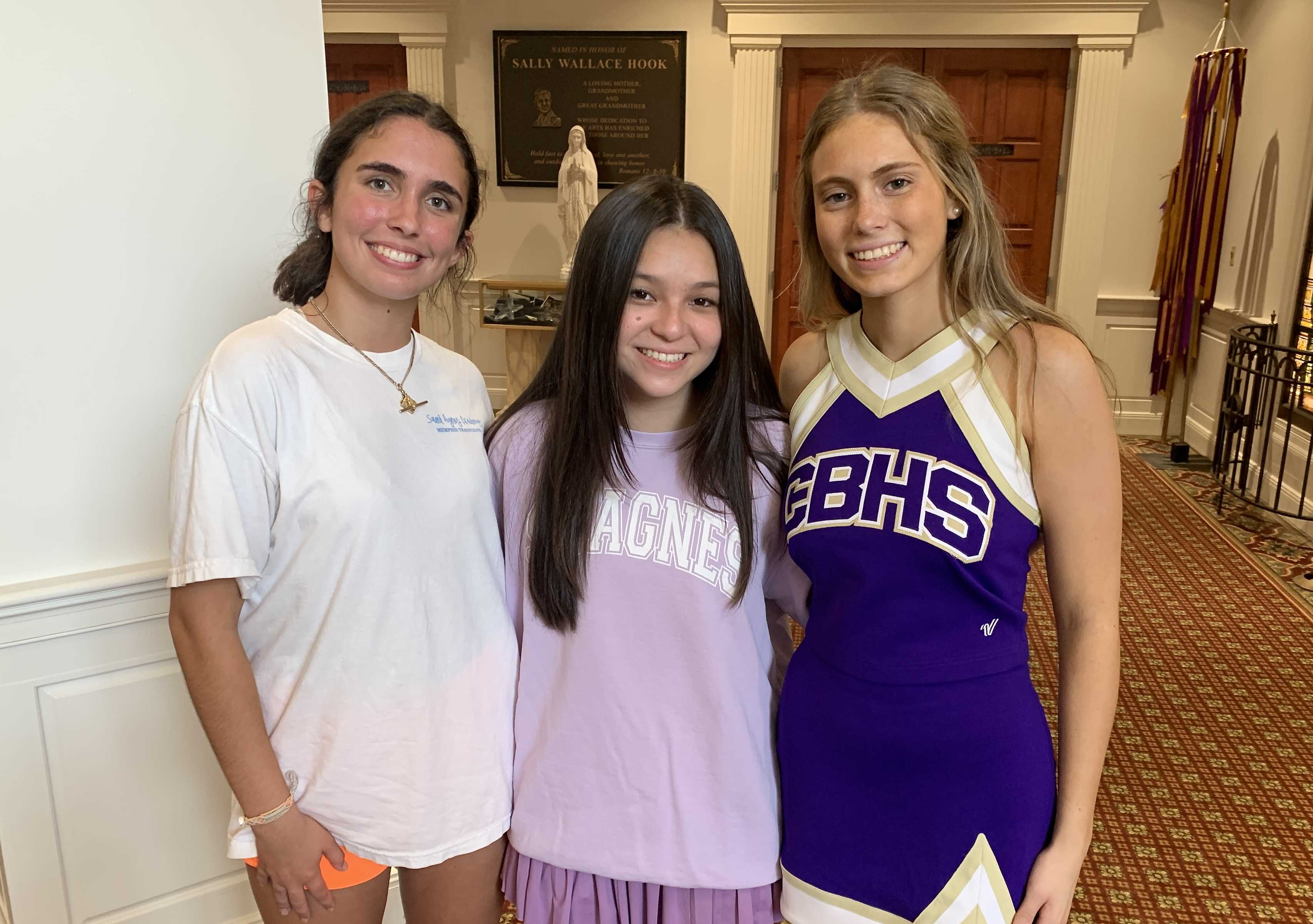 The Communications Department at SAA-SDS is excited to partner with three Upper School student contributors! This talented group of SAA juniors will help us tell our school's stories from the student perspective. We look forward to working with them and letting you hear their voices.
We asked them to introduce themselves so that everyone can meet them before you begin to see their work. Here is what they had to say!
(As pictured, Left to Right)
My name is Elizabeth Chism, and I have attended St. Agnes since ninth grade. Before I came to St. Agnes I attended St. Louis. I was nervous about coming to a new school, but within a few days St. Agnes had become a place I could call home. I knew St. Agnes was the school for me because of how inclusive everyone is. No matter if you have gone to St. Agnes your whole life or started as a freshman, everyone always makes an effort to be sure you feel included, and I believe that the inclusivity comes from the sisterhood that is shown every day. I am a member of the soccer and lacrosse teams, and I am also a member of many clubs like Forever Friends and Key Club. I am very excited to be working with the Communications team because it will allow me to express how much I love this school! This is truly an incredible place, and I am so excited for this upcoming school year and all the amazing opportunities that St. Agnes has to offer!
My name is Anna Osias, and I am excited to be a Student Contributor for the Communications Department! I have attended the school since 9th grade. At St. Agnes we are taught that each and every one of us is capable of being a leader. We are empowered by the teachers, staff, administrators, and our peers to be the best possible versions of ourselves. The environment here has allowed me to thrive as an individual by giving me the opportunity to become involved in our community as a class officer (Sophomore Vice President and Junior Public Relations Officer), as a member of Calliope (Secretary 2021-2022 and Art Editor 2022-2023), and as the captain of the Varsity Bowling Team. Outside of school, I am very active in the Bridge Builders COLLABORATE Program and the Bridge Builders COLLABORATE Leadership Council. My experiences inside and outside of St. Agnes have inspired me to share my voice as a Student Contributor working with the Communications Department!
Hello! My name is Eva Ryan, and I have attended St. Agnes since the sixth grade. I participate in numerous clubs, lacrosse, and cheerleading. Throughout the years, I have been fortunate enough to experience the strong and supportive community we have here at the school. Spreading St. Agnes' sisterhood within and outside of these hallways is something I am passionate about. St. Agnes has provided me with countless opportunities to express myself in classes and extracurricular activities that I enjoy. I am grateful for the individually catered education I receive every day at St. Agnes Academy.. I am delighted and honored to be a Student Contributor for the Communications Department. To be able to share all the special events that highlight our school is an outstanding opportunity!