Back
Spotlight on Savannah Williams, SAA Class of 2013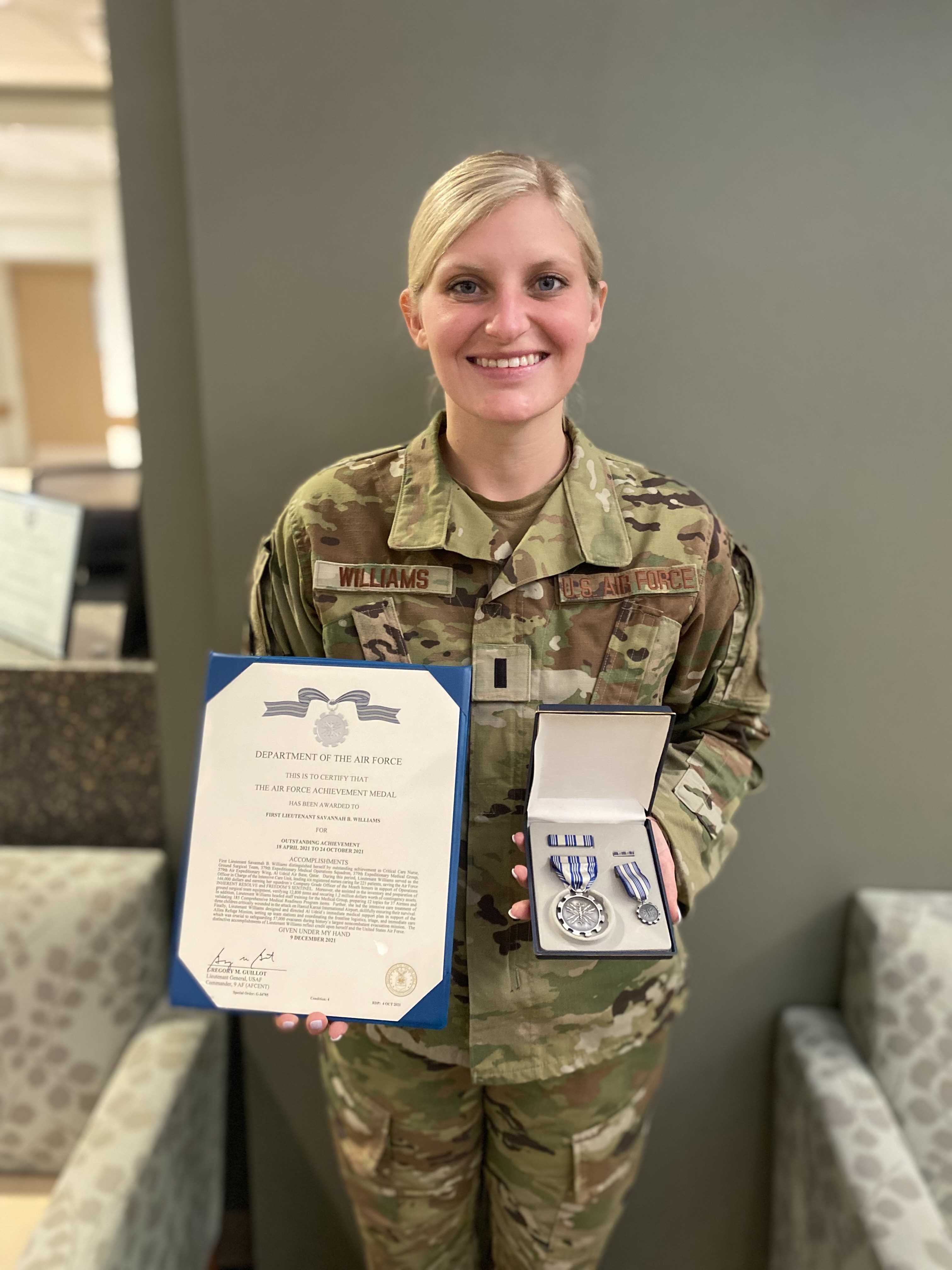 In honor of the upcoming July 4th holiday, we would like to spotlight Savannah Blake Williams, St. Agnes Academy Class of 2013, First Lieutenant in the United States Air Force (USAF).
Savannah comes from a family steeped in medical tradition. As a senior at SAA, she received an academic scholarship and was accepted into the Nursing Program at UAB. During her junior year she heeded the call to serve her country. Upon graduation, she began to work with a United States Air Force recruiter. Two years' experience were required to be a USAF nurse, and she fulfilled this requirement at UAB Neuro ICU and Methodist Germantown Emergency Department. Savannah was accepted, completed 5 weeks of Officer Training, and was stationed in Las Vegas, Nevada at Nellis Air Force Base working as a critical care nurse. Her hope was to receive a deployment within her first year of active duty.
COVID interrupted that plan but provided her with numerous opportunities to serve. Savannah volunteered to miss Thanksgiving and Christmas with her family to take part in a humanitarian mission in North Dakota where the medical staff were overwhelmed. Soon, an opportunity arose for a critical care/ER nurse in a Ground Surgical Team (GST)-but the position was slotted for a Major. With the help of her leadership and letters of recommendation from her previous employers, she was accepted into this 6-member team and deployed to the Middle East. Their mission required months of training in multiple cities to be prepared to do field surgeries and emergency resuscitation in austere environments.
Savannah's life changed very quickly when the first plane came to her base at full capacity from the Kabul Airport. The next few weeks were intense and exhausting while evacuating 57,000 Afghans through the air base. She designed a medical aid tent, cared for pediatric and adult victims of blast injuries, and, in the midst of all the chaos, even had the special privilege of delivering several babies!
In recognition of her work as a Critical Care Nurse, 379th Expeditionary Medical Group, Savannah received the Outstanding Achievement Award for her work on the Afghanistan Evacuation Project in Doha, Qatar. Her award reflects the extensive list duties she performed as well as the monies that she saved the USAF through her efforts.
Savannah has always demonstrated a commitment to serving others. During her time at St. Agnes, she participated in mission trips and Catholic work camps and served as class chaplain for three years. She received the US President's Volunteer Service Award in 2011. Regarding her time at St. Agnes, Savannah shared, "SAA is a special place where I was given so many opportunities to be involved in community service, outreach, and hold several leadership positions. I would not be where I am at this point in my life and career without these valuable experiences. Not only did SAA challenge me academically, but morally as well. These challenges gave me the confidence and skill set to accomplish my goals."
Savannah is recently engaged and planning her wedding to Technical Sergeant Assistant Fire Chief, Rocky Roque, whom she worked with on deployment with the Afghanistan Evacuation Mission. Savannah's mom uses these words to describe her: Devotion to God, Compassion, Patriotism, Bravery, and Love of Nursing. We could not be prouder of Savannah and her accomplishments! Thank you for your service!