Back
Athletic Awards for Grades 6-8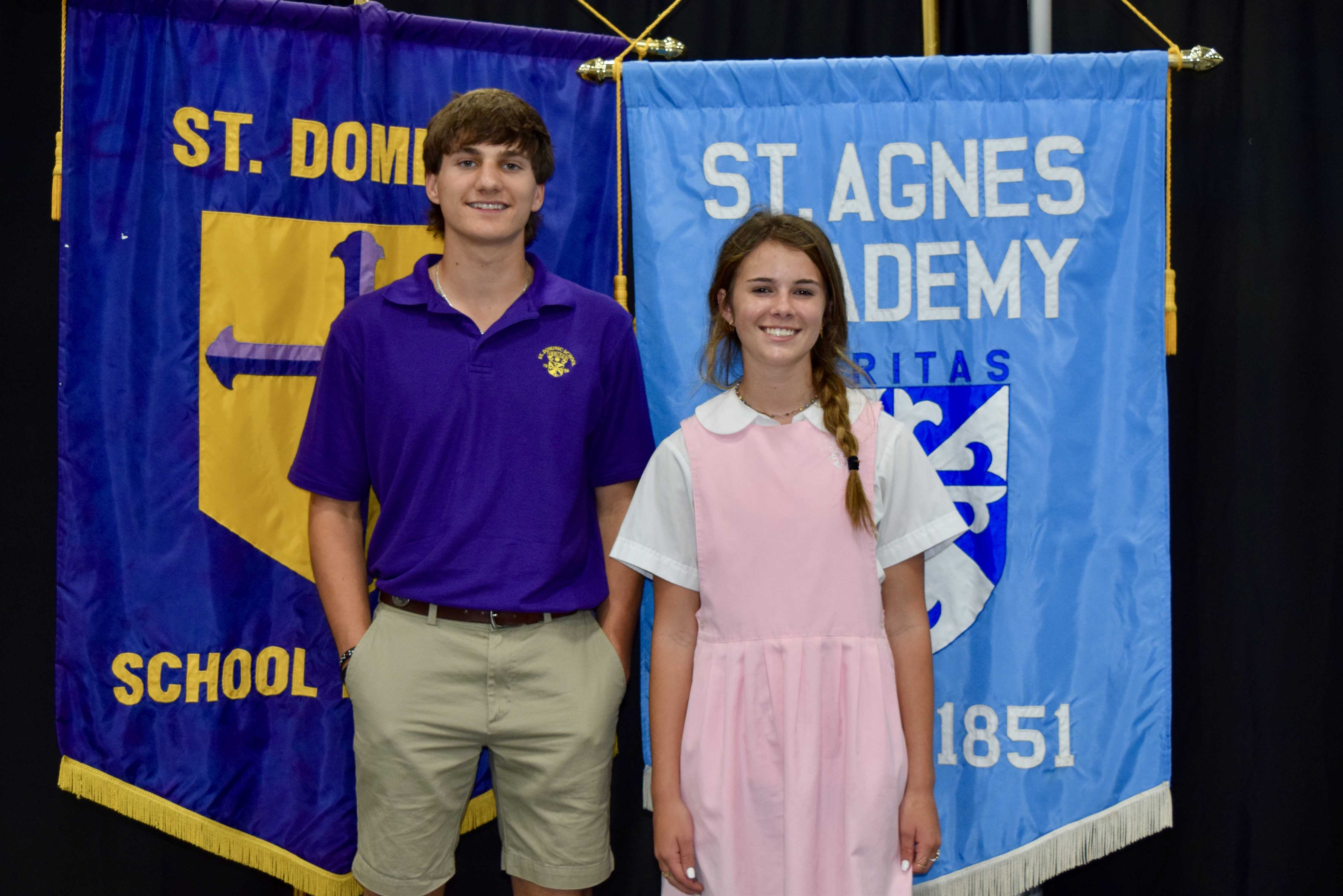 We gathered for the grades 6-8 Athletic Awards Assembly on May 10. It was a special time to honor our athletes and their coaches who have dedicated their time and talents to SAA-SDS during the 2021-2022 school year.
Special Award Winners
Our top two awards, the Dick Saukus and James W. Mathis Memorial Awards, are presented to one 8thgrade multi-sport athlete from each school who has excelled and most exemplifies the combination of athletic ability, academic achievement, and citizenship
The Dick Saukus Memorial Award - Fallon Drzyzga (Volleyball, Basketball, Track & Field & Lacrosse)
Coach Saukus was a dedicated coach for many years at St. Agnes Academy. He was especially devoted to the lower school basketball program and worked selflessly to develop our grade school athletes. Coach Saukus passed away in the early 90s while still actively involved as a coach and mentor. This award carries his name because of the lasting impact he had on the athletic program here at St. Agnes.
The James W. Mathis Memorial Award - Brandon Bardos (Football & Basketball)
Coach Jim Mathis started coaching at St. Dominic School in 1962 and was in his 50th year in that capacity when he passed away in 2012. He was a born competitor and decorated track and field athlete holding multiple records including 4 world records as a Masters Division runner. While at SDS Coach Mathis served this community as a teacher and athletic director and coached baseball, basketball, & track and field. It is estimated he had nearly 2000 victories during his time at SDS.

Scholar Athlete Awards
The scholar athlete awards are given to multi-sport athletes with the highest GPA in 7th and 8th grade for St. Agnes Academy and St. Dominic School. This year's recipients are:
St. Agnes Academy Scholar Athletes
7th Grade Scholar Athlete - Lily Ryan Melton
7th Grade Scholar Athlete - Olivia Evans
8th Grade Scholar Athlete - Fallon Drzyzga
St. Dominic School Scholar Athletes
7th Grade Scholar Athlete - Sam Sicuro
8th Grade Scholar Athlete - Wes McIngvale
Team Awards
The team awards are voted on by coaches and fellow athletes.

St. Agnes Team Awards
Cross Country
Coach Award - Morgan Paige-Musaerenge
Most Valuable Athlete - Mary Grace Pender
Golf
Coach Award - Ally McNamara
Most Valuable Player - Sarah Hooten
Soccer 6-8
Most Improved Player - Emma Casey
Coach Award - Mary Frances Berry
Volleyball 5/6
Most Improved Player - Ava Casey
Coach Award - Mattie Warne
Most Valuable Player - Ruby Williams
Volleyball 7/8 JV
Coach Award - Lily Ryan Melton
Most Valuable Player - Anna Kate Warner


Volleyball 7/8 Varsity
Most Improved Player - Fallon Drzyzga
Most Valuable Player - Addison Maness
Basketball 5/6 JV
Coach Award - Lily Jordan
Most Valuable Player - Isabel Jordan


Basketball 5/6 Varsity
Coach Award - Debra Stemmler
Most Valuable Player - Madeline Coletta
Basketball 7/8 Varsity
Coach Award - Clara Bolden
Most Valuable Player - Fallon Drzyzga
Swim
Coach Award - McKinley Miller
Outstanding Swimmer - Evie Hines
Softball 5/6
Coach Award - Ava Sinclair Duckett
Most Valuable Player - Isabel Jordan


Softball 7/8
Coach Award - Olivia Tansey
Most Valuable Player - Olivia Evans


Tennis
Most Improved Player - Maddie Kyle
Most Valuable Player - Sallie Key Word


Track & Field
Coach Award - Lily Ryan Melton
Most Valuable Performer - Mary Kate Garibaldi

St. Dominic Team Awards
Cross Country
Coach Award - Wes Roberson
Most Valuable Player - Walker Thomas Slattery
Football 5/6
Best Offensive Player Award - Finn Daugherity
Best Defensive Player Award - Henry Arant
Football 7/8
Coach Award - Elliott Shah
Offensive Player Award - John Rex Dockery
Defensive Player Award - Brandon Bardos
Golf
Coach Award - Will Plummer
Most Valuable Golfer - French Paret
Basketball 5/6 JV
Coach Award - Whitt Frank
Most Valuable Player - Trip Piretti
Basketball 5/6 Varsity
Coach Award - Adam Wade
Most Valuable Player - Jacob Holmes
Basketball 7/8 Combo
Coach Award - Hoben Knox
Most Valuable Player - Wyn Wade
Basketball 7/8 JV
Most Improved Player - Connor Jayroe
Most Valuable Player - Elliott Shah
Basketball 7/8 Varsity
Coach Award - John Rex Dockery
Most Valuable Player - Brandon Bardos
Track & Field
Most Improved Performer - Gabe Terrell
Most Valuable Performer - Elliott Shah