Back
Veritas in Action-Our Upper School Honor Council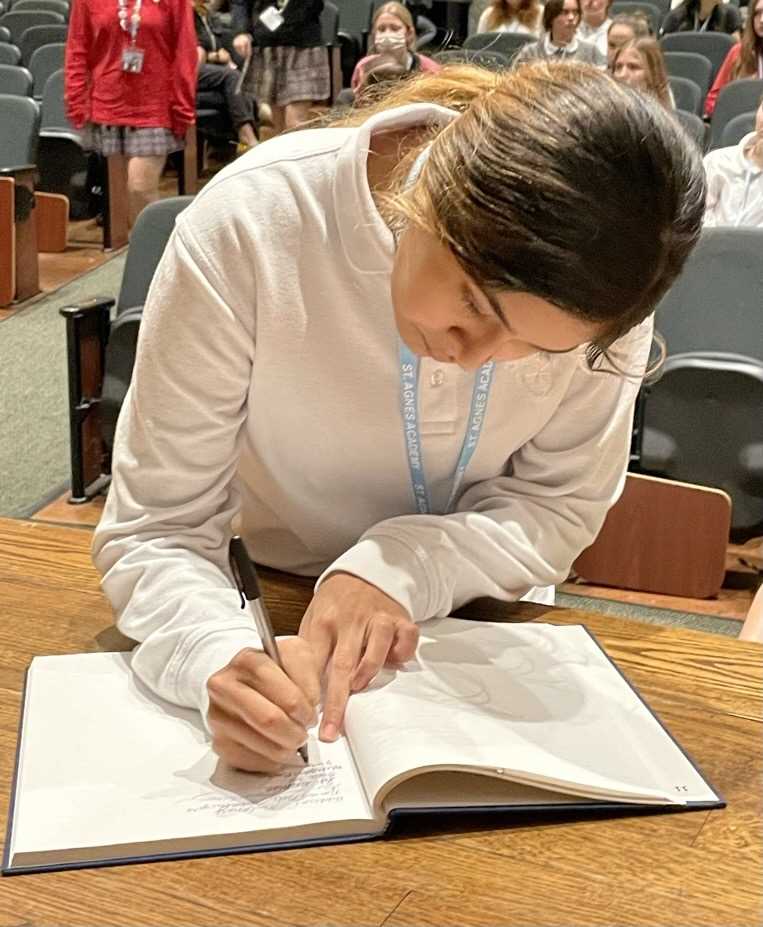 Veritas is the motto of the Dominican Sisters of Peace who sponsor St. Agnes Academy-St. Dominic School. Founded on Catholic principles and enriched by Dominican Spirituality, SAA-SDS educates young people to pursue Veritas (truth) through study and prayer. Veritas is the principle that sustains our Honor Code and guides daily behaviors on our campus.
One goal of newly appointed Assistant Dean Julie Patterson was to reaffirm Veritas as an active part of our girls' daily lives. The first step in this endeavor was to re-establish the Honor Council as a truly student-led organization. "The purpose of our student-led Honor Council is to hold our community accountable, ensure the integrity of our work and create a culture of honor within our school," explained Mrs. Patterson.
Megan Norsworthy and Meghan McManus, co-presidents of the Honor Council, spoke to the student body before the Christmas Break detailing the expectations of the Honor Council and outlining some new initiatives, including a private email address for reporting of honor code violations. "Our goal is to reinforce Veritas at the school and to encourage our classmates to be truthful," shared Meghan McManus.
Megan Norsworthy further explained, "We want to encourage a community of integrity and trust among the students and faculty. The end goal for any person facing an honor code violation is a positive change of behavior. The student-led honor council must find the best way to guide that person toward a positive change."
The primary circumstances that will be addressed by the Honor Council, with Assistant Dean Patterson's guidance, are instances of potential plagiarism, cheating, and failure to report known violations. Each Upper School student writes the following pledge on their work: "On my honor, I have neither given nor received any information on this assignment," and students should adhere to this pledge to "achieve their academic goals with honor" as Miss Norsworthy explained it.
To lead the Honor Council is a complex task. When asked why she was driven to be a part of it, Miss McManus shared, "Veritas is important to me because a core value of my Catholic faith is to live honestly and truthfully in everything that I do."
Miss Norsworthy added, "Our Honor Council sets us apart from other schools because we believe in helping girls avoid mistakes in the future-instead of just "punishing" them for breaking the Honor Code. It is important to hold everyone accountable while maintaining a positive outlook."
After the introduction of the newly appointed Honor Council co-presidents and a review of the expectations established in the school's Honor Code, each Upper School student signed the Veritas Book, pledging their personal commitment to uphold the Honor Code.
AGNES ACADEMY-ST. DOMINIC SCHOOL HONOR CODE
WE, THE STUDENTS AND FACULTY OF
ST. AGNES ACADEMY-ST. DOMINIC SCHOOL
HEREBY PLEDGE OUR FULL SUPPORT
TO THE HONOR SYSTEM.
I PLEDGE TO BE HONEST TO MYSELF AND OTHERS
IN ORDER THAT THE SPIRIT AND INTEGRITY OF THE
HONOR SYSTEM MAY ENDURE.
MY WORK AND MY ACTIONS
WILL REFLECT MY COMMITMENT
TO BE AN HONORABLE PERSON AT ALL TIMES.