Back
Lower School and Junior High Torch Award Winners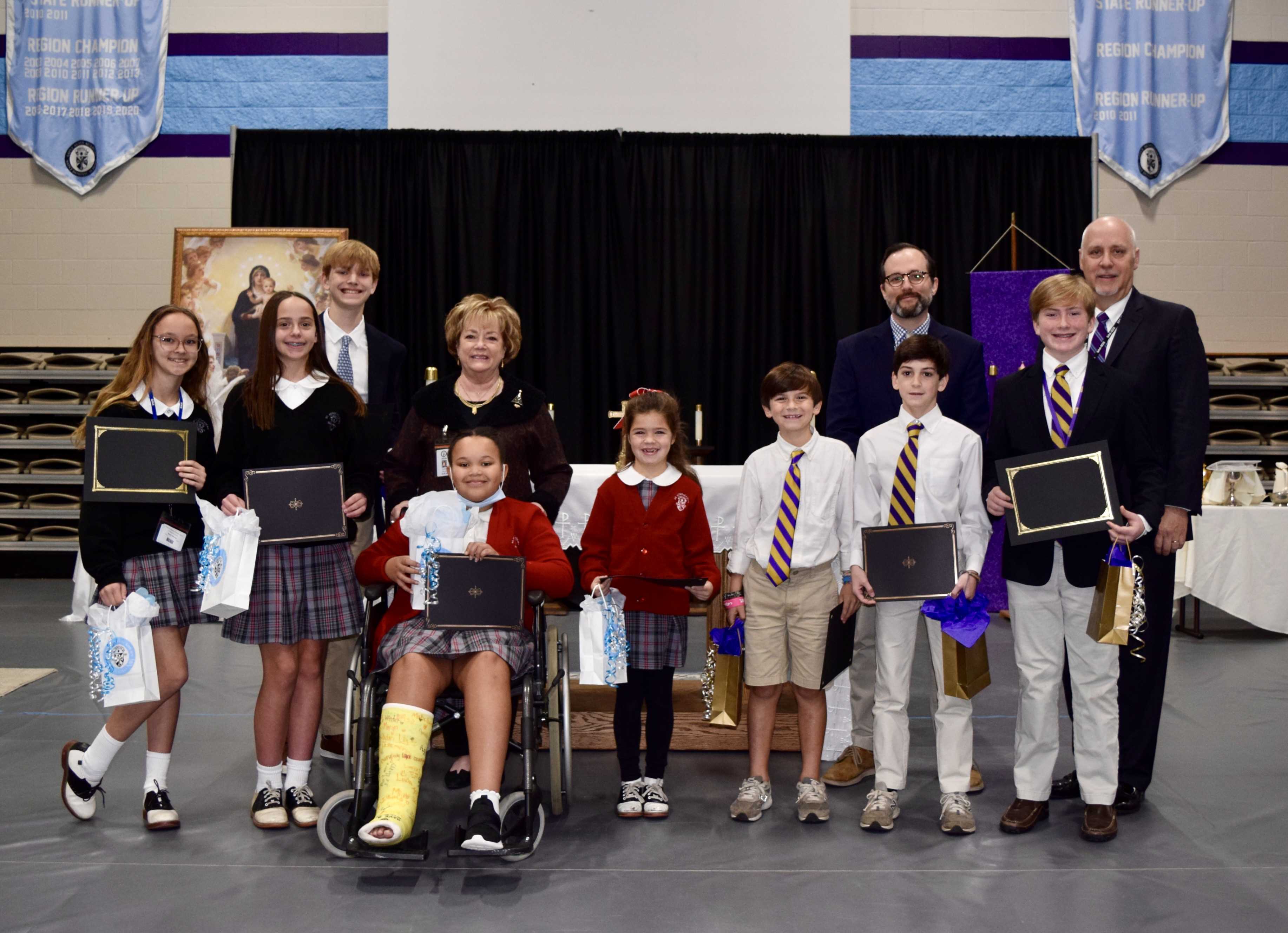 On December 8 we had the honor of presenting the Dominican Torch Award to four of our Lower School students and four of our Junior High students. The Dominican Torch Award, presented twice a year, recognizes those students who live their daily lives in a way that reflects the Four Pillars of Study, Prayer, Community and Service. These students uphold our standards of conduct and represent the core values of our school.
It is always a difficult task to choose the winners of this award because of the many nominations we receive. This time, however, the number of nominations, particularly from our Junior High, were outstanding and numerous for several students, making the decision even more difficult. The Faith Formation Team was so impressed with multiple nominations for some students that they made an exception and awarded extra awards!
Classmates and faculty members nominated the award recipients. President Tom Hood explained, "These students have inspired others with their generosity, kindness, humility, and compassion. They are wonderful examples for us all."
Congratulations to our deserving award winners: Charlotte Piretti, Cash Tidwell, Nadia Boutte, Adam Wade, Brooke Bounds, Reagan Oberling, Hoben Knox and Jack McCullough. Below are excerpts from the nominations recognizing the many ways these students exhibit a loving and faithful life.
Charlotte Piretti, SAA 2-A classmate wrote: "I like Charlotte so much. She is caring, helpful, and kind. When a friend is hurt, Charlotte looks for a chance to love them. She is a good friend and deserves this award because she shines God's light. That is what we are supposed to do."
Cash Tidwell, SDS 2-One of his St. Dominic brothers wrote: "Cash is truthfulness. He is respectful when doing clean-up crew, and does it just to help out, NOT because he has to do it. He even lets people go first on the monkey bars. Cash is caring and plays with me a lot. He keeps me company when I am feeling down. He has optimism and attitude. He's cool."
Nadia Boutte, SAA 4-Her classmate shared: "I chose Nadia because she is kind and funny. Whenever you are sad, no matter what grade you are in, she will come up to you and make you better. Just like that. She has her own way to do it, but whatever her way is, it works and you feel better in the end. When she's involved in a problem, she smiles really big, makes a funny face, and walks really fast around the room to make herself think better."
Adam Wade, SDS 6: A fellow 6th grade student wrote: "I think Adam shows "Study and Community" every day. He always pays attention in class and works hard … like ALL the time! He is a great teammate, on and off the field, too." Another friend shared: "Adam is new to SDS this year, but he made friends fast and shows kindness and respect to everyone he meets. He is such a good guy."
Brooke Bounds, SAA 7-Her classmate shared: "Brooke was the first person to welcome me to St. Agnes. That meant so much to me. She is one of the kindest people I know. She really cares and stands up for others and would never discriminate or be rude to anyone. I see Jesus in her."
Another student wrote: "Brooke lives all of the Four Pillars. She is kind of quiet in class and always sees the good in everyone. We can feel goodness coming from her. She volunteers and helps out and is prayerful in everything, honest and hard-working. Brooke is a St. Agnes Star!"
Reagan Oberling, SAA 7-A classmate wrote: "I nominate Reagan because, even though she has only been at SAA a few months, and even though 7th grade is her first time to be at a school in the United States because her father is in the Navy and travels a lot — she already understands how special it is here. She adds to our specialness. Sure, she makes good grades and studies hard, but she makes people feel better about themselves. That's important." Another friend shared: "Reagan brings me light. She has joy and she laughs, and I know that I can trust her. She goes to soup kitchens and helps the homeless and prays for her friends. The best quality of Reagan's is the way she makes everyone feel welcome and like they belong."
Hoben Knox, SDS 7-A fellow 7th grader wrote: "Hoben is funny and crazy sometimes, but he also has a huge heart. He smiles all the time and is a friend to everyone. It is hard sometimes to think of a friend for the Torch Award, especially in Junior High, but when I really thought about it, Hoben came to mind because he is kind at heart and thinks of others, instead of always about himself. He includes people, instead of keeping them out."
Jack McCullough. SDS 8- A classmate wrote: "Jack has a really big smile and a bigger heart. He has been here since forever and knows everything about SDS, so he's got the Four Pillars covered. Everyone knows and likes Jack. He works really hard in school and knows how to make everyone feel like they matter."
Congratulations to all of our Dominican Torch Awards recipients. They are excellent examples for us all and we appreciate their commitment to the Four Pillars and to living a virtuous life.