Back
Planting Hope-Commemorating our Dominican Heritage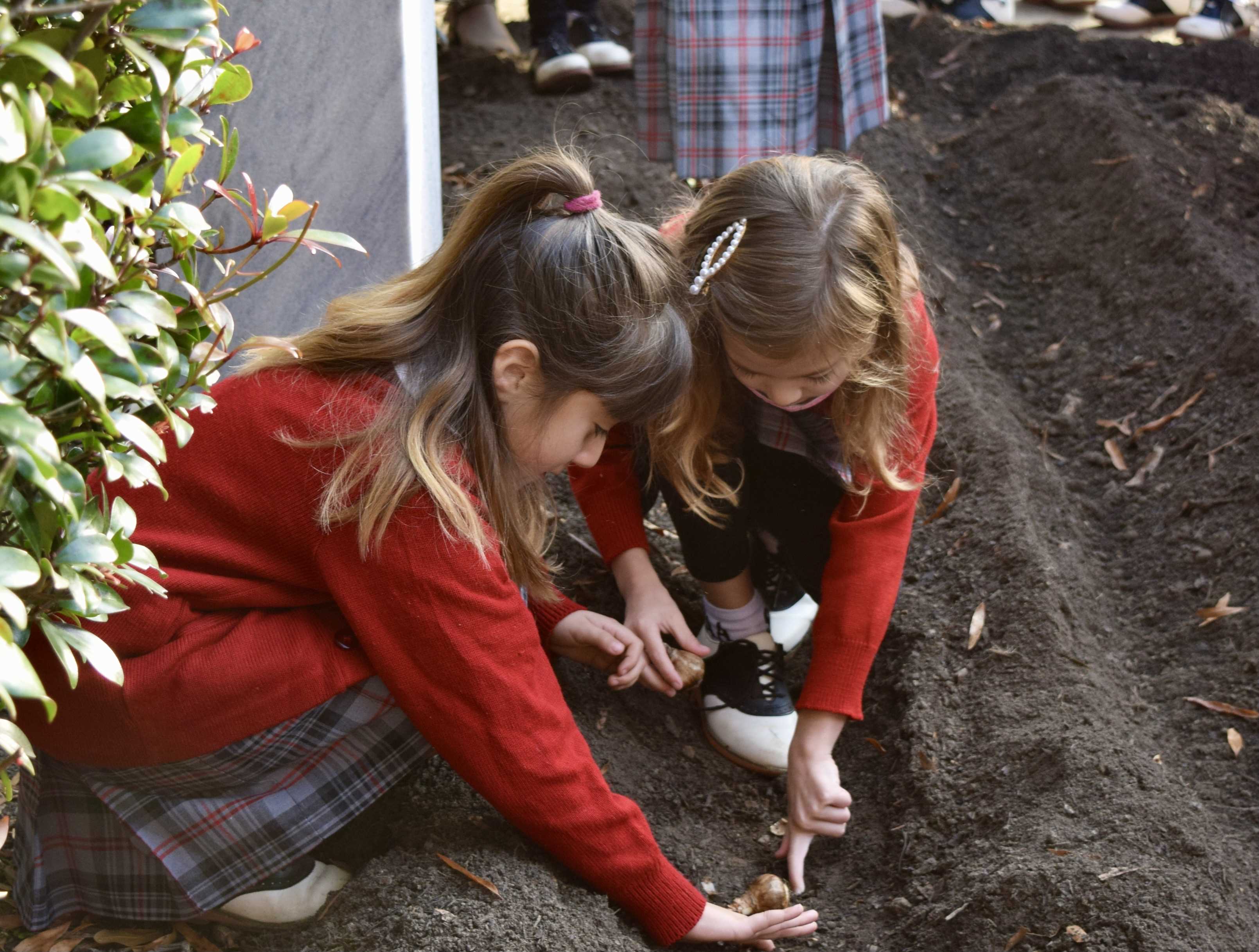 This week every student, faculty, and staff member of St. Agnes Academy and St. Dominic School planted a jonquil bulb (daffodil) in celebration of the 200th Anniversary of the Dominican Sisters of Peace and the 170th anniversary of St. Agnes Academy. Jonquils symbolize hope and resilience, two characteristics that the Dominican Sisters and our school have demonstrated throughout their history. To celebrate their 200th Year Jubilee, jonquils are being planted wherever the Dominican Sisters work across the country.
In 1822, nine women from St. Rose Parish formed the first congregation of Dominican Sisters in the United State in Cartwright, Kentucky. Responding to the call to teach the children of the pioneers, they began in a one-room log cabin convent and an abandoned house. Tragically, in January of 1904 a fire destroyed everything they had built. All that was left was a mass of ruins that had to be torn down, leaving only a blackened field. The fire destroyed their buildings but not the determination or resilience of the sisters. With the help of God and the people of Washington County Kentucky, the sisters rebuilt on higher ground. The following spring, the blackened field where the early buildings once stood was covered in jonquils. From that day until now the jonquils have been a symbol of hope and resilience for the sisters.
Six of those pioneering Dominican Sisters traveled from Kentucky to Memphis in 1851 to open St. Agnes Academy. At the time St. Agnes was the first Catholic institution of any kind in Memphis, with the exception of St. Peter Parish. The school was originally located in Downtown Memphis at Vance and Orleans, and the first graduating class had only two students! Despite the Civil War, four Yellow Fever epidemics and several fires, St. Agnes never closed its doors! 170 years later St. Agnes stands as a pillar of the community, faithful to the mission of our founders and focused on our students' future, striving for excellence in all that we do.
During Catholic Schools Week, our school community will join with the Dominican Sisters for a prayer service to bless the newly installed Jonquil Gardens. The following locations on campus are home for our new gardens: the flagpole area in front of SDS, the garden behind SDS, the SAA statue area on the front lawn, and the large oak tree which stands in front of Siena Hall.
We look forward to the beauty these gardens will bring to our campus and the hope they will inspire. Our school community is delighted to share in this 200-year history and celebrate this symbol of hope and new life for the Dominican family.