Back
Better Together-SGA Leadership Retreat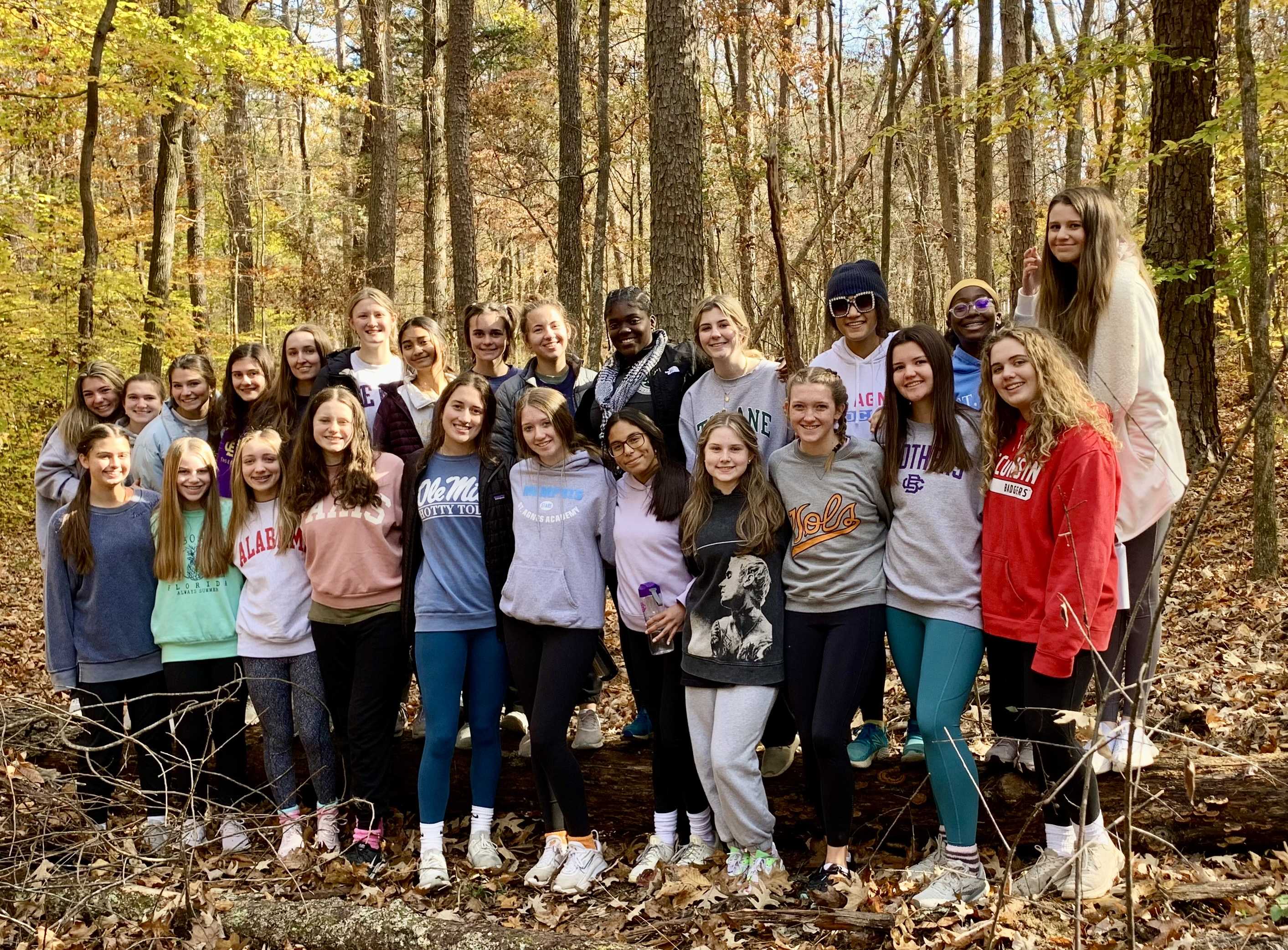 The weekend before Thanksgiving our Upper School student leaders took part in a Leadership Retreat at Pinecrest Camp and Retreat Center in LaGrange, Tennessee. Led by Dr. Jennifer Lovelace, Director of Student Life and Leadership, this annual retreat is a catalyst for growth-both for the individual girls and the school community. Enjoy these memories and reflections from the retreat as described by Dr. Lovelace and our Upper School student leaders.
Dr. Jennifer Lovelace­­­­-We ARE better together! After missing our last yearly retreat due to COVID, 26 Upper School girls and 4 teacher chaperones headed out to Pinecrest Camp and Retreat Center (whose executive director is Lucy Goode Cummings, '79) for a beautiful fall weekend of leadership lessons and fun. We did not do any planning or talking about SAA events! The sessions and activities were designed to promote self-awareness and an understanding of what makes a good leader.
Hiking, homemade meals, a campfire with s'mores, late-night chats and snacks, leadership challenges and lessons--every minute of our weekend focused on the value of relationships, from building new ones to maintaining current ones. As we watched It's a Wonderful Life, George Bailey showed us everything we need to know about the rich blessing of relationships. As one group of girls said during a session, "Relationships can save us."
Caroline Weems (Junior Class President)-My favorite moment was when we all sat outside the lodge talking and playing games. It was very nice to be outside with everyone and build relationships with girls from other grades. We also got to see Mrs. Bergdoll and Mrs. Patterson dominate the cornhole scene! These moments outside gave me a new love for my school and my fellow leaders, and it made me feel supported and loved.
Grayson Boutwell (SGA Commissioner of Fellowship) -My favorite moment was finishing the night hike. After hiking and experiencing the woods at night, we had the opportunity to walk by ourselves in the dark. The hike was downhill, turn, then uphill. When I reached the top of the hill, I felt a sense of relief and peace. While I wasn't scared of walking through the dark, I felt like a weight was lifted off me and it gave me an amazing start to the weekend.
Aubrey Bubrig (SGA President)-My favorite activity was writing a letter of gratitude to someone who has impacted me. I allowed myself to really think about all this person has done for me and I found myself more grateful for this person than I'd ever realized. My letter wasn't the longest, but I was so grateful to have the opportunity to even try to put into words my appreciation for this person in my life. This time was so special to me because it gave me the quiet I needed to truly reflect on all I have to be grateful for.
Larkin Stuppy (SGA Chaplain)-My favorite moment from Leadership Retreat was the spider web obstacle course. We had to catapult girls through slim ropes and tight spaces. It was a time filled with laughter and some frustration, but most of all it was about persevering during a complicated task.
Madelyn Wallace (SGA Treasurer)-I climbed a tree to take a cool picture before our night hike. The picture turned out amazing, but what I didn't know was that my phone fell out of my pocket. I was in a complete SCRAMBLE—searching everywhere for my phone and retracing my steps until my friends around me helped me. They were the ones who found my phone right under the tree, and I would have never found it if it wasn't for the support of those around me. Simple things, like helping someone find a phone can lead to even greater acts of kindness and love that make up the core of how a leader should act from what seems like the most simple and basic things that sow seeds of leadership.
Allie Boutwell (SGA Secretary)-My favorite part was hiking during the day to go to the leadership sessions. All the leaves were such pretty colors, and the nature was all gorgeous. It made me appreciative of the small beauty in life.
Meredith Thompson (SGA Commissioner of Service)-My favorite part was making s'mores with everyone around the bonfire. We all huddled close together to get warm and shared sticks to make our s'mores. We sang and shared funny stories. It was the first part of the trip where I felt like I was really bonding with everyone there.
Riley McClellan (SGA Vice President)-My favorite activity was when we walked to the chapel tucked in the woods, and Dr. Lovelace led us through Lectio Divina, where we sat together to read and meditate on a verse and pick out a few words that shimmered to us. Then, we were given time to silently reflect on the passage either through walking outside on the path, coloring mandalas, or walking a labyrinth. During this time, I set up my space in front of one of the many large windows in the chapel to look up from time to time and see the beautiful trees and the leaves falling. The chapel was spacious and beautiful and reminded me of the word that shimmered to me in our passage, "gentleness." After two days of hiking and leadership activities, ending the retreat in the chapel gave me a sense of peace and allowed me to reflect on my time at Pinecrest through meditation, coloring, worshipping, and reading scripture.