Back
St. Agnes Theatre Department Spreads the Love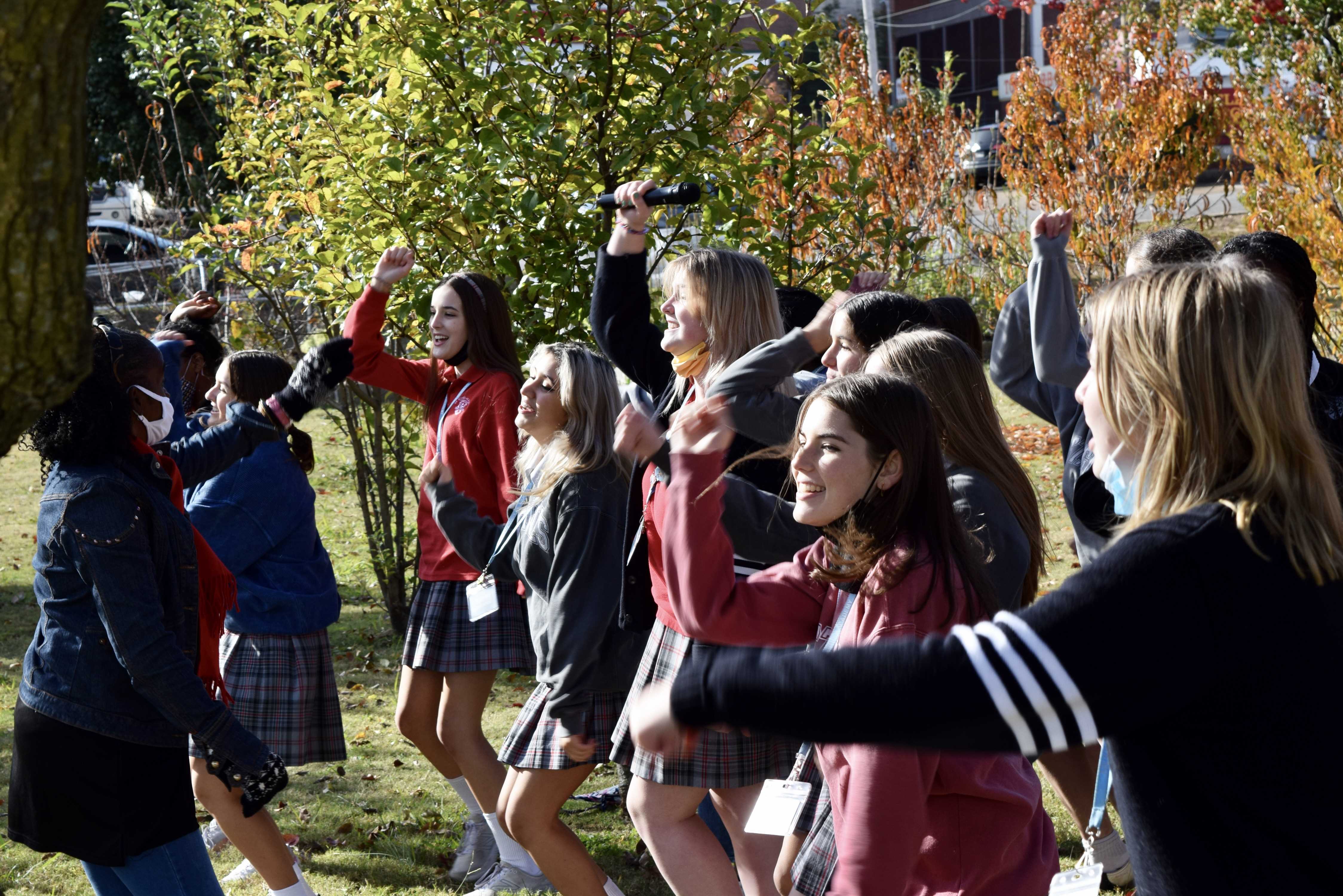 Eight years ago, the St. Agnes Theatre Troupe hit the streets of Memphis to embark on what has now become a highly anticipated tradition known as the Spread the Love Tour. After every musical, the performers board a bus and take their hearts and talents to some very special places with a simple goal to share their songs with people around the community who are not be able to attend the show.
Though this outreach has been on hold for nearly two years due to the pandemic, last Monday the Stars from the All Together Now cast, led by Theatre Director Ann Neal and Upper School Music Teacher Gabby Willingham, were able to take the show on the road once again. They visited the St. Vincent de Paul soup kitchen, Ave Maria Home, Madonna Learning Center, and Shepherd's Haven to spread joy to those communities.
"This is truly the most important thing that we do - the very mission of the St Agnes Theatre Department," said Mrs. Neal. "We have made great friends as we have returned to some of the same places over the years. This is never just a concert, but an opportunity to spend valued time with some very special people."
This event is not only a blessing to the people being visited, but to our students as well.
"The tour was one of the most joyful experiences I've had at St. Agnes--seeing the impact that the arts have on a community," said SAA sophomore Sarah Henry Havard. "This trip is so important because it causes us to extend our arms to others and use our God-given talents in the best way possible. The people touched my heart because they had so much love in return for us."
Danni Rogers, also a sophomore, added, "I was truly moved by the happiness in the eyes of those who we visited. From the stage, I don't see the real effect that our show has on the audience. Performing eye-to-eye with the crowd and seeing the pure joy on their faces made me understand that performing for others is really about spreading the love!"
This year's outing was unique in that some Junior High students had an opportunity to participate for the first time, due to a collaborative effort between Lower School music teacher Chiquita Paulson and Mrs. Neal. Eighth grader Morgan Paige-Musaerenge was one of the students who joined the All Together Now cast. Morgan shared why she feels the tour is so important saying, "A simple song, hello, or conversation can make communities feel elated and honored. It was such a great day, where I got the chance to spread that love to people who truly need it. One thing I'm taking into consideration is that once you start to spread that love, love comes right back on to you!"
Freshman Abbey Price shared the most impactful part of the day for her, "One of my favorite places we visited today was Madonna Learning Center. What I saw changed my perspective on the world. Those smiles were real, and I wish more people were there to see them. I think everyone in the cast who stood up on that stage today took a moment to realize how grateful we really are. With the busy schedules and schoolwork that we stress to get done, we may often forget how blessed we truly are. We gave them a performance, but we took out a bigger prize."
Mrs. Neal summed the day up with these simple words, "It was a beautiful day. I am so proud of them!" As a school, we are incredibly proud of these young ladies and the spirit they bring to accepting others which such respect and appreciation. They are truly bringing joy to the world!