Back
Shining a Light on . . .Amy Cluck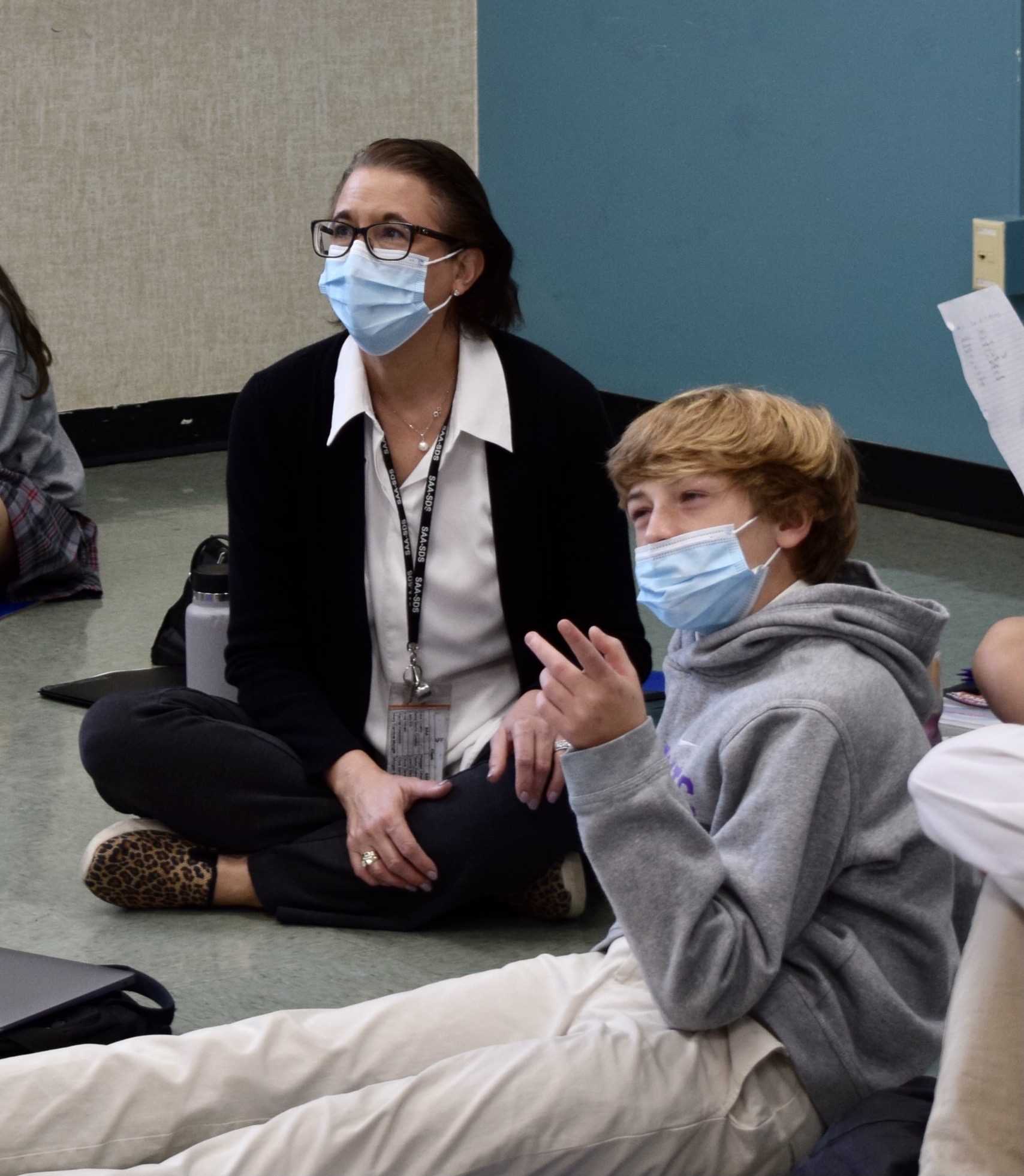 An educator for 23 years, Amy Cluck joined our SAA-SDS Junior High faculty three years ago. She is currently teaching 7th grade Geography and Religion classes and 8th grade Civics classes. She also serves as the moderator for our middle school Model United Nations (UN) team.
Mrs. Cluck truly embraces our school's mission to promote spiritual and moral growth in our students and to instill in them the social responsibility and awareness to make the world a better place. Take a moment to get to know Mrs. Cluck a little better!
What is your educational background?
I have a B.A. from Saint Louis University and a M.A. in Education from the University of Memphis.
Why did you want to become an educator?
I was a corporate trainer in my "former life" and wanted to transfer those skills and my love for teaching to a classroom setting. Plus, I love junior high kids!
How would you describe your role here at SAA-SDS?
It feels like I've always taught here, and this is my home away from home. I have a sense of purpose when I arrive on the St. Agnes-St. Dominic campus each day. For me, this is not just a "job" -- it's a vocation, a calling, a mission.
What do you hope to accomplish in your job?
I hope to impact my students and colleagues in a positive way every day. I strive to build authentic relationships with my students, understanding their unique personalities and senses of humor.
What do you enjoy most about your job?
I love discovering new knowledge about our country and world alongside my students. I get excited to hear my students' perspectives and I appreciate the role they will play in our global future.
Are there any things you are involved in/working on right now that you are particularly excited about?
I am a big proponent of getting outside of one's comfort zone and implementing new things. Taking risks is a part of learning and growing. I want my students to feel a sense of independence, an expanded level of creativity, to explore who they are and how they fit into our world. Also, I love being the moderator for our middle school Model UN team. It has given us the opportunity to delve deeper into current events and to understand the challenges that other countries face.
What is the most important life lesson you want students to learn?
My favorite Maya Angelou quote has always been: "I've learned that people will forget what you said, people will forget what you did, but people will never forget how you made them feel." I think this is the most invaluable life lesson that resonates with me.
Which of the pillars-study, prayer, community, service-impacts you the most/means the most to you?
The pillar of service means the most to me because I truly believe that St. Agnes-St. Dominic has an inherent duty to our community to give back as much as we can to serve others by living our faith.
What are you grateful for?
My faith, my family, my friends, and my freedom!
What are your interests outside of the classroom?
You will usually find me reading, traveling, enjoying nature, spending time with my family and friends, watching my daughter play volleyball, and letting my husband destroy the kitchen when he cooks!
What are you particularly passionate about?
I am passionate about supporting the Juvenile Diabetes Research Foundation (JDRF). One of my daughters is Type 1 diabetic. I love the Kansas City Chiefs, the UT Volunteers, holiday decorating, (I tend to go a bit overboard), the environment, and writing!