Back
Truth, Honor and Peace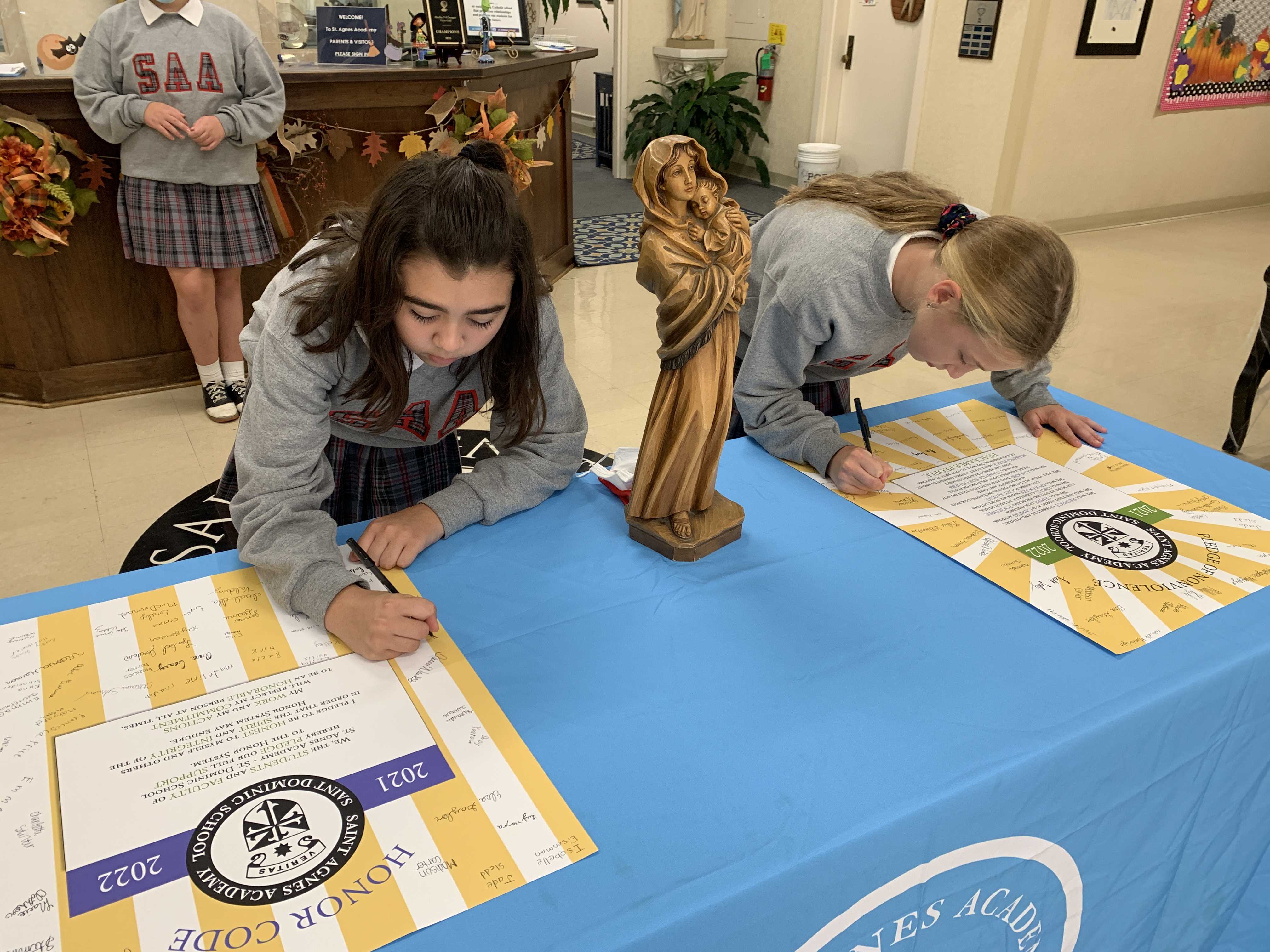 Veritas is more than just a motto or a Latin phrase displayed throughout our campus. It represents a deep commitment by our students, teachers and administrators and a guiding principle.
At St. Agnes Academy-St. Dominic School we educate young people to pursue Veritas (truth). We strive to make them aware of their responsibility to build a more truthful and peaceful world and to be persons of honor who respect the dignity of all.
Each year we pause as a community to reaffirm our school culture of truth and integrity as students, teachers, and administrators commit themselves to being people of honor and peace. Recently our K-8 students, faculty, and deans signed a copy of the school's Honor Code and Peace Pledge as symbols of our campus-wide commitment. The signed documents will hang in the hallways of the Junior High, SAA Lower School, and St. Dominic School throughout the school year. The Upper School students will sign the Veritas Book in the next few weeks.
"Each student that signs the posters is making a promise," said St. Agnes 6th grade teacher Kelly Healy. "We hang the posters in the hallways as a visible reminder of those promises-to uphold the truth and care for each other."
Cecelia Odom, 6th grader, joined the SAA community when she was in fourth grade. According to Cecilia, the Honor Code and Peace Pledge are "very special." "Talking about them and signing them makes it feel like we are in a safe environment. We can talk about things here. I feel like I am in a place that really cares."
With promises such as, "I pledge to be honest to myself and others in order that the spirit and integrity of the honor system may endure," and "Making peace must start within ourselves and in our classroom," the Honor Code and Peace Pledge guide our students to become ethically-grounded individuals. They become empowered to go forward and to build Veritas in our world.