Back
Meet our Student Contributors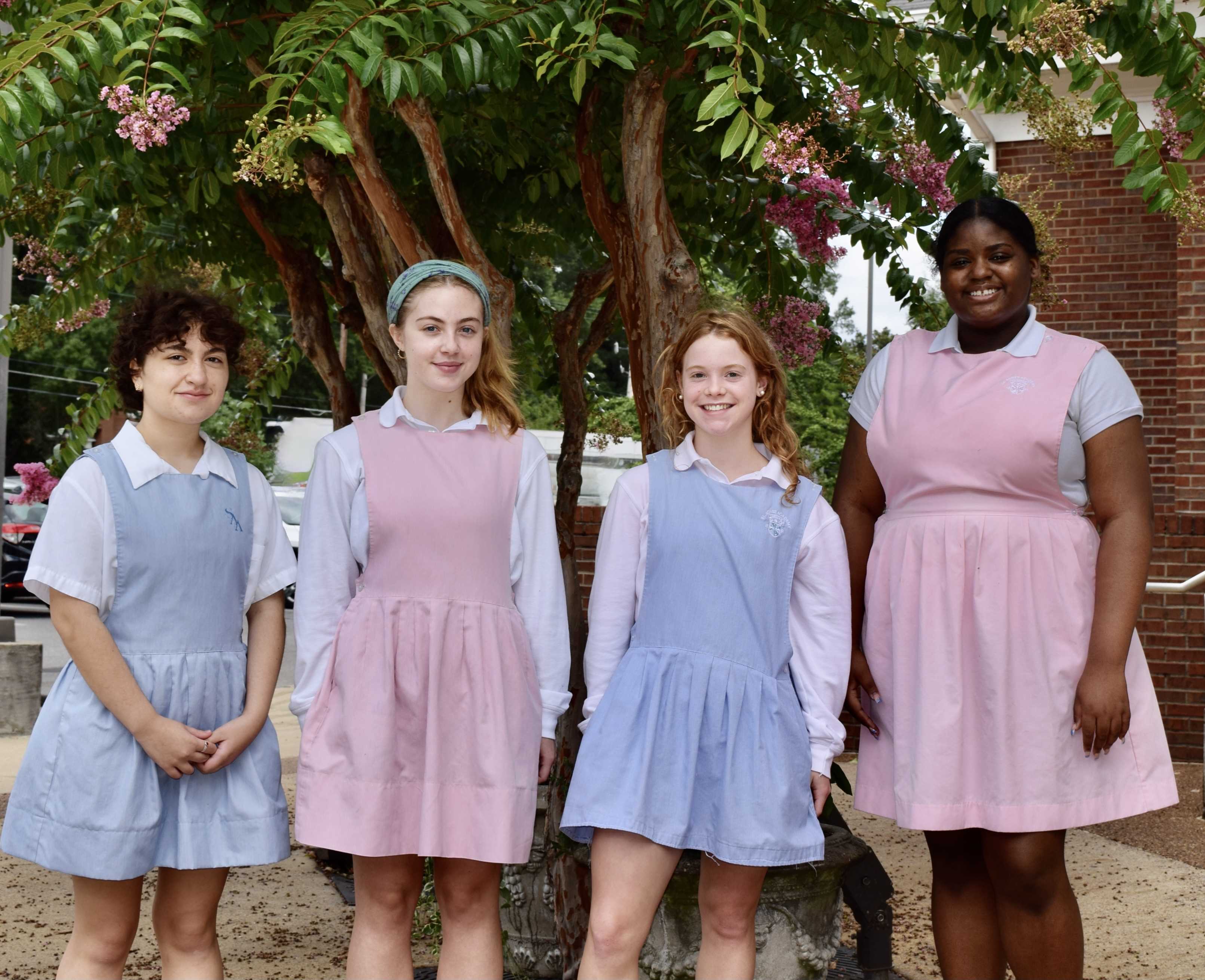 This year the Communications Department at SAA-SDS is excited to partner with four Upper School student contributors! This new initiative was created to help tell our school's stories from the student perspective. We look forward to working with this talented group of SAA juniors and letting you hear their voices.
We asked them to introduce themselves so that everyone can meet them before you begin to see their work. Here is what they had to say!
Sophia Carroll
Hello! My name is Sophia Carroll, and I am extremely thrilled to be a student contributor for the Marketing & Communications Department! After being a Star for almost six years, I have absolutely fallen in love with the school's community. I am always ready to support the SAA sisterhood, and I am willing to take on new opportunities to do so. Furthermore, one could imagine my excitement after receiving this opportunity to be a voice for St. Agnes! The ability to represent our school is already an honor, but I most anticipate representing the student body itself. These beautiful girls are not only the foundation of SAA, but also the leaders of the future; I believe that our voices can change the world! I am excited to share our stories with others, and I hope I can serve as a window into the world of a St. Agnes Academy Star.
Katie Fracchia
My name is Katie Fracchia, and I have attended St. Agnes since my freshman year. Before coming to St. Agnes, I attended school at Our Lady of Perpetual Help. At first, it was hard to leave because I spent my whole childhood there, and it was a place that I really cherished. Thankfully, St. Agnes is now a place that I can confidently say is my home. I run track and play soccer for the school, but I also play soccer competitively for Collierville Lobos. This year, I started working at Huey's and it has been one of my favorite experiences because of the people I work with. I am not sure where I want to go to college yet. The only thing I know I want to do in the future is help people. This is one of my lifelong passions, and I hope that I can make it into a career one day. I am blessed to attend St. Agnes because I know my education is preparing me to achieve whatever goals I might have in the future. I'm so excited to work on the Student Contributor team and cannot wait for an awesome year!
Jaila Hampton
Hey there! I am Jaila Hampton, a junior here at "The Academy". I am a small business owner, poet, and Netflix enthusiast. I have one sister. Her name is Brianna, and she is a music major at the University of Tennessee at Martin. I am a member of the Memphis Ambassadors Program, a Bridge Builder, a LITE Memphis finalist, and a member of the Poplar-White Station Youth Council. I would like to attend college at an HBCU, preferably Xavier University of Louisiana. I'm excited to work with the Marketing & Communications Department as a Student Contributor because it gives me a chance to delve into my love for journalism and marketing while celebrating St. Agnes Academy and working under professionals in the field.
My name is Abby Pyrdom, and I am a member of the class of 2023. I am in my third year as chaplain of my class, and I am involved in many clubs such as Government Club, Forever Friends, and our grade's book club. When I am not at school, most of my time is spent at Studio B Dance in Germantown training for dance competitions. I am so excited to be working with the Marketing and Communications Department as a Student Contributor because I have such a fantastic team to work with. I enjoy writing in general but writing and creating projects about many different topics regarding the school is even better. I am interested in pursuing journalism in college, and I believe this is a great way to gain experience.